21 Delicious Whole30 Recipes
After the holidays I always like to take time to reset. This usually involves cleaning the house, getting rid of things that I don't use, stretching, writing down to-do lists in my planner, and eating better.
Doing these things make me feel like I am starting the year off on a good foot, which is motivational for me. Speaking of motivation, doing a Whole30 is a great motivator for eating clean and for figuring out what foods your body can and can't tolerate.
Which is why I am sharing 21 Delicious Whole30 recipes with you guys… in case you needed motivation for a January Whole30, or you were looking for some clean recipe inspiration.
I love Whole30 recipes in general because they are incredibly clean, which my body always enjoys. I eat Whole30 meals all the time without even realizing it.
For those of you who don't know, a Whole30 is basically eating whole foods for 30 days. You can eat all sorts of meats, seafood, eggs, fruit, veggies, nuts, seeds, and oils. ( You can read more about what the Whole30 entails here).
I loved my first Whole30. My hormones were more level and I really learned about what foods my body tolerates and what foods it doesn't. You can read about my Whole30 experience here.
For this post, I joined forces with several talented healthy food bloggers to share some of our most delicious Whole30 recipes.
21 Delicious Whole30 Recipes
Breakfasts
These Prosciutto Egg Cups are a simple low carb high protein snack or breakfast that can be made in a pinch with only 2 ingredients. They can be eaten on the go and are perfect to meal prep for the week.
An easy and satisfying Whole 30 breakfast skillet filled with the spicy and smoky tex mex flavors that you love.
This breakfast bake is super easy to put together and can be on the table in less than 30 minutes. It's perfect for weekend mornings! Loaded with potatoes, brussels sprouts, crispy bacon and perfect sunny-side-up eggs, this is a dish everyone in your family will enjoy!
Main Dishes and Sides
This french onion soup is made easy in the instant pot or on the stovetop. It contains onions, beef broth and herbs for a deep caramelized onion flavor.
Salads don't have to have lettuce. This flavorful mediterranean cauliflower salad features steamed cauliflower, roasted bell peppers, and olives.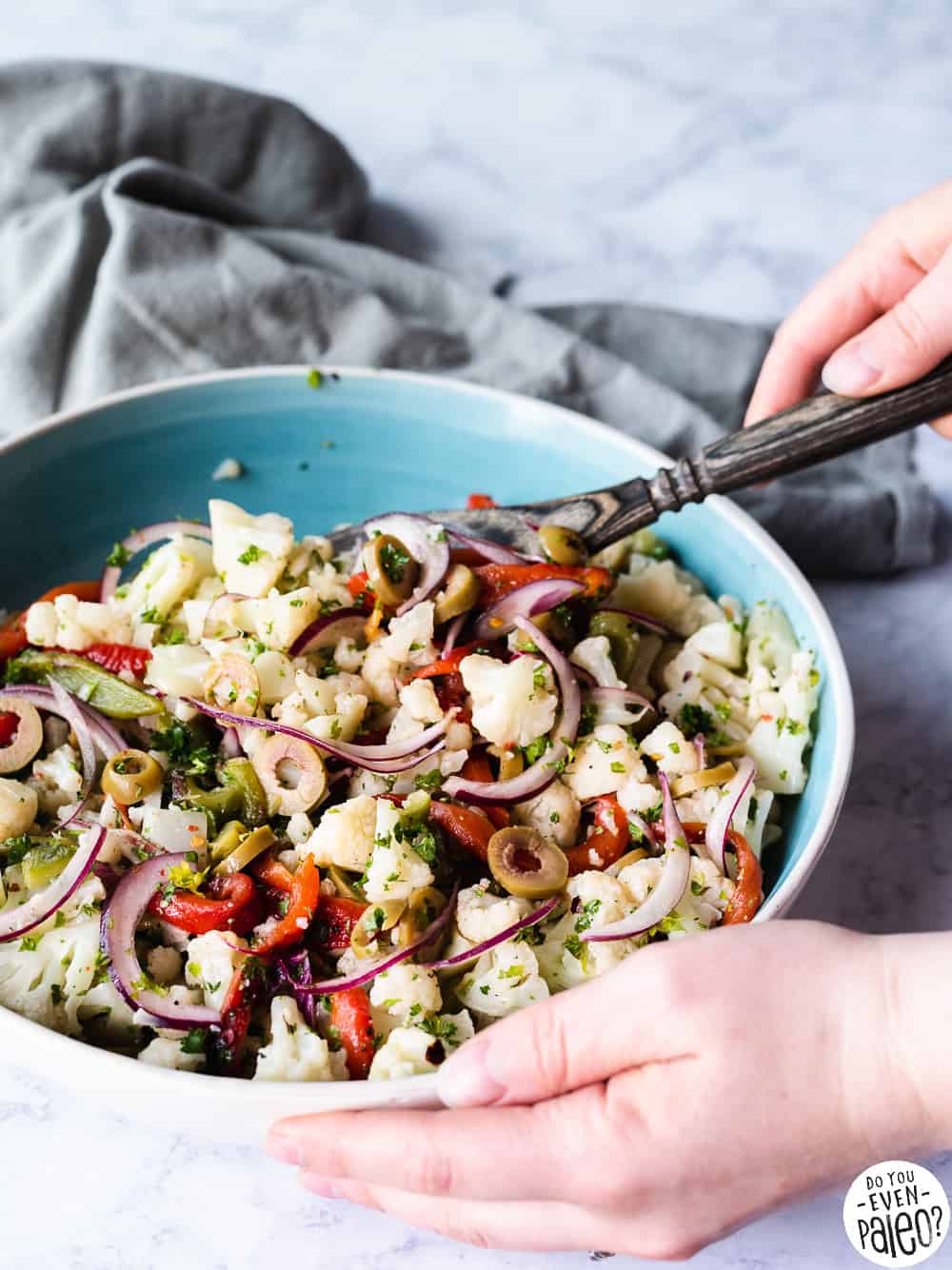 A yummy healthy pesto zoodles recipe with a twist! Green pepper and almonds are added to a traditional pesto sauce, which results in a unique taste of bitter/tangy green pepper, creamy sweet almond, and fresh basil. This dish is a great pasta alternative.
Chinese Chopped Chicken Salad | The Bettered Blondie
This Chinese Chopped Chicken Salad is a healthy and vibrant dish to change up your boring work lunch. Keep it fresh and light with this beautiful salad.
Whole30 Orange Chicken with Cauli-Rice has lightly breaded chicken, a zesty thick sauce, and Whole30 approved Cauli-Rice. This mouth-watering dish is easy to make and the perfect weeknight dinner.
This one-pan meal is perfect for busy weeknights. Chicken sausage, red potatoes, and broccoli are coated in a delicious sauce and roasted to perfection.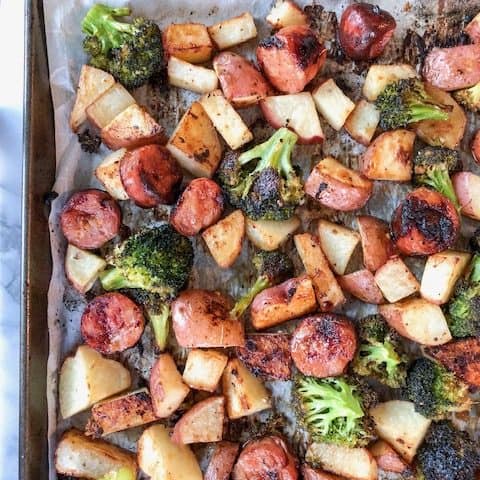 Roasted veggies are a lifesaver while on a round of Whole30. This simple roasted veggie dish uses just a few simple ingredients but is jam-packed with flavor. Make a huge batch during your weekly meal-prep and have a healthy vegetable side to add to your plate whenever you need it.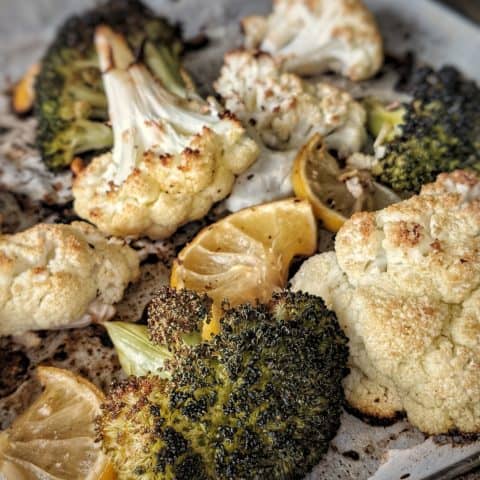 A hearty soup that's creamy, smokey and full of flavor. Slow Cooker Chicken Bacon Soup is a must try for busy weeknight dinners.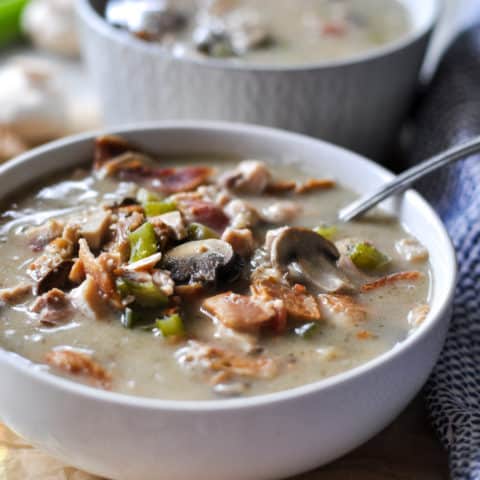 This mexican cauliflower rice uses simple ingredients and is cooked in a skillet for an easy side dish. Cauliflower rice is a great low carb, keto or whole30 alternative to white or brown rice.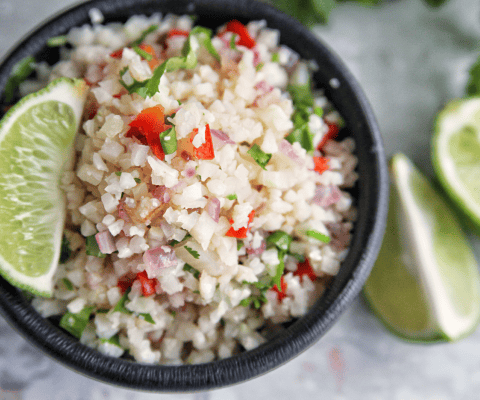 A Whole30 take on one of your favorite Indian dishes. This butter chicken is a creamy and comforting dish that will change the way you feel about healthy eating!
You don't need dairy for luscious scalloped potatoes! Dive into a skillet of creamy layered potatoes for a leftovers-friendly side dish.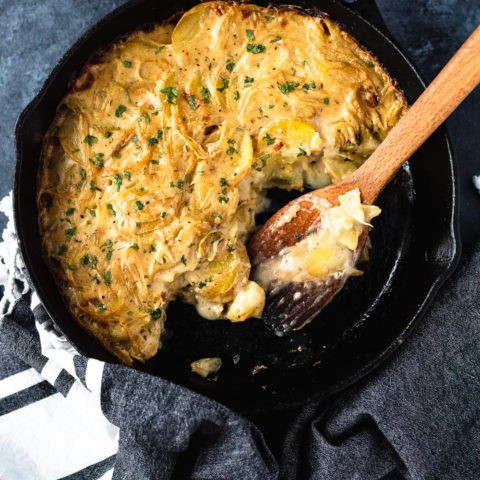 A rich and creamy potato soup that is naturally dairy-free, grain-free, Paleo, Whole30, and Gluten-free. It is seasoned with bacon, nutmeg and chives, and it has an added boost of protein from bone broth. Healthy comfort food at it's finest!
A healthier/grain-free version of your favorite southern dish! Spicy shrimp and sausage are served in a delicious cajun gravy over creamy cauliflower "grits".
Delicious potato pancakes that are crispy on the outside, yet soft on the inside thanks to a mixture of shredded and mashed potatoes. You can eat these Paleo, Whole30, Dairy-free, Gluten-free potato pancakes with breakfast, lunch or dinner.
Gather together and enjoy the southwest flavors of Chicken Taco Spaghetti Squash Bake. With the added hot sauce, it's a kickin' dinner that's Paleo and Whole30 friendly.
Your favorite Tex Mex meal made easy – everything is baked on one sheet pan with a homemade fajita seasoning. Serve over caulirice or on top of salads with your favorite pico and guac!
Sweet butternut squash replaces beans in this Whole30 compliant chili. In just under an hour, you'll have a chili on the table that tastes like it's been simmering all day. It can also be frozen and quickly reheated for those busy weeknights when cooking just isn't in the cards.
One of the best meal prep recipes out there. This casserole takes a bit of prep, but you'll happily eat it all week long!
Disclosure: This post contains Amazon affiliate links. This means that if you click on a link and make a purchase, I will receive a small commission at no cost to you.