South East Ireland- Kilkenny, Cashel, and Durrow (and some wedding photos!)
It's been over three months since I got back from my honeymoon and I knew that if I didn't write this now, I never would!
I really loved getting to know the Irish towns of Kilkenny, Durrow, and Cashel, and wanted to share it here. I put all three of these locations into one blog post because they are all within an hour of one another, and thus really easy to do as part of one trip.

My husband and I got married in Durrow, Ireland this past May and it was the most beautiful, amazing, magical day. Because I was living there at the time, and due to wedding planning, my husband and I got to know the area well. We loved that there was just SO much to see. Which, I've found to be the case with Ireland as a whole.
We had our rehearsal dinner in Kilkenny, a medieval city in southeast Ireland.
It is actually the most medieval city in Ireland, I believe, and you can see it as seen as you arrive.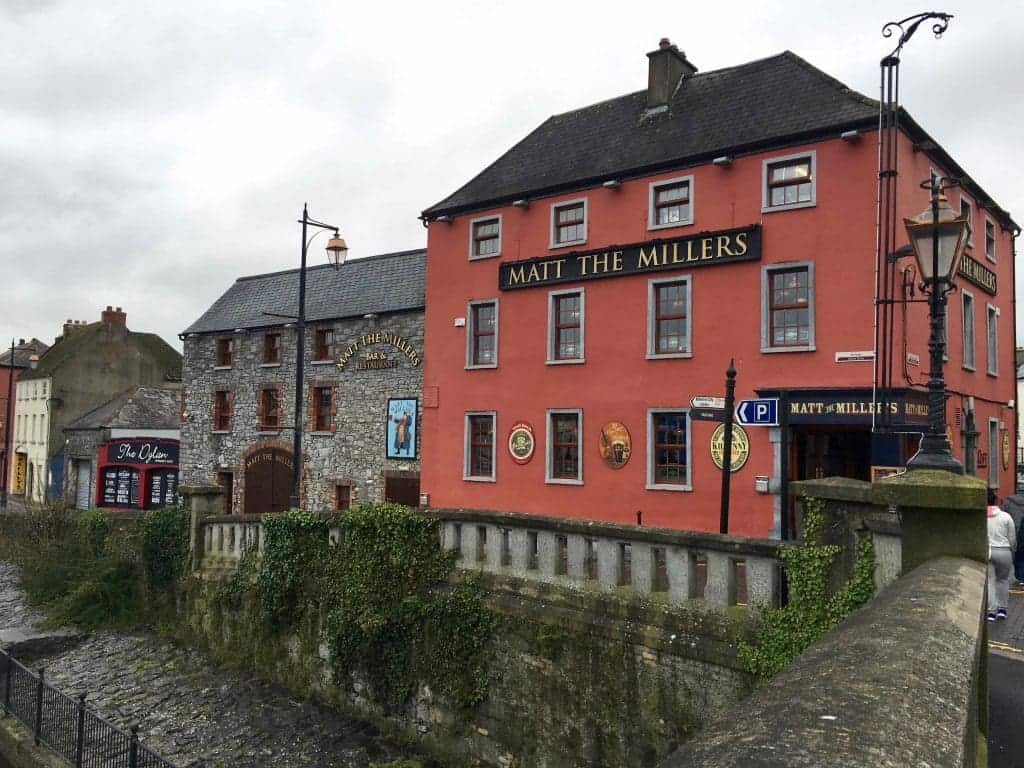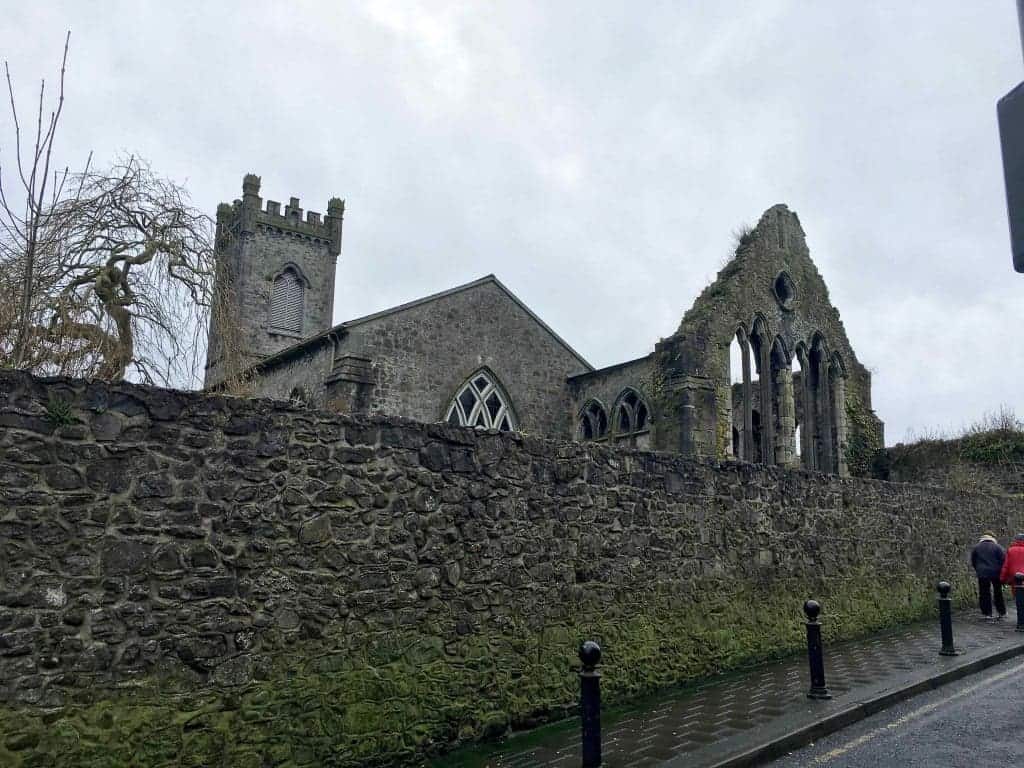 The stone work in this city, is unlike what you see in most towns. It was built to last. And has lasted since the middle ages!
We got a chance to explore Kilkenny when we were searching for our rehearsal dinner venue and we found that the best way to see how much history there is in this small city, is to roam the streets, with no destination in mind.
Kilkenny castle is hard to miss, as it is in the center of town.
It was built in 1195 and is just breathtaking, as it overlooks the river. It seems like quite the force to be reckoned with.
But the castle in Kilkenny isn't the only reminder of the age of this city… if you walk through the narrow streets, you will find old churches, homes made of stone, and beautiful graveyards.
If you are alone, you will truly feel transported in time.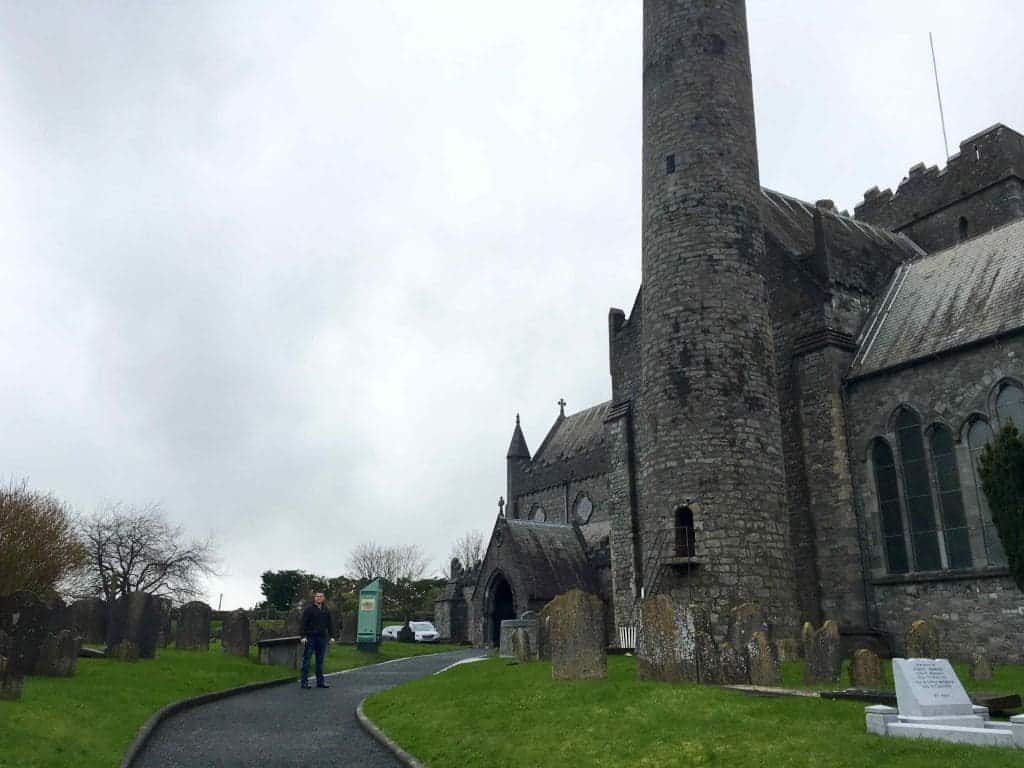 I actually had this feeling during the Smithwick's brewery tour, which is AWESOME and which has to be my favorite brewery tour that I've done. They do a great job of explaining the history of the brewery, so much so that you almost forget what time period you are in.
Until you see video clips popping out of the wall and high-tech paintings talking to you… then you remember that its 2016 haha.
The tour takes place in the same location that they made the beer in the 1700s… which at the time, was made by monks.
I loved being able to taste what the beer tastes like prior to fermentation, and then comparing it to the finished product at the end of the tour.
It was delicious! (the post fermentation product, that is)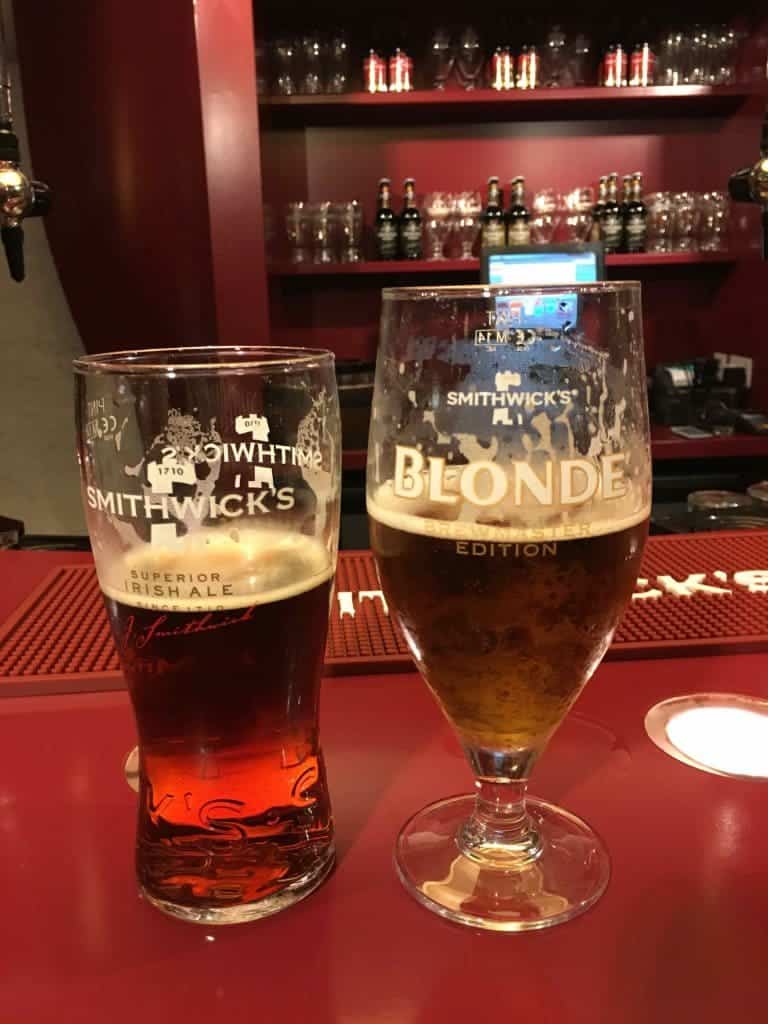 We ended up choosing to do our rehearsal dinner at Kyteler's Inn. A pub, which began as an inn in the 1200s, rumored to have been started by a "witch" escaping persecution for being… a witch.
The inside is full of stone, and has a very cozy old Irish feel to it. We rented out a large room in the pub, hired some Irish musicians, and the venue really took care of the rest. It was perfect, and it fit all 100 of our guests!
If you happen to be in the Durrow/Kilkenny area, it is worth heading to the Rock of Dunamase nearby.
It is 30 minutes from Durrow, and 50 minutes from Kilkenny.
Upon first glance it just looks like ruins. But, when you know the history, your imagination starts to wander, and you realize how much history took place in the very spot that you are standing.
The Rock of Dunamase used to be a fort, first settled in the 9th century, and destroyed many times by Viking raids. Then it became a castle, which was much larger than any of the ruins could indicate. The castle was destroyed in 1650 by the English so that it could not be used during the Cromwellian war in Ireland.
It is just crazy to think of all the history that you are standing on, when all you see are peaceful pastures and rolling hills.
Speaking of grand ruins, to the west of Durrow and Kilkenny, is the town of Cashel.
There, you will see a massive fortress on a hill, called the Rock of Cashel, overlooking the most beautiful countryside.
I have to say that Tipperary County (where Cashel is located) has to have some of the most beautiful countryside that I have ever seen. I was left in awe of it's beauty, many times on my trip.
Seeing the Tipperary countryside makes me want to grab a book, and just sit and be a part of the land all day.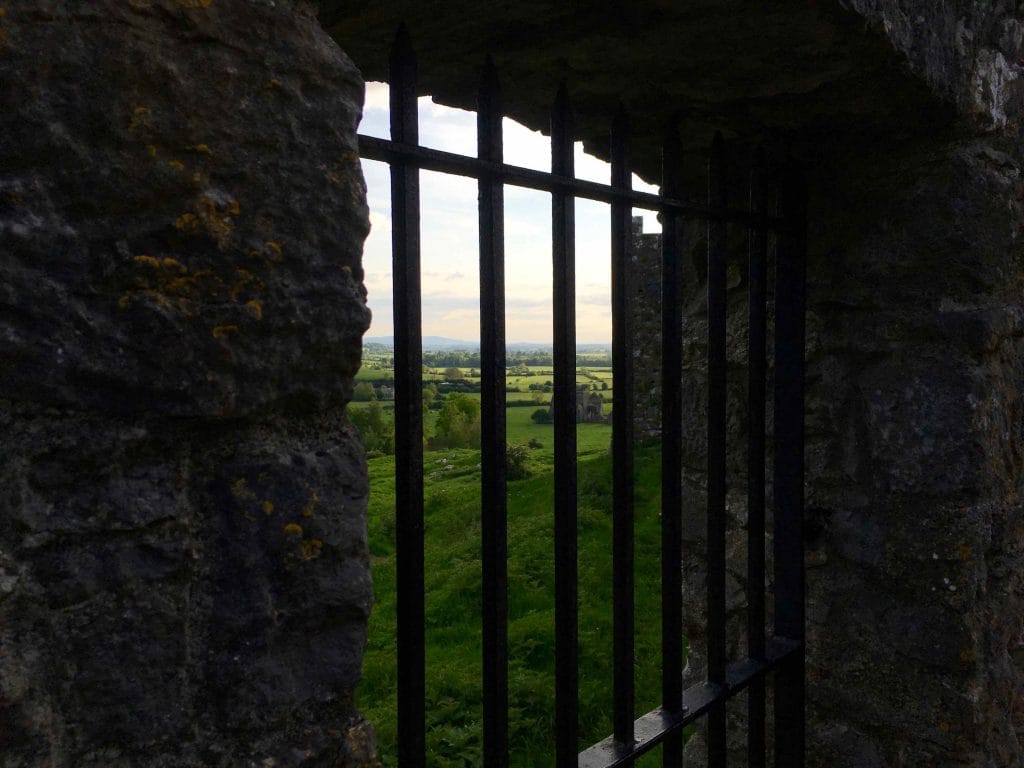 Cashel has a very interesting history, it is actually thought to have been the location where the King of Munster was converted by St. Patrick himself in the 5th century.
All roads in Ireland point back to St.Patrick… haha
It is worth visiting the Rock of Cashel because it is truly grand and full of history, though try to go early before the buses of tourists gets there. It can get quite busy! Also, you can probably get tickets to enter from your B&B, which makes things easier, so just ask. 🙂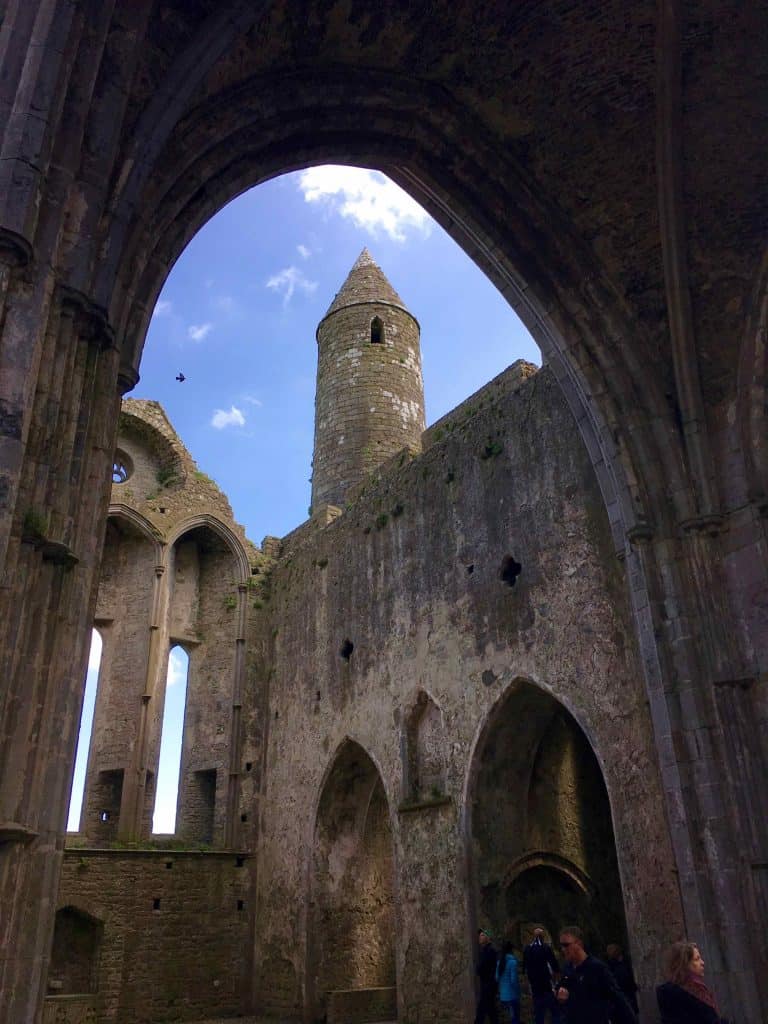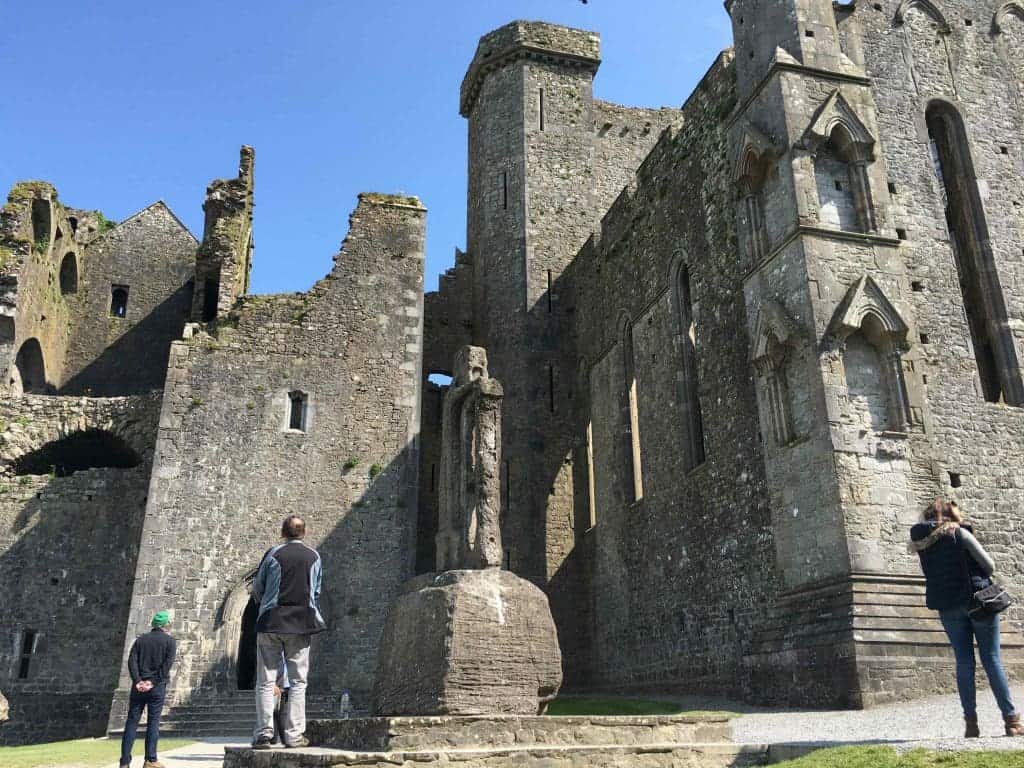 Whether you are interested in the history or not, the town of Cashel is worth coming to for so many reasons.
1) The town itself is super cute.
2) There are many ruins in the area, like Hore Abbey, that are worth checking out.
Side note: I almost preferred visiting Hore Abbey to the rock of Cashel because of how quiet it was. You were alone to explore and touch and really feel history. It's humbling to see the remnants of a life past when you realize just how quickly life goes on.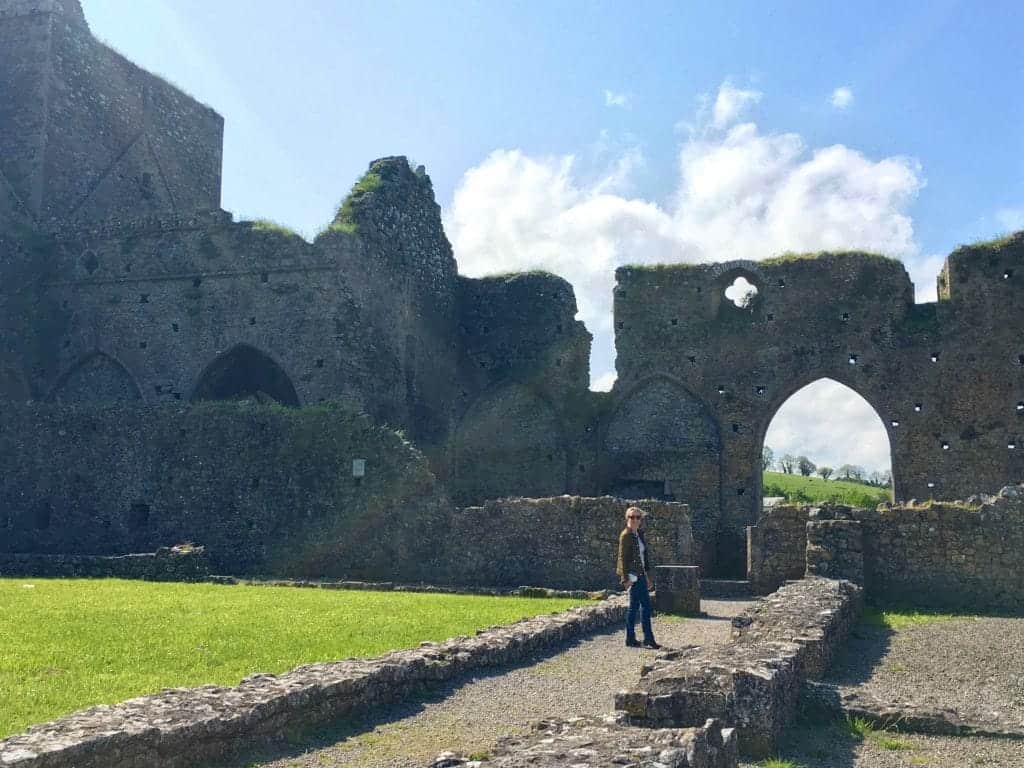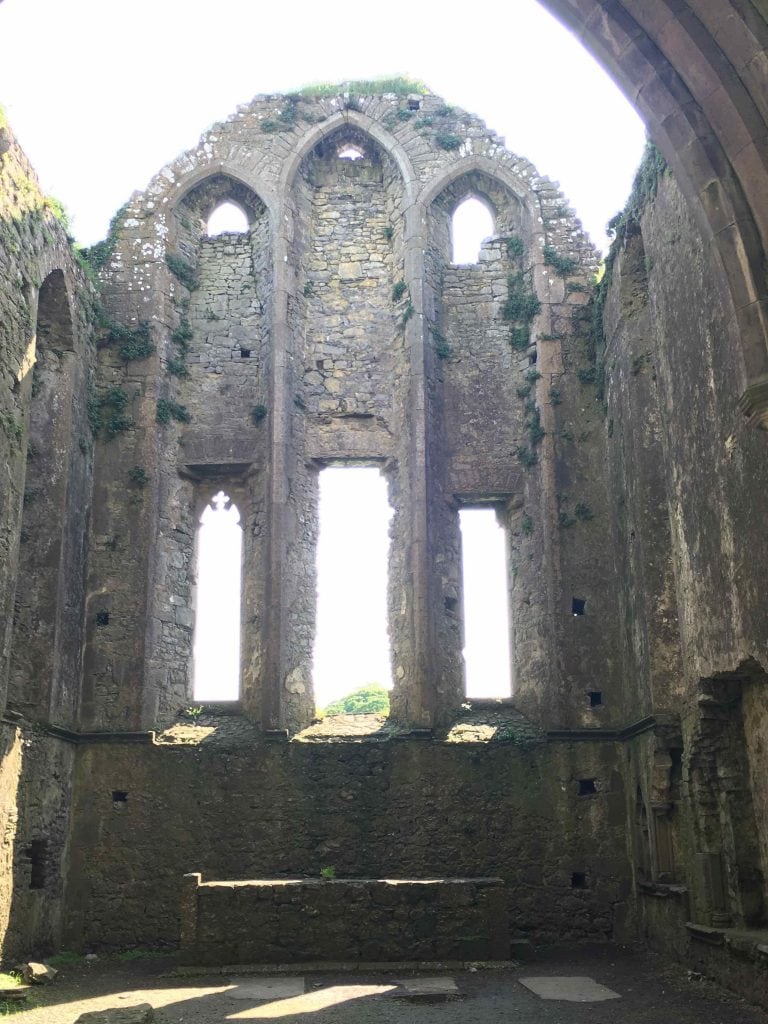 …and 3) We found some great food in Cashel at Cellar Bar.
I want to say that this is lamb with a carrot/potato mash, but I can't remember 100%… which is why I wanted to write this post now! I do remember that my husband loved it, though.
I ordered the salmon in a fresh lemon cream sauce, and it was delightful!
And lastly, we got to know the town of Durrow very well because that is where we had our wedding. 🙂 🙂 🙂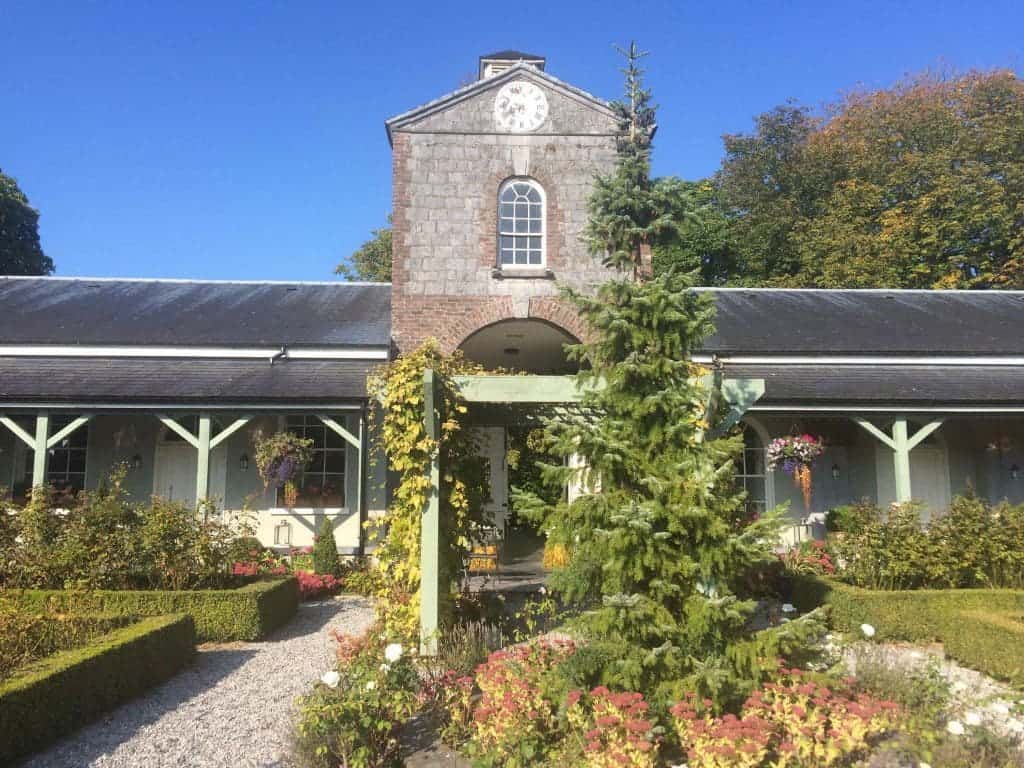 Durrow is a small town, with a beautiful Castle in the center of it, Castle Durrow.
Castle Durrow is worth visiting if you are in the area or even if you are not. It is only an hour and twenty minutes west of Dublin, and you really get to experience another side of Ireland here.
Castle Durrow is also a hotel/B&B, and the rooms are exactly what you would expect of a castle.
Plus all the food is absolutely fantastic. Words can't even explain how good the food is here. They have a garden and use their own herbs and vegetables in all of their foods.
I honestly had the best fish and chips of my life here.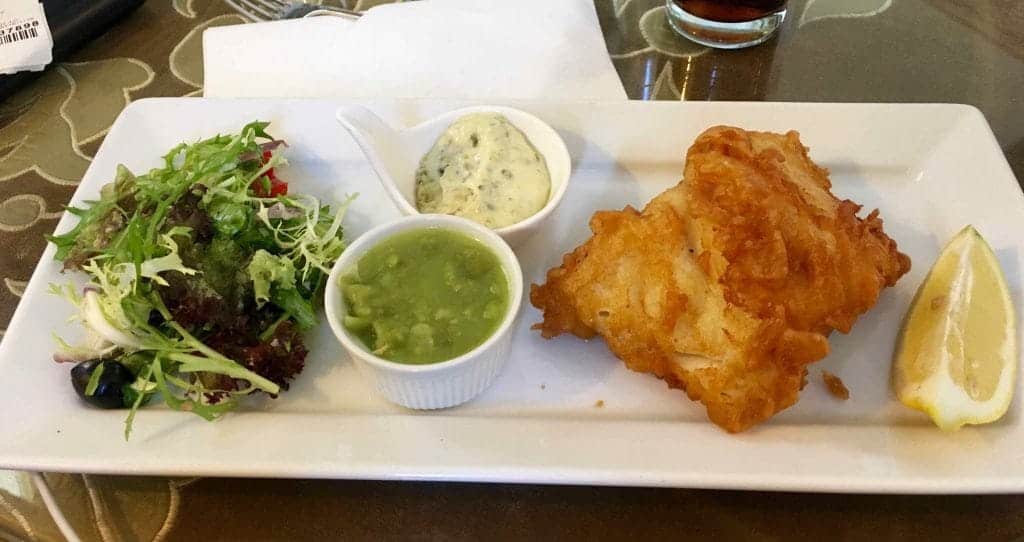 Oh and I also had the best plum crumble of my life here as well.. it was so good that my mom, who doesn't even like dessert, ordered it twice while we were there!
Seriously, if you love good quality food… come here. And don't let the name "castle" scare you either… the prices are affordable.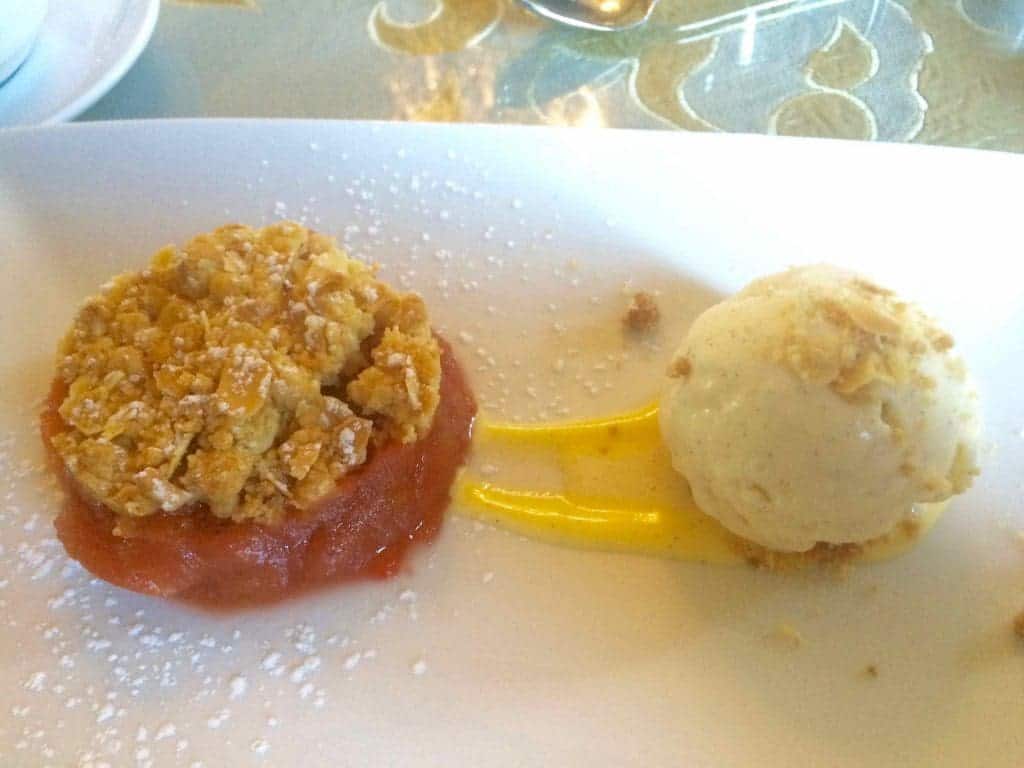 Honestly, I chose Castle Durrow as our wedding venue BECAUSE of the food. And because the grounds and venue itself are amazing. We wanted ( or I wanted haha) a fairy-forest-secret garden theme, which the venue provided the perfect backdrop for.
I may be biased because of how much I love this place, but I highly recommend visiting and staying at Castle Durrow; its a secret gem.
You can get lost wandering the gardens, exploring the grounds, and meandering through the castle itself.
Every room is just spectacular.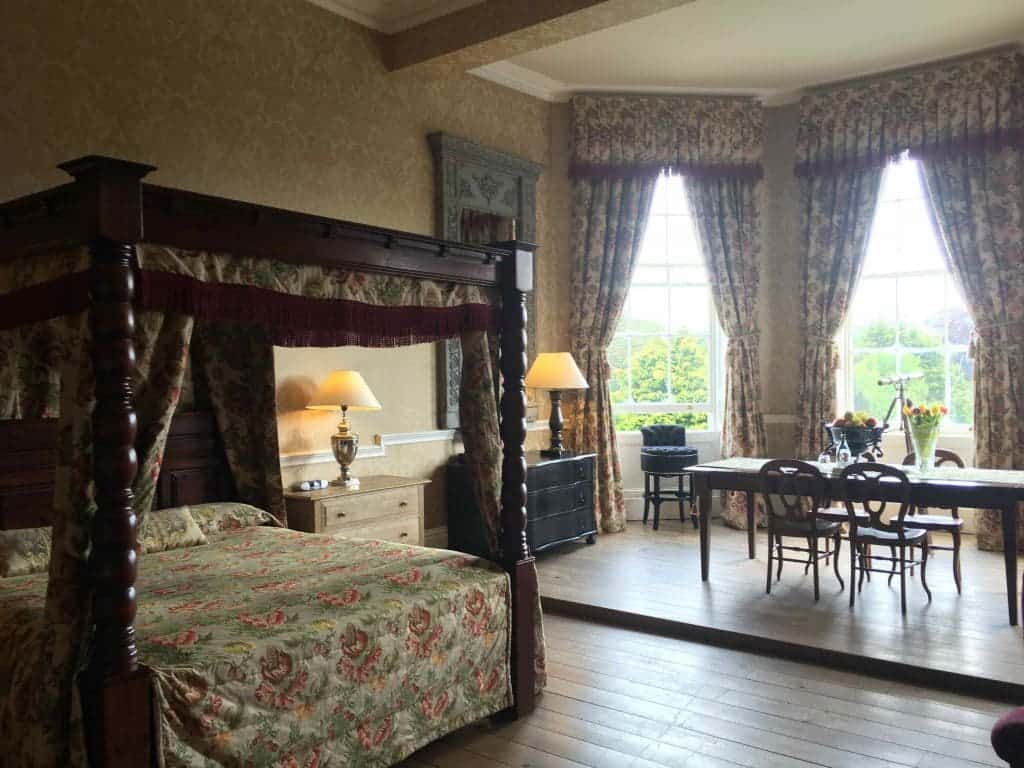 For me, the food and photography were the most important parts of my wedding, surprise surprise.
So while I didn't do any DIY wedding decor or focus on many details, I did chose a place that was already beautiful, and that was known for having really good food.
And good food we had!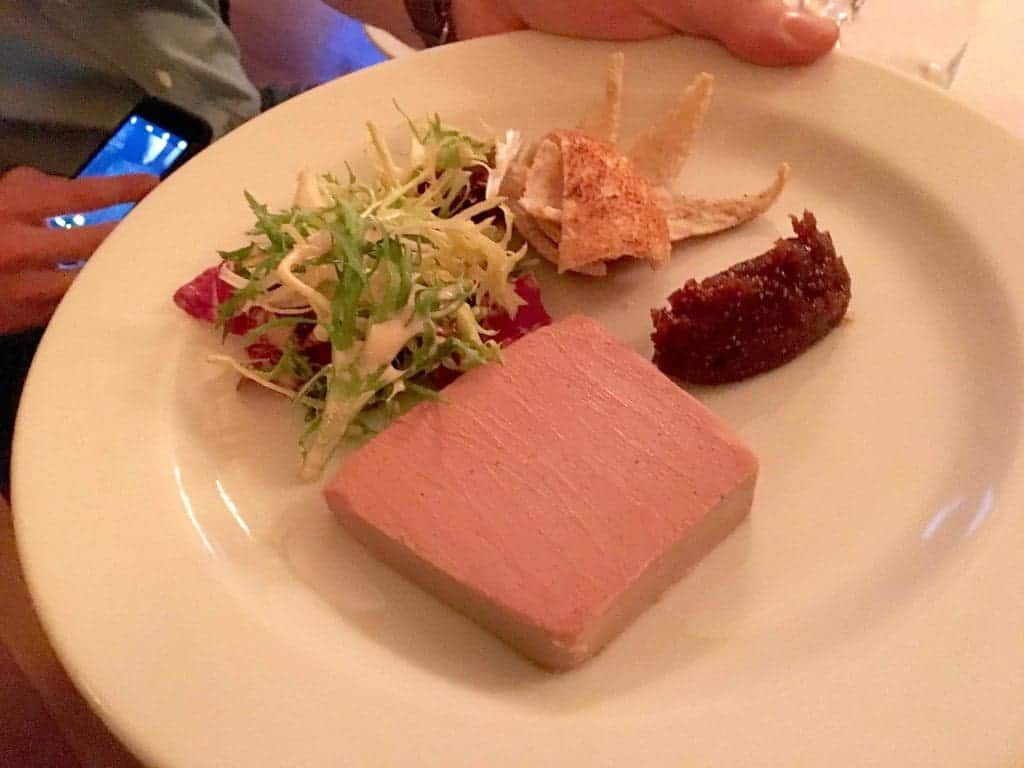 For our wedding dinner, we had a five course meal!
We started off with a Terrine of Duck Foie Gras with a Fig Chutney, then there was a Butternut Squash Soup with Sage,Thyme, and Pumpkin Seeds, then we cleansed our pallets with a lemon sorbet. For the main, there was an option between a Roast Sirloin with a Shallot and Pepper Cream sauce and a Wild Seatrout with an Almond Herb and Lemon Butter Sauce (I got the fish, my husband got the sirloin). And for dessert we had a Caramelized Apple Tart with Madagascar Vanilla Ice Cream.
It was incredible, and yes, I did have to unzip my wedding dress afterwards.
Oh, and there was cake! A three tier cake with three different flavors on each tier… one tier had vanilla cake with raspberry jam, one tier had red velvet cake with cinnamon frosting, and the last one had a chocolate Guinness cake. It was all DIVINE. One of my bridesmaids said that it was the best cake she ever had! The cake maker, Jasmine of Artful Bakery, is an artist, to say the least!
We had Irish dancers, ate until we couldn't eat anymore, and then danced the night away. We ended up going to bed at 5 am… and it all passed by in such a blur 🙂
It was the most heartwarming feeling to have all of the people that you love the most in one place celebrating your love.
I've had friends tell me this is how they felt on their wedding day, but I really wasn't able to fully understand what they meant until my own.
I will cherish these memories forever…
I'll be posting another travel post soon, but it will be WAY more food focused, because… ITALY and the Amalfi Coast. 🙂
Note: Some of these photos are mine and some were taken by my wedding photographer Pawel Bebenca. (He's amazing).
Disclosure: This post contains Amazon affiliate links. This means that if you click on a link and make a purchase, I will receive a small commission at no cost to you.