Quebec Province: Old Quebec City
If you are looking for a romantic old world city, Quebec City is the spot for you! My husband and I spent the bulk of our recent anniversary trip in Quebec City and we quickly fell in love with the charming historic architecture, the vibrant Spring flowers, and the amazing evening sunsets.
The colors in this city are just fantastic. My eyes could not keep up with all the beauty around me. I was mesmerized by the colors of the flowers on many occasion.
My stomach also couldn't keep up with all the great food…you could say that we ate very well in this city. 🙂
Whether you plan on leisurely walking around or have a tourist to-do list, Quebec city is a really manageable place to visit.
My husband and I kind of did a mixture for this trip ( mostly food to-try lists), and lots of leisurely exploring and seeing where the day takes us.
It was relaxing, romantic and delicious 🙂
One of our first stops was checking out Château Frontenac in the Old part of Quebec City. This building basically gives Quebec it's famous skyline…. with it's massive castle-like fortress presence overlooking the St. Lawerence river.
It is just stunning!
Fun fact: Château Frontenac is actually a beautiful hotel with over 600 rooms!
If you get a chance, you should definitely go inside the hotel and either pop into the shops, grab a bite to eat, or check out their cool bar….
Or at the very least, you need to walk around Château Frontenac around sunset…
Actually, I highly recommend walking around ALL of Old Quebec City in the early evening.
We did this every single day because the lighting was just beautiful! The way the sunset reflected off of the river and off of the stone buildings was just breathtaking.
It was also really amazing to see how quickly the light seemed to change in front of our eyes.
We really loved staying at Hotel Le Chateau de Pierre. It was in the most perfect location. Just behind Château Frontenac… in a quiet street lined with grand grey stone buildings. It was in the heart of everything yet you felt away from it all.
There are lots of great hotels and B&Bs in the area, but we loved Hotel Le Chateau de Pierre because of how light and airy our room was, and how we could see Château Frontenac from our window. 🙂
However, the B&B we stayed at the first two nights, B & B Maison Historique James Thompson, comes in at a close second because of how amazing the breakfast crepes were. I mean these were knock-your-socks-off crepes that were a mixture between American pancakes and French crepes.
Old Quebec city is the old fortified portion of Quebec city and it is a designated a UNESCO World Heritage Site.
When you see all of the amazing stone buildings, charming colorful cafes, and old world charm here… you will understand why.
It is the perfect place for strolling, taking photos, or people watching.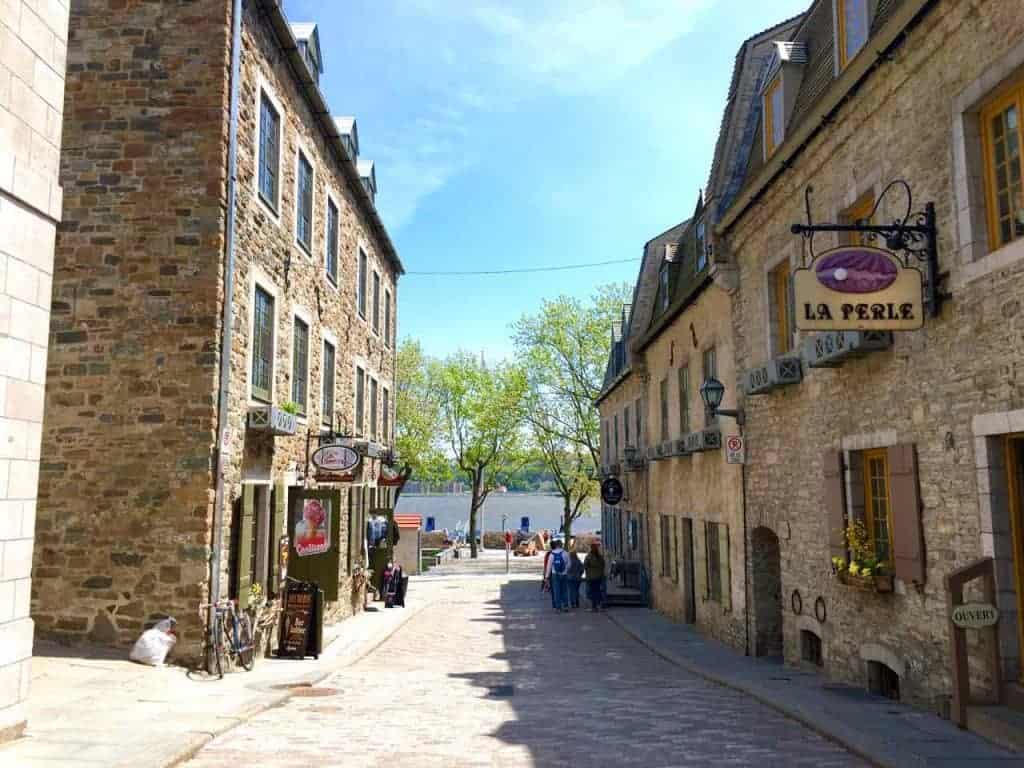 I highly recommend going to Maison Smith to set up shop and enjoy the outdoors with some delicious coffee and cake. I wish we had these in the USA, or I wish that Starbucks would adopt some of their signature drinks and foods because it is AMAZING.
There are several locations in the city, but the one in the Place Royal is my favorite because it is in a beautiful cobblestoned plaza.
I ordered a caramel cheesecake and an iced tea… and both of them were just perfection.
I also ordered a maple syrup latte another time that I went to Maison Smith… because I had to go more than once, and that was such a treat!
Also, if you are a European mood. You should make your way over to the Cochon Dangue.
My husband and I did some coffee sipping and people watching here and we felt like we were in a bistro in Paris. Très chic!
We also felt like we were a the bottom of a fortress.
Oh and there are a lot of small shops, food stores, and quaint local spots in this area.
I found the best maple fudge! And I felt like I could just keep walking and walking and walking.
You could really find yourself walking all day here because it is so pretty.
If you happen to need a chocolate pick me up…. after all that walking….grab a chocolate covered ice-cream at Chocolato.
I stumbled into it one evening after seeing what appeared to be 20 different flavors of melted chocolate. There was maple syrup, berry, dolce de leche… and all of the classic chocolate flavors.
So basically you choose either vanilla or chocolate icecream (or both) and then they dunk that into any flavor of melted chocolate of your choosing.
It was fantastic.
That chocolate covered ice-cream doesn't really count as dessert when you are walking so much, right?! 🙂
We walked quite a bit during our stay, alternating between Old Quebec and downtown Quebec city.
I would not just stay in the Old part of the city, even though it is so beautiful… just because there is SO much to see, AND.. how else can you see the outside of the old city walls.
We went on a little expedition to check out a chocolate place that we read about in our travel guide called Champagne Le Maître Confiseur. It is in the Saint-Roch area of Quebec a few kilometers outside of Old Quebec….which was maybe a 15 minute walk.
I tried this chocolate covered cherry chocolate that was delicious. 🙂
We had the best breakfast of our whole trip in downtown Quebec City at Cafe Le Hobbit (it was about a 10-15 minute walk from Old Quebec).
I had these amazing maple waffles with maple syrup inside the batter served with apple butter to put on top. I also ordered a side of sausage, which reminded me of the sausage you can get in Ireland… crispy and flavorful, but without feeling too fatty.
My husband got the full breakfast, which came with eggs, bacon, a baguette, hash-browns, and baked beans, and he gobbled it all up happily.
Right across the street from cafe Le Hobbit is an old general store called Épicerie J.A. Moisan. It is the oldest grocery store in North America (established 1871) and it's basically my idea of heaven.
On their website they describe their store as, "…a fine gourmet food store and a real Ali baba's cave. You will find quality products from around the world as well as authentic local products."
And that is so true. It is a beautiful old style store with products from all around the world and fresh local products as well. As I was perusing, I kept thinking…Can I just live here?
Visiting Épicerie J.A. Moisan got me in the mood to go to a market. So we headed to the Marché du Vieux- Port.
It's a cute little fresh market in the old port area of Quebec and it basically was stocked with food and flowers from local farmers… oh and every maple product known to man.
I discovered maple butter here, which is maple syrup that has been heated and then whipped while cooling. It has the consistency of a thick caramel, but it tastes like fudge, or like maple syrup fudge… all while being made of only maple syrup. So it's basically magic.
And it's Paleo… soooo, I can eat it every day, right?!
Speaking of Paleo, I did not follow any sort of diet at all during this trip… I tend to not focus on diet on vacations, but we do make an effort to walk more and to balance out the meals we eat.
I did a bit of research on food in the Quebec area and made sure to add maple syrup, smoked meat, poutine, and meat pie on my "must-try" to do list.
Our first night we went to Aux Anciens Canadiens. My husband and I wanted a cozy casual restaurant that served Canadian food and didn't require a reservation.
There are a TON of really trendy places in Quebec, but we were really feeling more hearty pub food that night and we are so glad we came here!
I ordered a bison vol-au-vent in a creamy berry sauce and it was delicious!!
My husband ordered the meat pie, also called a tourtière, and kept raving about it. It came with meatballs and baked beans, tomatoes, and a homemade ketchup. It all kind of tasted like Christmas to me haha. So when I looked it up and found that it's basically minced meat with spices in it, it all made sense. 🙂
The next day we kind of had two dinners. One early dinner and one late.
In the afternoon we went to a pub called Oncle Antoine. It's a bar that looks like it is in a cave, made of all bricks. If I remember correctly the "cave" was used as a storage vault for beaver pelts and wool blankets of the fur trade in the 1750s.
My husband and I both ordered two Griffon Rouge beers, which we found to be our favorite Canadian beer. 🙂 They had a deal here to get a pint of beer and a shot of maple whisky, and so we shared the shot of whisky to try it. ( It was really sweet and delicious).
I read reviews that the food was great at Oncle Antoine, so my husband ordered the smoked meat sandwich and I ordered the french onion soup.
Both were really really good.
So much so that I'm thinking that all bars should serve these items.
Later that evening we got hungry. Which is where the second dinner comes in.
We didn't want a big dinner, but we also didn't want to not eat. I remembered an article I read that mentioned Chic Shack, a burger and poutine place, that was right next to Chateau Frontenac.
I normally am hesitant about restaurants in super touristy areas because I assume they are going to be tourist traps, but I was intrigued.
So we headed to Chic Shack. The burgers here were really delicious and high quality. They also make their own fresh fruit sodas, which was super cool. It was perfect for a late night second dinner.
And finally, the very last place we ate at was another burger joint called Chez Victor. It's a gourmet burger restaurant known for all of the meat and non-meat burger options they have. Our B&B host recommended it to us, so we decided to make this our last lunch… and we were very happy that we did.
I ordered the duck confit burger and was blown away… because duck confit! I wasn't able to try their fries because they cook them in peanut oil [#peanutallergyproblems]. But they offered me a side Caesar salad instead and it has to be one of the best caesar salads that I've ever had. Go here!
Outside of the beautiful architecture, stores, and the food, my all time favorite part of Quebec was the flowers.
I am incredibly drawn to colors and patterns, and I found that the flowers here sparked so much joy in me. I could not get enough. It was actually hard for me to narrow down these flower photos to share with you guys, but I picked a few of my favorites.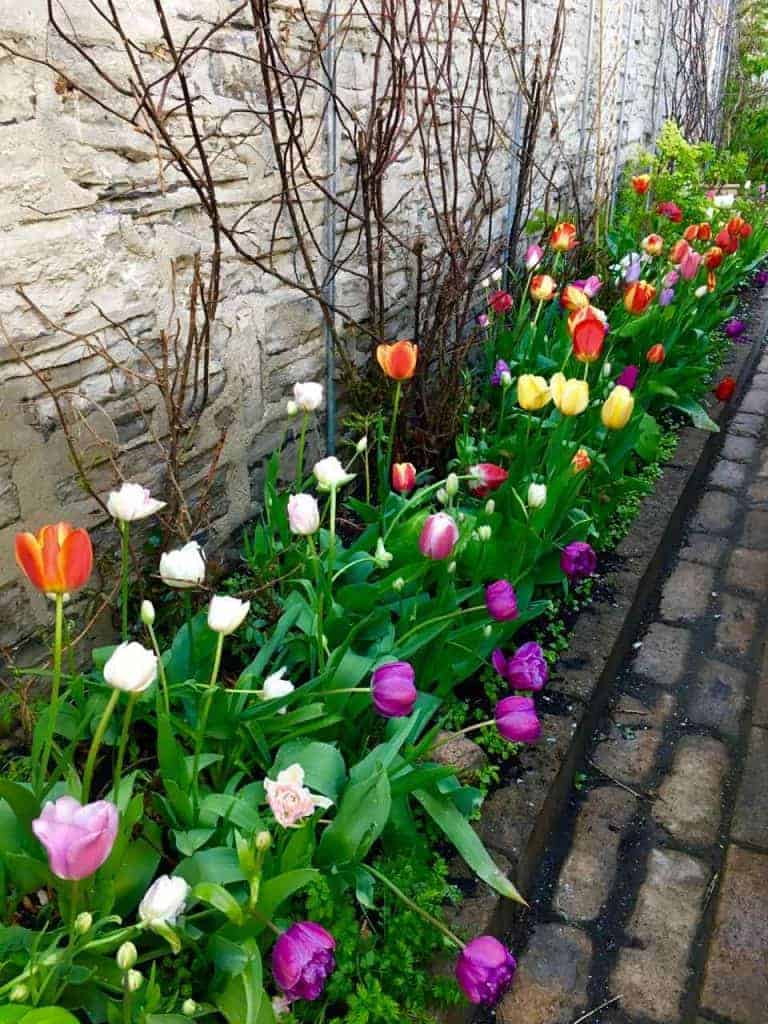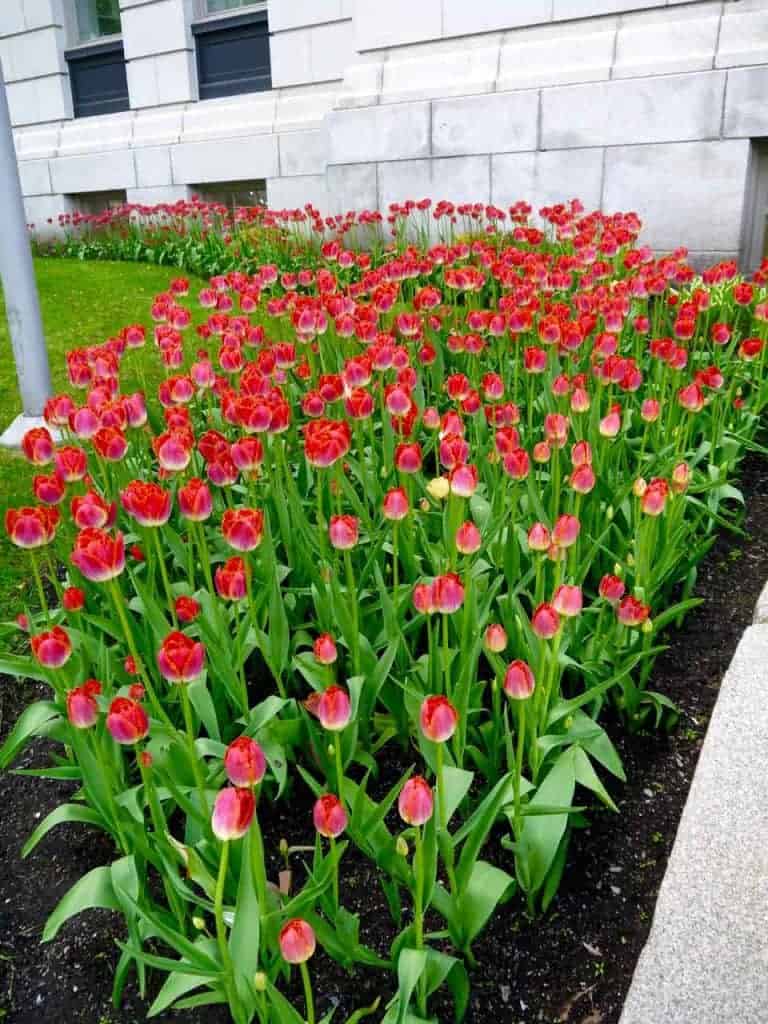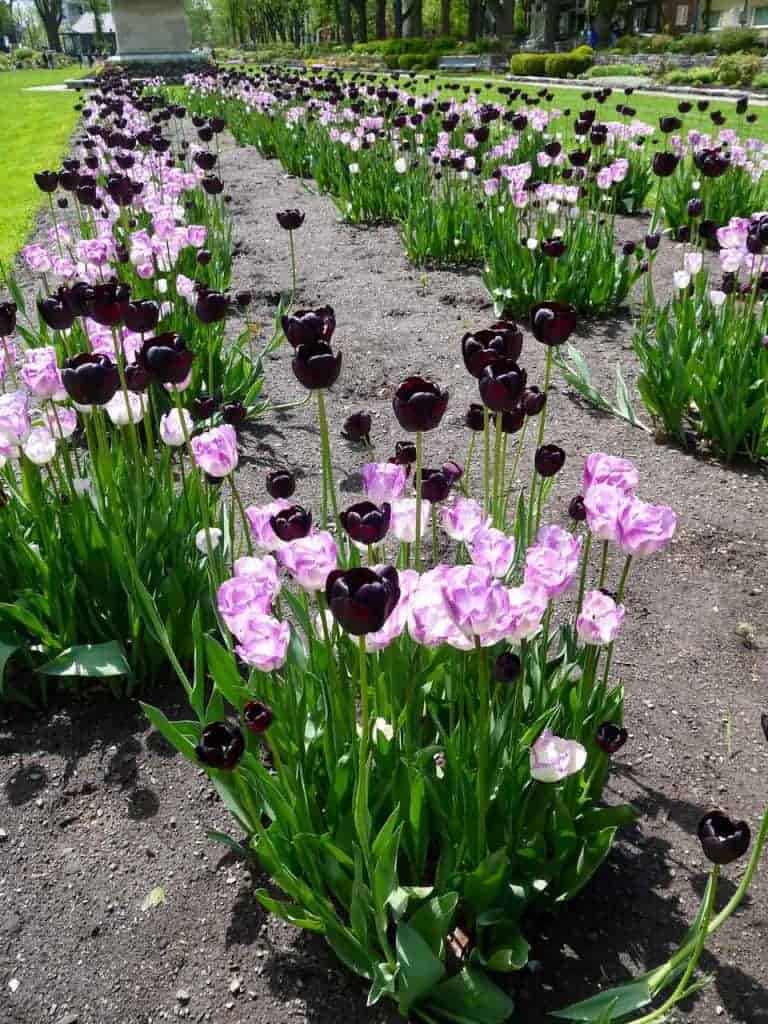 How amazingly gorgeous are these?!
And the parks?! I found myself asking, "Is this real life?!"
Seeing these flowers makes me want to buy a house in the middle of the woods and to plant a bunch of flowers there and then eat every meal outside surrounded by the flowers…a girl can dream. 🙂
Speaking of parks, Parc du Bastion-de-la-Reine is a must! There are these windmill round building looking things ( sorry for the lazy vocab), but the park was just beautiful.
The city seems to be surrounded by greenery and parks, and enjoying nature this way was really refreshing.
We were only in Quebec for a few days, but we really loved traveling here. It was a fun and charming place to people watch, to explore small streets and old buildings, and to take in the scenery.
It was also nice for me to speak and to be surrounded by the French language. French was spoken a lot more than expected and I loved it. 🙂
Disclosure: This post contains Amazon affiliate links. This means that if you click on a link and make a purchase, I will receive a small commission at no cost to you.