Paleo Whole30 Twice Baked Pesto Potatoes
Paleo Whole30 Twice Baked Pesto Potatoes recipe. Healthy twice baked potatoes that are crispy on the outside, mashed potato creamy on the inside, and bursting with fresh pesto flavors.
Is there a meal or dish that you find gets everyone really excited for dinner? Like so excited that your loved ones are sitting down at the table before dinner even starts?!
Well that happens in my house with these Paleo Whole30 Twice Baked Pesto Potatoes.
They are crispy on the outside yet mashed potato creamy on the inside, all while bursting with the fresh pesto flavors of basil, pine nut, almond and garlic.
Seriously, if you want your family or friends excited about dinner (or lunch), then make these Paleo Whole30 Twice Baked Pesto Potatoes!
They are a wonderful, flavorful and healthy side that no one would guess is Paleo, Whole30, Gluten-free, Grain-free and clean.
Which is great because you can sneakily get your family and loved ones eating right, without taste being sacrificed or without the food being "boring".
Eating non-processed foods as much as possible is a great way to improve your whole family's health.
My husband and I have seen the benefits of this lifestyle so much that we know we are going to continue this with our little one (when she is able to eat food).
We also really love having set mealtimes where we sit together and enjoy each others company. We both grew up having family meals and felt that this was a healthy habit that resulted in a stronger bond with our families.
Check out the benefits of family mealtime and why it matters below! 🙂
To be honest, family meals should be a time your whole family looks forward to.
To get your family excited to gather over a meal, look for a spacious table and comfortable chairs here.
And make sure to have something delicious prepared. Like these Paleo Whole30 Twice Baked Pesto Potatoes. 🙂
To make them, you have to bake your potatoes for an hour, until they are nice and soft.
While they are cooking, you make your pesto sauce. I like making my pesto with pine nuts AND almonds. And this recipe uses basil, garlic, almonds, pine nuts, and lemon juice.
Then… you take out the inside of the baked potatoes ( leaving the outer potato shell intact ), and mix the potato insides with ghee, coconut cream, almond milk, and pesto.
Next, you fill the potato shells with this pesto mashed potato goodness, and top them with MORE pesto and then bake everything together until its nice and warm and pesto-y delicious.
Side note: I like to prep these in advance and then reheat them for dinner.
I also love bringing them to dinner parties because everyone enjoys them and because there's something Paleo that I can eat. 🙂
Other potato recipes you may enjoy:
If you love potatoes, which I assume you do if you are looking at this post, check out this Air Fryer Baked Potato recipe by Vegetarian Mamma. It's a unique way to make baked potatoes, that looks so good!
Primal Stuffed Sweet Potatoes with Maple Bacon Brussels Sprouts and Cranberries. Yummy baked potatoes filled with crispy brussels sprouts, bacon, maple syrup, and dried cranberries. NOM.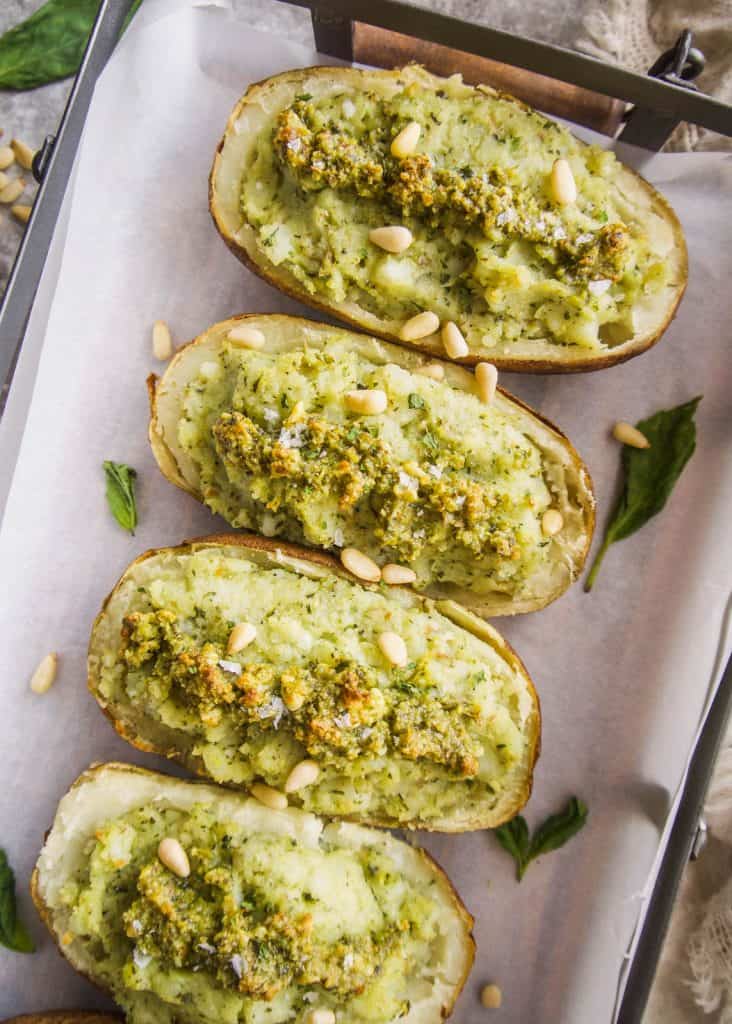 Paleo Whole30 Twice Baked Pesto Potatoes
Healthy twice baked potatoes that are crispy on the outside, mashed potato creamy on the inside, and bursting with fresh pesto flavors. Paleo and Whole30
Ingredients
4 baking potatoes , washed and dried ( I used organic russet potatoes 4= 3.25 pounds)
olive oil spray
¼ cup ghee or grassfed butter
¼ cup coconut cream
1/4 cup almond milk
Pesto sauce ingredients:
3  cloves garlic
1/4  cup  almonds
1/2  cup  pine nuts
1  cup  fresh basil  (1.5 ounces)
1/3 cup olive oil
1/4  tsp  salt
1/4  tsp  ground black pepper
2 Tbs lemon juice
Instructions
Preheat the oven to 400 degrees F.

Place the potatoes onto a cookie sheet. Spray them with some olive oil and bake them for 60 minutes, flipping half way through. Make sure they are cooked through. You should be able to easily stab them with a knife.

While the potatoes bake, make the pesto sauce. Put all of the pesto ingredients into a food processor and mix until everything is well blended.

In a medium bowl, add the ghee ( or grass fed butter ) and coconut cream and mix.

Remove the potatoes from the oven. Then, lower the heat to 350 degrees F.

With a sharp knife, cut each potato in half lengthwise. Scrape out the insides of the potatoes into the mixing bowl with the coconut cream and ghee in it. Be careful not to tear the shell. It helps to leave a bit of a rim on the outer edge of the potatoes. Put the hollowed out potato shells on to the cookie sheet.

Smash the inside of the potatoes into the ghee and coconut cream. Add the almond milk and 1/2 of the pesto sauce, and then mix into the potatoes.

Fill the potato shells with the mashed potato pesto filling. Top each potato with a little pesto and then bake them until the potato is warm, 15-20 minutes.

Serves 4-8 ( depending on if you are eating 1/2 of a potato per person or 1 potato per person ).
Nutrition
Calories: 782kcalCarbohydrates: 50gProtein: 14gFat: 63gSaturated Fat: 16gPolyunsaturated Fat: 15gMonounsaturated Fat: 27gTrans Fat: 0.003gCholesterol: 29mgSodium: 155mgPotassium: 1417mgFiber: 7gSugar: 3gVitamin A: 3133IUVitamin C: 27mgCalcium: 203mgIron: 6mg
Disclosure: This post contains Amazon affiliate links. This means that if you click on a link and make a purchase, I will receive a small commission at no cost to you.