Northern Ireland Country Antrim- Part II, Belfast
Have you ever noticed that the first time that you visit a place, or start a life somewhere new, that you see it in a totally different light the very first time that your eyes see it? At first, the cracks on the street, the shapes of the buildings and various shapes such as trees all stick out. It's as if everything is made out of legos and you can see each and every part of it separately. Eventually, though, everything blends together, as if by the stroke of a brush, and this new place starts looking the way that it will now always look in your mind.
It's a beautiful process.
And it's one of my favorite things about traveling… observing details with a fresh appreciative eye.
I moved to Belfast 8 months ago and have enjoyed getting to know it and the area better. I have been especially drawn to the history and architecture here, as has been the case for me when traveling through Europe in general.
I've often pondered over the natural connection that I feel to places that have so much visible history. Is it because things aren't as "new" in the USA? Or is it there a genetic component? Being closer to where our ancestors are from?
These are some of the thoughts that I have been having as I walk to and from work… and I have plenty of time to think, 25 minutes each way 🙂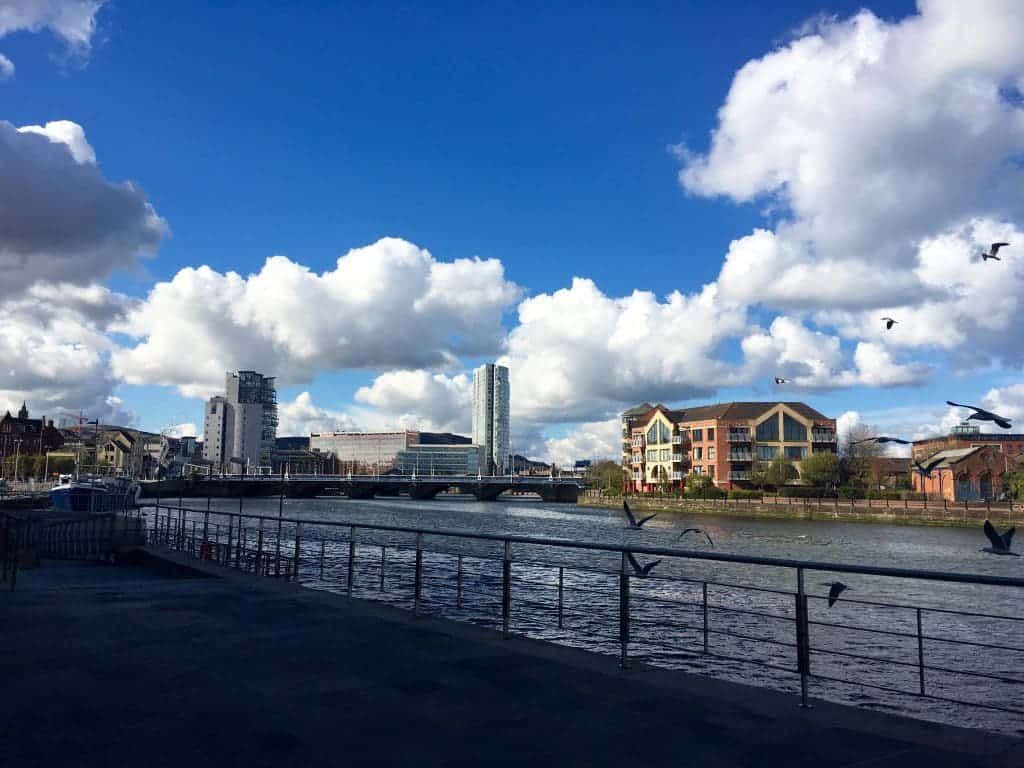 Which, by the way, has been wonderful. I absolutely love being in a walkable city. Walking not only makes you feel so good and helps you stay in shape, but it's a great way to clear your head, think, and notice the beauty around you.
I had moved here from a driving city, and being here made me realize that a lot of life seems to be wasted in driving all the time. And that having phone-free, non-driving time both before and after work is rejuvenating in so many ways.
Sometimes I just wander with no direction searching for beautiful buildings. Like the City Hall here in Belfast 🙂 (photo above). It's an impressive building close to lots of shopping and other historic sites.
It's funny because if I get "lost" while driving, it would probably be annoying. But getting lost when walking is so different… your senses notice everything around you. Like red bricks.
Belfast's architecture is full of red bricks! And every time that I go for a walk, I find beautiful details on various buildings that I had not seen before.
Or shops that I had not been to before, getting lost always ends up with me shopping a bit. 🙂
There's a beautiful shopping center in Belfast called the Victoria Square Shopping Centre. It's small and manageable, clean and modern, and full of great shops.
One such shop is my new kitchen obsession. Cath Kidston is a kitchen Utopia. I mean, don't you just want everything?!
Another shop that I love near the Victoria Square is called Avoca. It's an Irish chain, kind of like Anthropologie, that has great clothes, unique gift items, books, and jewelry, but it also has a cafe inside that serves the best scones known to man.… I'm serious. Best scones ever!
I will never look at a scone the same after eating an Avoca scone. Their pear almond scone and their berry cinnamon scones are unreal. If you are ever in Ireland or Northern Ireland, you have to buy a scone at Avoca! You can buy them in the front of the store or order them in their cafe… I'm getting one as soon as I'm married and off this wedding diet! haha
I also don't think that I will be able to eat a scone without fresh cream, butter, AND jam again. 🙂
If I had to choose, I'd have to say that "tea and scones" and Ormeau Park are my two favorite things about living in Belfast.
Ormeau Park holds a magical place in my heart. In the Fall, the trees are majestic. And in the Spring, there are literally thousands of tulips. The grandness of it all really makes you feel humble to be surrounded by such nature.
I would not be surprised to see a gnome or a fairy pop out from behind a tree or flower in this park. Which I love. 🙂
Here are a few photos that I took of Ormeau Park in the Fall: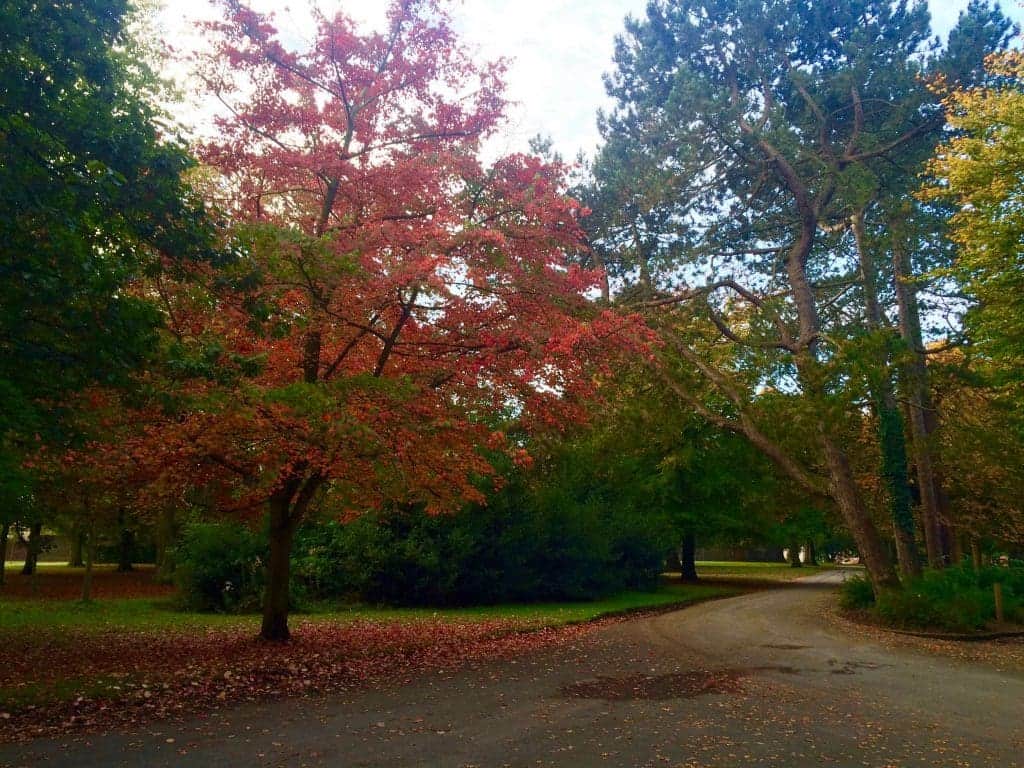 And here are even more photos of Ormeau Park from the Spring: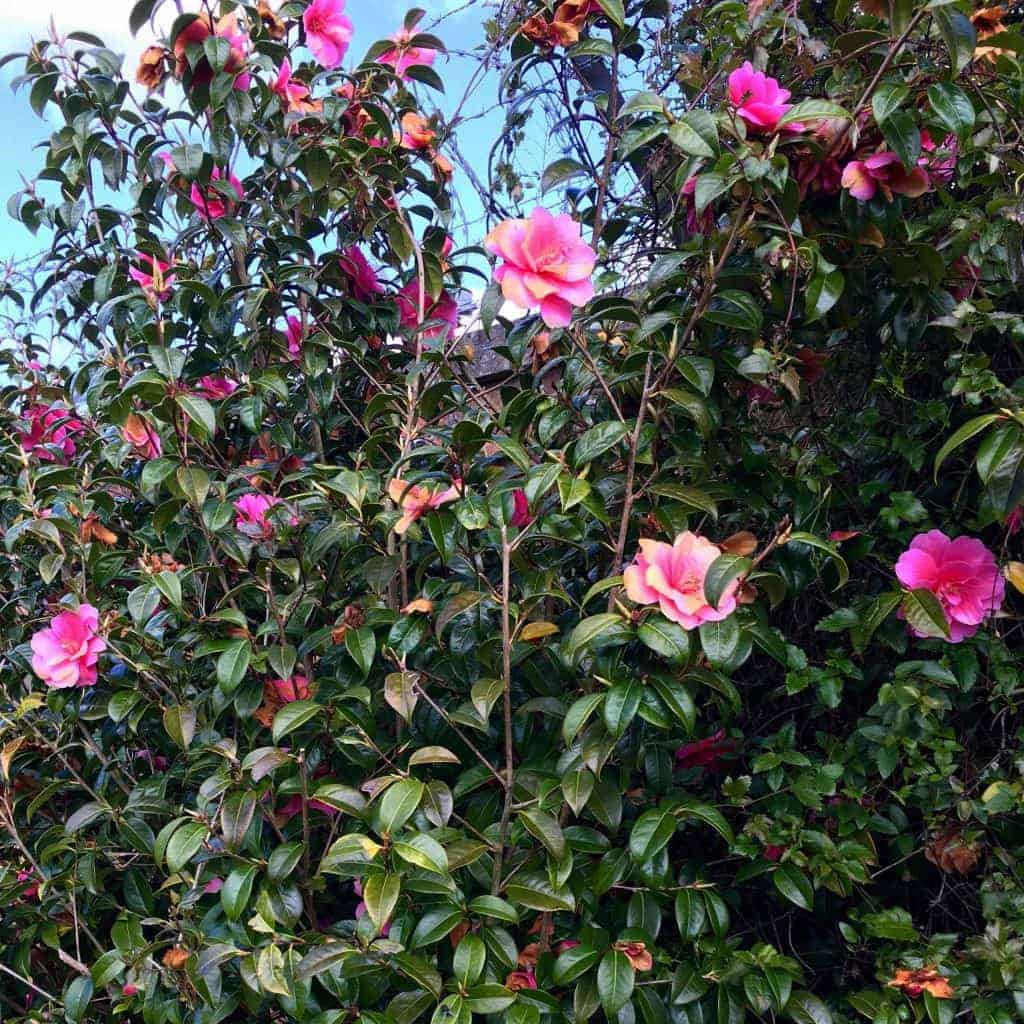 I have literally taken 1000s photos of flowers lately. And now all the trees have their bright green leaves… it all just feels so alive!
And speaking of alive, I can't forget to mention my favorite Belfast food spots! Food is one of my favorite parts of travel and life (obviously haha).
For a Sunday roast, or fish and chips, I love McCracken's Cafe Bar, its a modern pub, situated down a small secret alley way.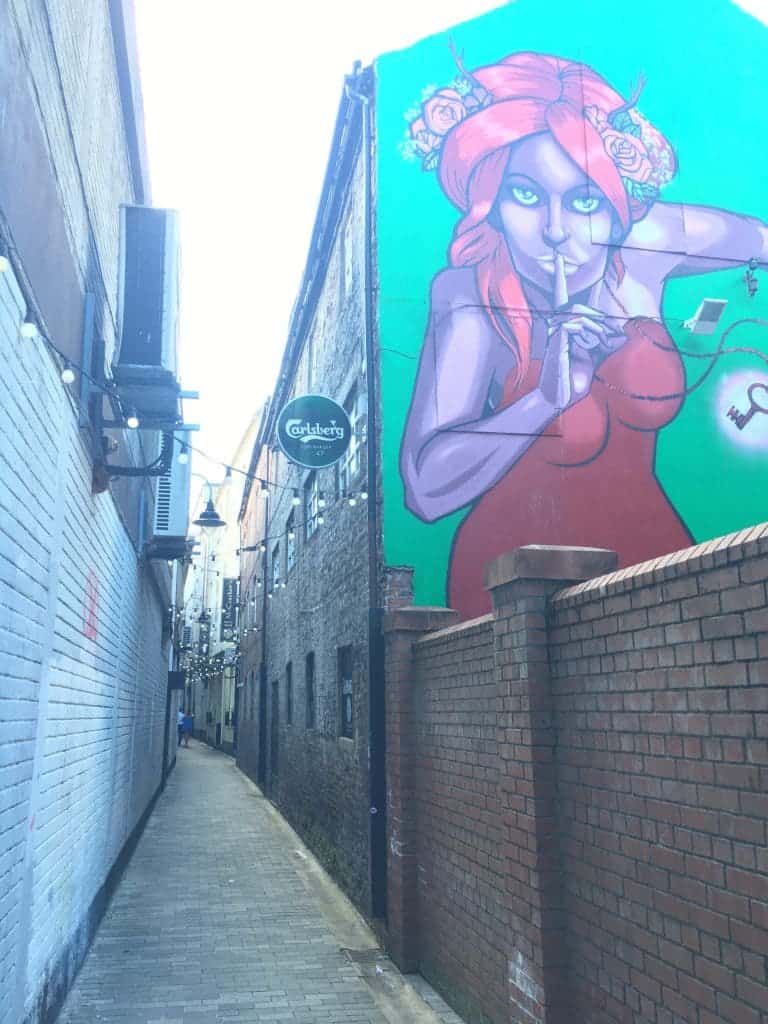 I actually only found out about this place because my mother asked a police officer where his favorite place to eat was and he enthusiastically said we had to go to McCracken's.
I have now been more times than I want to admit and have always loved the quality and freshness of the food here.
Another favorite restaurant of mine, as well as a big favorite in this city, is Mournes Seafood Bar. It has the freshest fish, and the creamiest orzo. It's in a cool part of the city, next to a fun Irish pub called Kelly's Cellars. This restaurant it is always always packed.
So you need to make sure to make a reservation in advance. It's really worth it.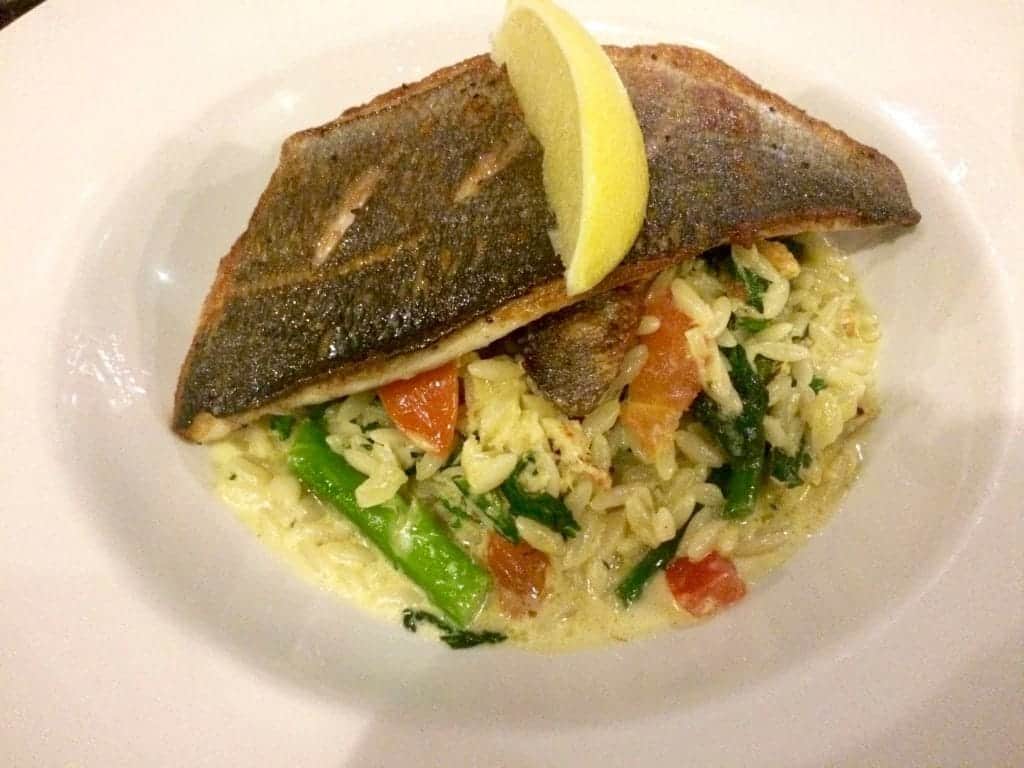 Finding a great breakfast place in Belfast was a bit harder for me, to be honest. I had found many great cafes or coffee shops with pastries and tea, but I couldn't find a great Full Irish Breakfast or Ulster Fry, as they call it here, and I had honestly almost given up.
Until I tried Le Petite Ormeau. Leave it to a French place to have the best Irish breakfast haha. This restaurant is certainly a hidden gem. Everything is top-notch in taste and quality. I suggest going as soon as they open, as it fills up quickly, especially on the weekend.
They have amazing warm Belgian waffles as well… you know the kind with little bits of sugar inside…yum! I had the pleasure of ordering a waffle covered in a fried egg and crispy bacon. Drool. And my fiance ordered their Full Irish Breakfast:
I didn't go out to bars all that often when I was here, but there were two spots that were my go-tos. Brewbot was my go-to beer spot. They have a fun beer tasting tray where you can taste 4 or 8 of their beers, which come from all over the world. I also highly suggest their meat and cheese plate. Delish!
My other favorite bar is Duke of York.
I highly recommend walking around the cathedral quarter, and stopping by the Duke of York. If you GoogleMap the directions, it will take you to the back of the bar, which is not an entrance but don't give up! Walk around the corner and you'll see a beautiful street full of lights and wall art, and you'll find the entrance there.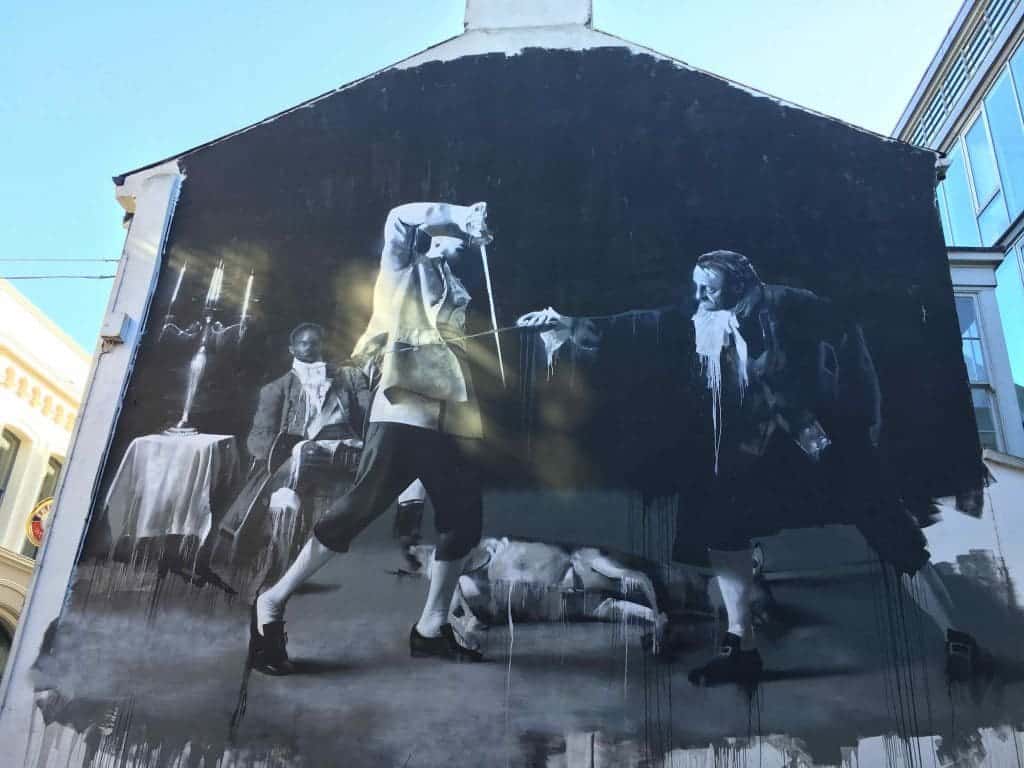 All of the furniture in Duke of York are antiques and a lot of it, if not all, is Guinness related. It is a beautiful collection which results in a beautiful bar where one should enjoy a Guinness. This is a must if you are in Ireland. You just have to. 🙂
If Guinness is not your thing though, Magners Apple Cider and Baileys does the trick. 🙂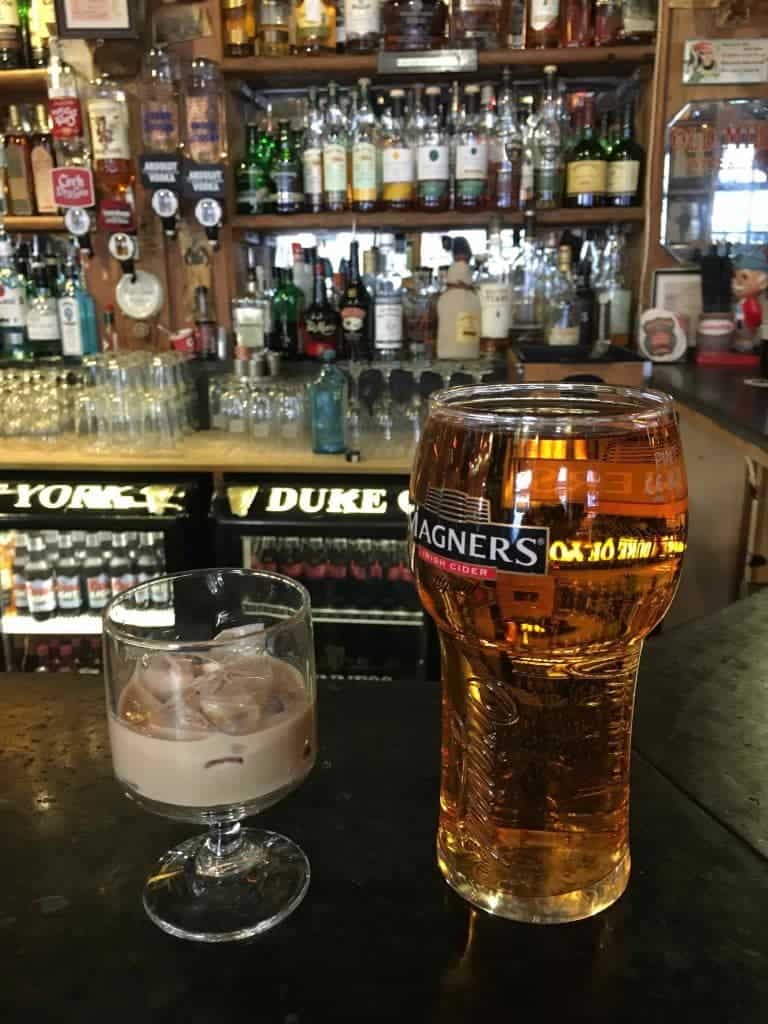 They even have live music on the weekends, which is really fun!
I've either brought all my guests here or recommended that they visit when they come here. And it never disappoints!
When I'm on the "making recommendations" roll, I feel like I need to suggest the Titanic Museum. It is a must-see.
I was told by multiple people how impressed they were with it, and finally recently went to see it myself… and I have to agree with them. It's impressive!
At first I was like why is this ticket £17.5?! ($25). And then I started the tour… and understood why, I mean wow! This museum is incredibly well done. From the high-tech, beautifully presented facts and photos regarding the history of Belfast…which includes interactive quizzes, maps and videos. To the ride (yes there is a RIDE) and the video of the underwater exploration of the Titanic, which makes you feel like you have a front row seat to the underwater ruins, this museum is beyond impressive.
You also get to see what the rooms in the titanic looked like, get to touch samples of the carpets, and even get to read a sample menu of what people ate on the boat! Wow. I left feeling completely satisfied that my money and, more importantly, my time, was well spent.
One more touristy must-see that I did recently and am SO HAPPY that I did it… is going to Belfast Castle and doing the CaveHill hike that surrounds it.
I mean if you want to hike through a magical fairy-forest next to a magical castle on the water, which leads to mysterious caves and Irish hills full of yellow flowers and cows grazing, then this hike and excursion is a must-do for you!
The castle serves food and tea as well. Plus the mountain-top views are just breathtaking…I'm going to do this again when my fiance and mother come to visit soon, I can't wait!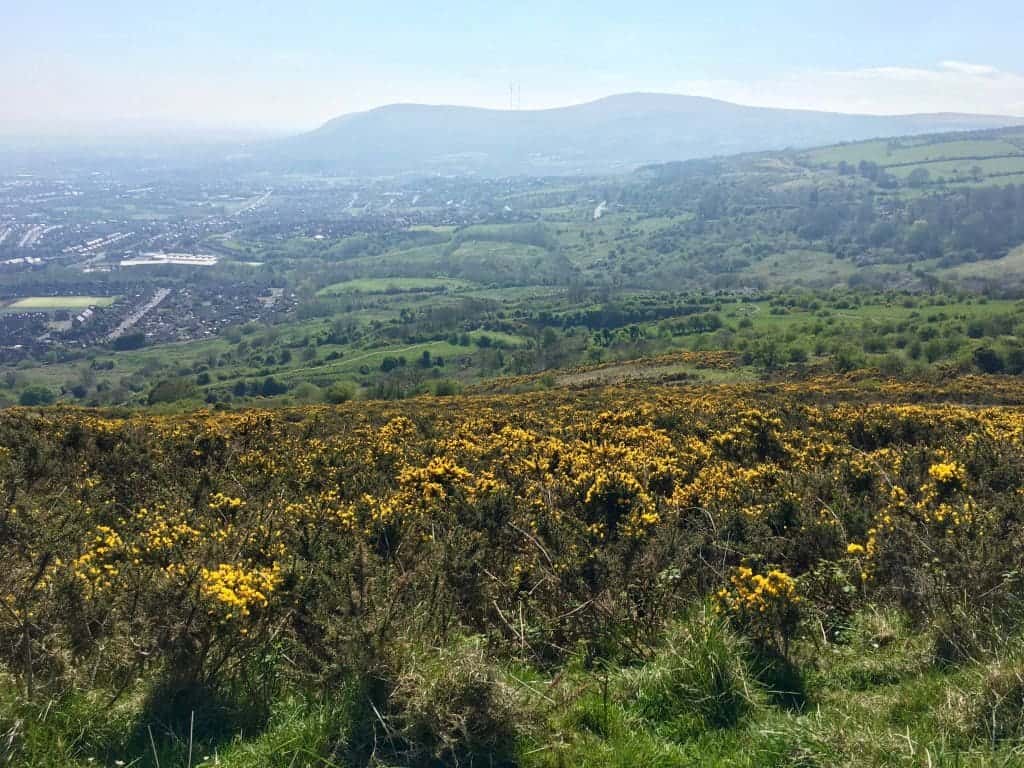 The Cave Hill Hike, in the Cave Hill Country Park is a good workout while you are at it…
My friend, who was much more positive than me about our abilities, was convinced that we could do the 4.5 mile hike in less than 2 hours. The visitor's information said that this hike should take 2.5 hours.
But after the first uphill steep part of the trek I said NO WAY.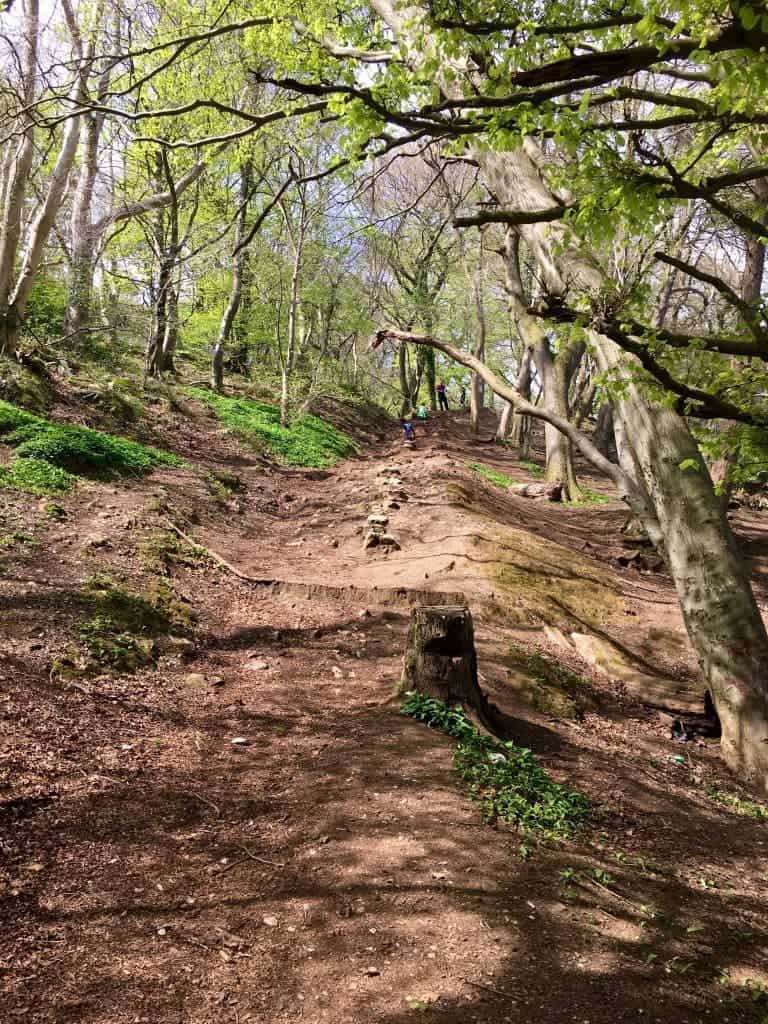 I started complaining and saying there was no way we would finish it in 2.5 hours (I was being dramatic).
But then we got out of the forest, reached one of the caves, and looked down at the ocean below and my heart just flooded with happiness.
We ended up doing the hike in 1 hour and 50 minutes! And we stopped two times!
The whole thing was amazing and I can't recommend it enough.I was happy to have my butt kicked before the wedding, to breathe in the fresh air, and to have these views permanently marked in my brain. 🙂
Well, that was a long post!
I'll end this post by saying that this experience, and moving to Northern Ireland has been wonderful. Traveling and experiencing different places is one of the best things in life and has made me really become more confident in my adult self.
The tough part was that I was missing my fiancé… I have had a piece of my heart missing from my life for the past 8 months! Which, I am happy to say, will no longer continue once we are married. We aren't 100% sure where we will be, but we know it will be together… which means another move is in order!
You never know what is behind the next door. 🙂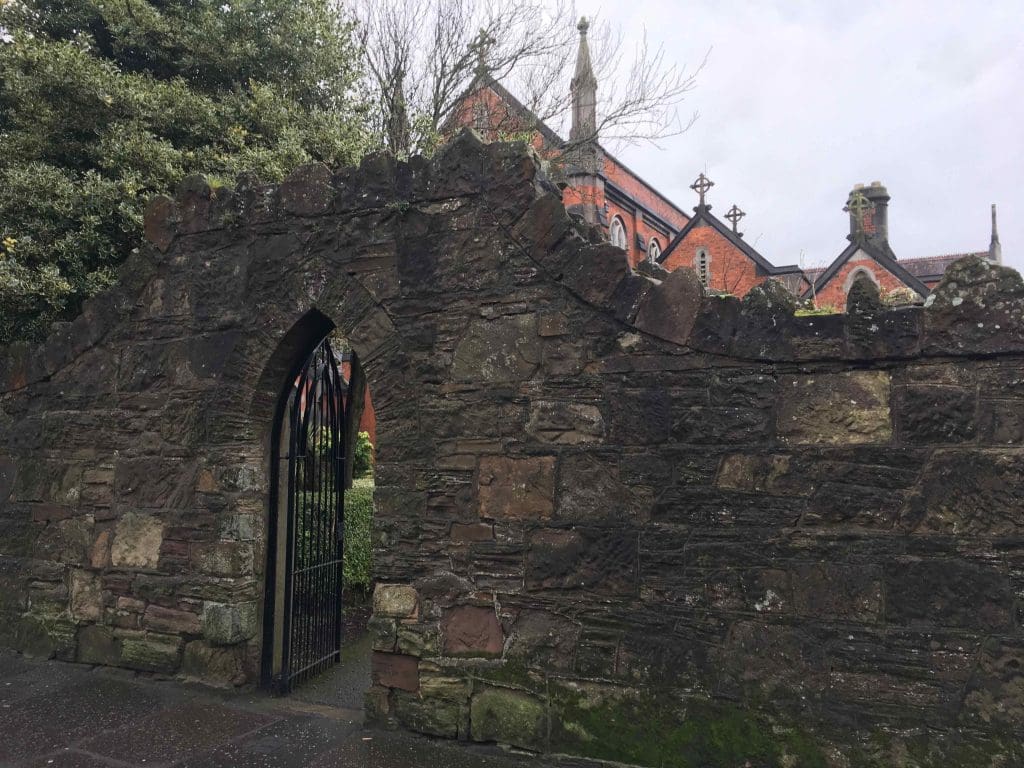 Disclosure: This post contains Amazon affiliate links. This means that if you click on a link and make a purchase, I will receive a small commission at no cost to you.