My Mom's Ratatouille
My Mom's Ratatouille, a fresh, flavorful, healthy French dish made with onions and garlic, zucchini, squash, bell peppers, tomatoes, laurel, and thyme.
I had some sad looking zucchini, squash, and tomatoes sitting in the fridge. I really did not want to throw them away and be wasteful, so I tried to think of what I could do with them…
My Mom's Ratatouille quickly popped into mind… a fresh, flavorful, French dish, that she makes often. It is sweet yet spicy, full of vegetables, and flavored with fresh thyme and bay leaves. In other words, her ratatouille is simply the BEST.
I have tried to recreate her ratatouille recipe before in the past, but it never turned out quite right.
So, I called her, pen in hand, ready to find out how she makes her delicious ratatouille…and to learn how to make it the "French way", since she is French and all. 🙂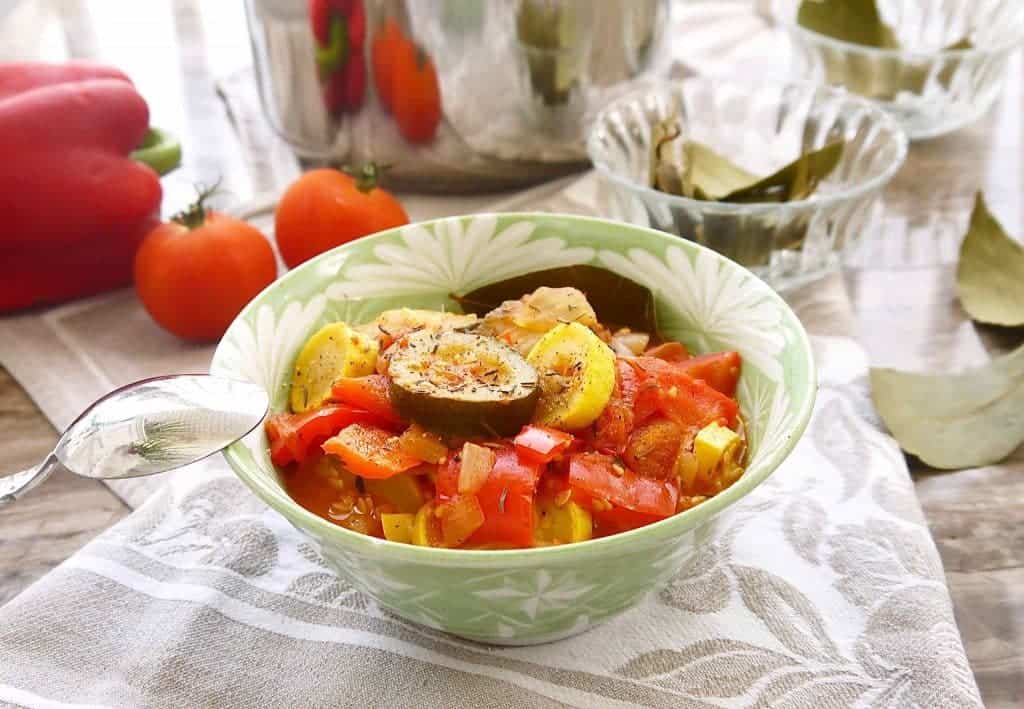 And instead of getting a recipe with instructions, I got some tips. Which is how my grandmother shared her recipes as well… with tips and advice, not exact measurements.
My mom proceeds to tell me to put these ingredients into the pot in this order: 1) onions and garlic 2) zucchini 3) squash 4) bell peppers, and 5) tomatoes… but to make sure not to use too many tomatoes.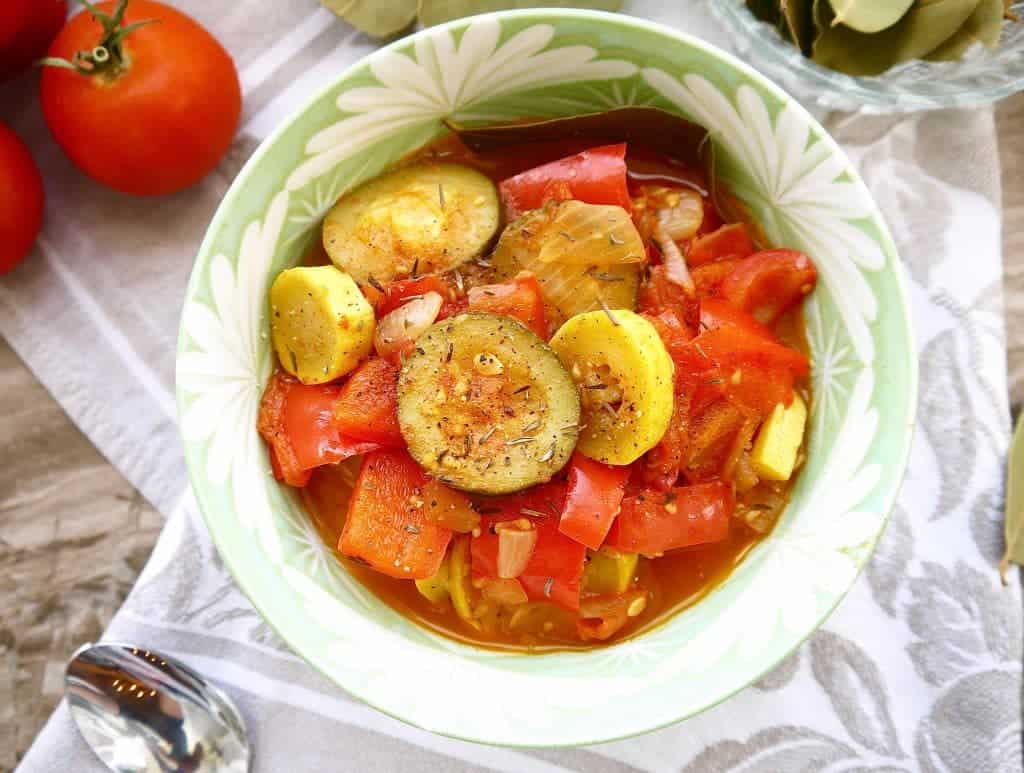 Then she told me to season the ratatouille ONLY with laurel and thyme… in her words, "it is the French way."
I immediately thought…Laurel?! I don't have Laurel…. and after a quick search, I realized it was a Bay leaf or you could use a Bay leaf in it's place. I'm still not sure haha
She also recommended to use fresh thyme if possible. I didn't have any on hand, so I used dried thyme. It still turned out delicious!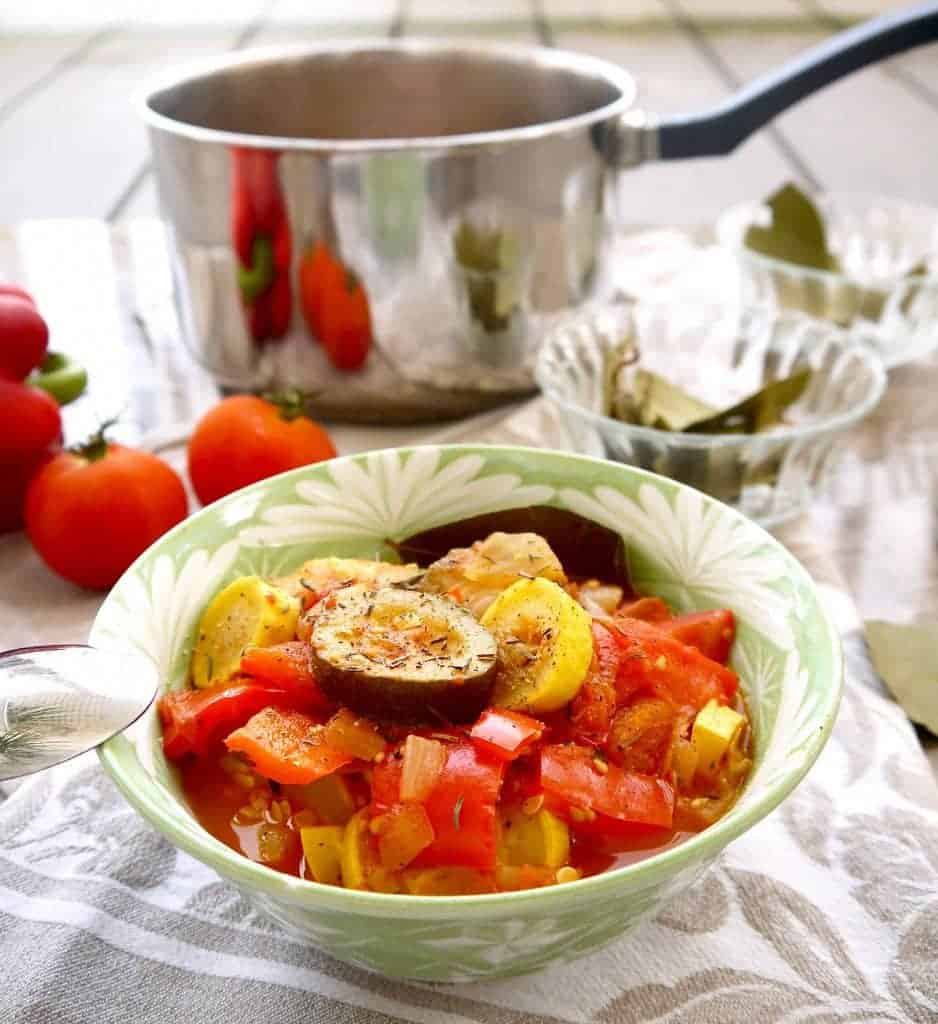 Despite not having fresh thyme, or knowing the exact proportions of the recipe, I took her advice and ended up with the tastiest, most flavorful, ratatouille. So, this is kind of like my version of her ratatouille. 🙂
It just melts in your mouth and I want nothing more to do than drink it.
It is almost like the best tomato soup ever, with perfectly seasoned veggies… it is good until the last drop!
One thing worth noting is that my mom uses green and red bell peppers when she makes hers. I don't really like green peppers so I only used red here.
Also, if you think your ratatouille looks too liquidy, don't worry. The juices will thicken, even after it is done cooking.
Bon appétit!
My Mom's Ratatouille (Paleo, GF)
My Mom's Ratatouille, a paleo, GF, fresh, flavorful, French dish is made with onions and garlic, zucchini, squash, bell peppers, tomatoes, laurel, and thyme.
Ingredients
1/2 Tbs olive oil
1/2 cup diced yellow onion (this was 1/2 of a yellow onion for me)
3 cloves garlic , sliced
a pinch of crushed red pepper/ red pepper flakes (more or less depending on the heat that you want)
1 large zucchini , sliced
1 large yellow squash , sliced
1 red bell pepper , diced (note: you can use any color bell pepper)
1 lb Campari tomatoes , chopped
1/4 tsp salt
1/4 tsp ground black pepper
1 bay leaf
1 tsp thyme (dried or fresh)
Instructions
Put 1/2 Tbs olive oil into a large sauté pan and heat over medium heat. Add the onion, garlic, and crushed red pepper flakes to the pan, mix, and cook for 3-4 minutes, until translucent and fragrant.

Add the sliced zucchini into the pan, mix. Add the sliced squash into the pan, mix. Cook for 5 minutes, mixing every so often.

Then, add the red bell pepper to the pan, mix, and cook for about 3 minutes.

Next, add the campari tomatoes to the pan and mix. Add the salt, ground black pepper, bay leaf and thyme to the pot and mix.

Cover the pan and cook for 10 minutes over medium heat.

Then remove the cover from the pan, reduce the heat to low-medium and cook for 30 minutes, mixing every so often.
Nutrition
Calories: 78kcalCarbohydrates: 13gProtein: 3gFat: 2gSaturated Fat: 0.4gPolyunsaturated Fat: 0.5gMonounsaturated Fat: 1gSodium: 161mgPotassium: 714mgFiber: 4gSugar: 8gVitamin A: 2170IUVitamin C: 79mgCalcium: 45mgIron: 1mg
Disclosure: This post contains Amazon affiliate links. This means that if you click on a link and make a purchase, I will receive a small commission at no cost to you.