Paleo Buffalo Chicken Strips w/ Whipped Goat Cheese Dipping Sauce (GF)
I don't know about you, but I think buffalo chicken strips are amazing. They always have been and always will be! For those of you who follow a Paleo diet, this recipe will be such a treat! It is great even for those of you who do not follow a Paleo diet, because buffalo chicken strips are delicious!
I mean, who wouldn't want to have buffalo chicken strips made of all natural, non-processed ingredients. Especially when they come with a side of hot sauce flavored whipped goat cheese dipping sauce. I'm drooling just thinking about it!
I ate these paleo buffalo chicken strips with cauliflower, carrot sticks and jicama sticks.
All of which tasted fantastic dunked in this hot sauce flavored whipped goat cheese dipping sauce.
I know that normally buffalo chicken is eaten with celery, but I just can't eat celery. I really dislike it… I'd even go so far as to say that I hate it.
Which is unfortunate, but I guess we all have foods that we don't like, yet wished we did.
I did find the perfect celery replacement though. Jicama! I don't really know how to explain the taste… kind of like a carrot, but also like a turnip and a little like raw cabbage?
All I know is that jicama is light and refreshing and I love it.
It is also good for you too! I have been bringing them to work with me to have something crunchy to snack on. Yum!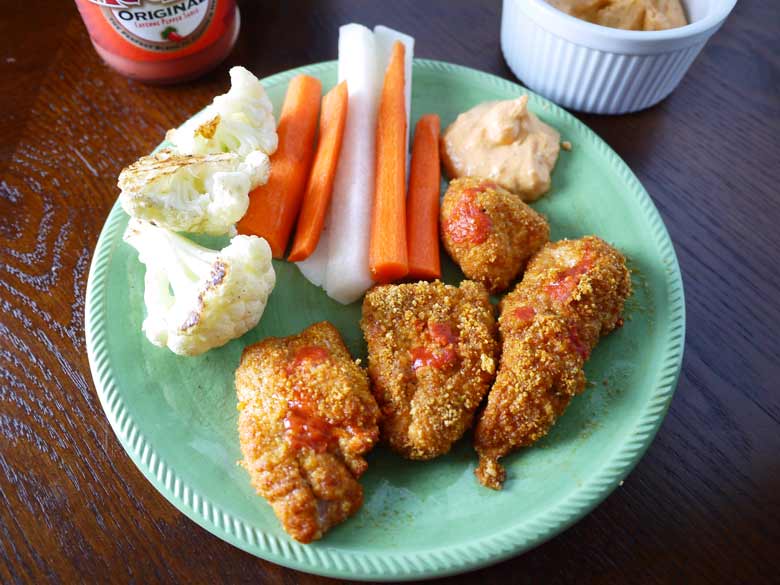 This recipe calls for a lot of hot sauce. And I have found that Frank's hot sauce is the best! It has no preservatives, no artificial ingredients, and no words that I can't understand.
You'd think more hot sauces would be this way, but they aren't. I looked at many hot sauce ingredient lists out of curiosity and Frank's hot sauce was the only at my grocery store without sugar or preservatives. Frank's really is a must when you are following a non-processed food diet.
I feel like I need to warn you that these may not be as "hot" as the average buffalo chicken strips. If you like your buffalo chicken really spicy, you may want to add more hot sauce drops to the chicken in step 7 of the instructions. It is plenty spicy to me though, especially with the hot sauce whipped goat cheese sauce.
If you want to play it safe, you could always add more hot sauce after the chicken strips are cooked and then adjust the amount of hot sauce for the next time you make these. Since, there will likely be a next time. 🙂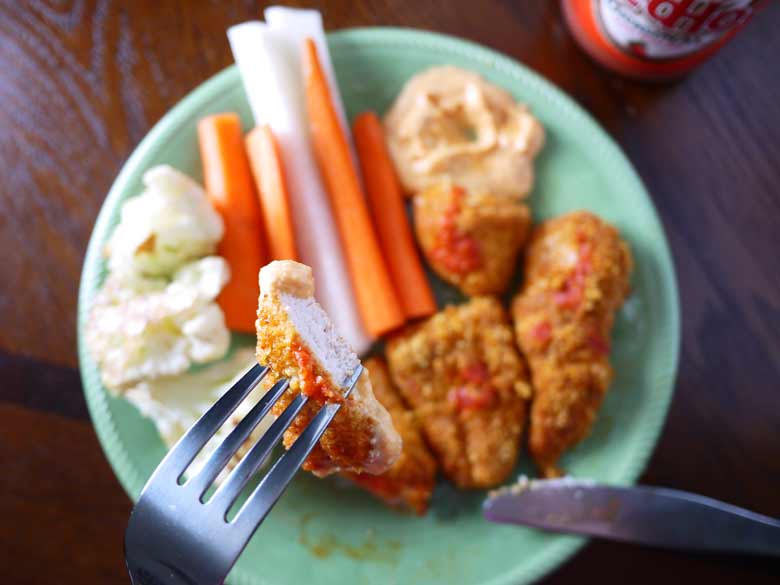 Paleo Buffalo Chicken Strips with Goat Cheese Dipping Sauce (GF)
Tender paleo buffalo chicken strips make an easy dinner for both adults and kids.
Ingredients
1.5 pounds chicken tenders
1 egg, whisked
1 cup almond flour
1/2 tsp paprika
1/2 tsp + 1/8 tsp salt (divided btw chicken and goat cheese sauce)
1/4 tsp + 1/8 tsp pepper (divided btw chicken and goat cheese sauce)
3/4 tsp cayenne pepper
4-5 Tbs Franks Redhot sauce (Franks is paleo) (divided btw the chicken and goat cheese sauce)- Also you may want to use more to make these hotter
4 ounces goat cheese
1 Tbs horseradish mustard
2 Tbs apple cider vinegar
1 Tbs maple syrup
1/4 tsp garlic powder
Instructions
Preheat the oven to 375 degrees.

Wash and dry the chicken and cut them into the chicken finger/strip shapes that you want.

In a small bowl, whisk the egg and 1 Tbs of hot sauce together.

In another bowl, mix the almond meal, 1/2 tsp paprika, 1/2 tsp salt, 1/4 tsp pepper, 3/4 tsp cayenne pepper together.

Dunk each chicken strip into the egg and then into the almond meal mixture and place onto the greased cookie sheet. I ended up using every last drop of the egg and the almond meal mixture.

When all of the chicken is on the sheet, pour 3 drops of hot sauce onto each strip. Add more for larger strips or if you want it to be "hotter".

Put the chicken in the oven for 25 minutes.

While the chicken is cooking, mix the goat cheese, 1 Tbs horseradish mustard, 2 Tbs apple cider vinegar, 3-4 Tbs hot sauce (depending on how hot you want it), 1 Tbs maple syrup, 1/8 tsp of salt, 1/8 tsp of pepper, and 1/4 tsp of garlic powder together until it is a nice whipped consistency.

Eat the chicken with the whipped goat cheese hot sauce.

Enjoy 🙂
Nutrition
Calories: 463kcalCarbohydrates: 10gProtein: 49gFat: 26gSaturated Fat: 6gPolyunsaturated Fat: 1gMonounsaturated Fat: 3gTrans Fat: 0.03gCholesterol: 163mgSodium: 1058mgPotassium: 694mgFiber: 3gSugar: 4gVitamin A: 687IUVitamin C: 2mgCalcium: 124mgIron: 3mg
Disclosure: This post contains Amazon affiliate links. This means that if you click on a link and make a purchase, I will receive a small commission at no cost to you.