Oven-Dried Strawberries (Paleo, GF, Whole30)
I have wanted to try drying strawberries out in the oven for a while now. I just didn't have a reliable enough oven to test out this type of recipe, because you need to keep the oven on a pretty low temperature.
Well now that I have been able to do so, I came up with this Oven-Dried Strawberries recipe. AKA nature's gummy candy 🙂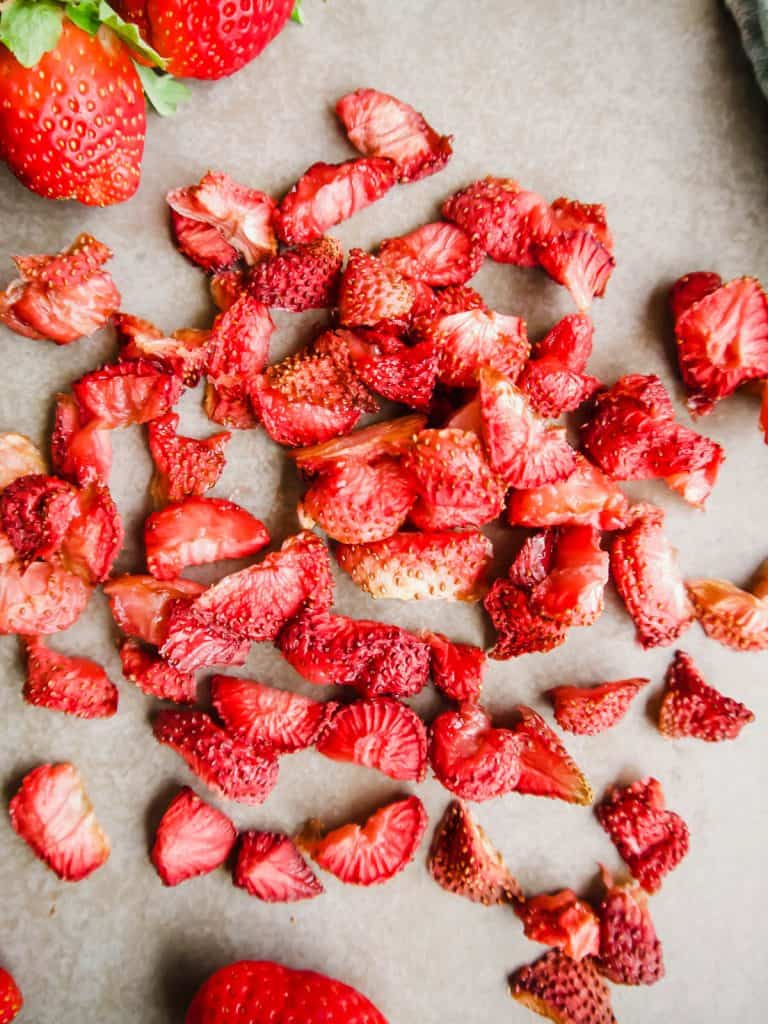 I got the idea to dry strawberries in the oven after eating oven dried strawberries in Northern Ireland. I used to buy bags and bags of them from a company called Urban Fruit ( which I hope comes to the USA ), and it honestly tasted like the best strawberry gummies EVER.
I did see that you can buy them on amazon but they ship from the UK and they are quite expensive for the tiny bag that you get.
All they used were strawberries and apple juice. So I made a note to try the same one day.
I actually did try making them a few years back but my oven was too powerful that they burnt, even on my oven's lowest setting.
So I decided to table the idea until I had a more reliable oven, which is finally now! 🙂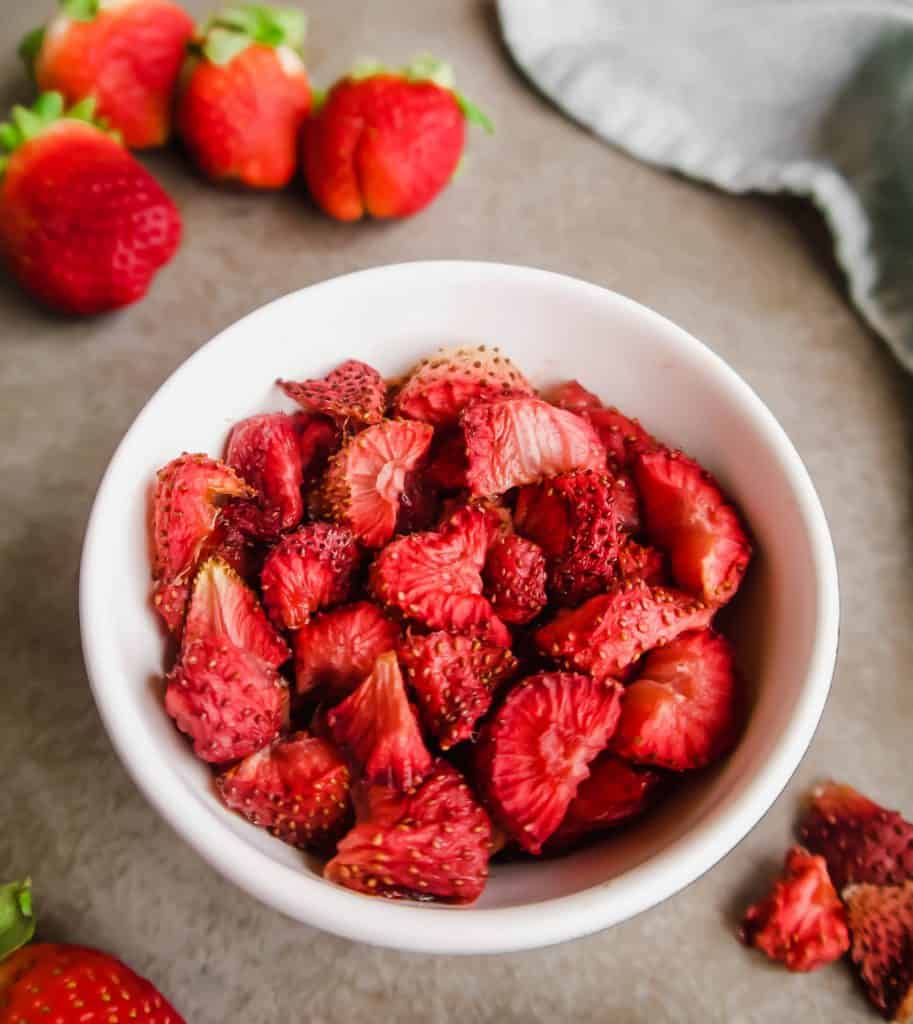 To make these Oven-Dried Strawberries, I mixed strawberries in apple juice and then I baked them for about 4 hours.
You will need patience for this recipe, and time. 🙂
And the result is dried out strawberries that are still juicy in the center. Kind of like a gummy candy, but more juicy.
And they are made out of only two ingredients, which is waaaay healthier than gummy candy.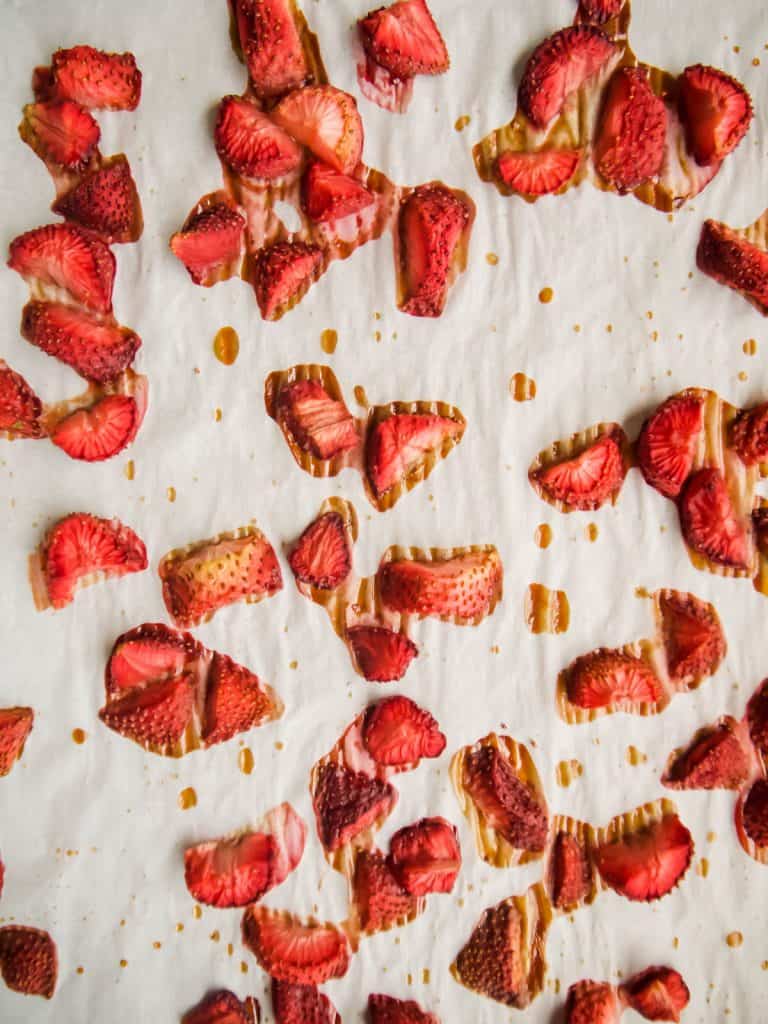 Bonus points that these Oven-Dried Strawberries are naturally Paleo, GF, Grain-free, Dairy-free, and Vegan.
I personally love eating them as a snack or dessert. And I love using these dried strawberries as a topping for smoothies, oatmeal, yogurt, or ice-cream. NOM.
The posibilites are endless!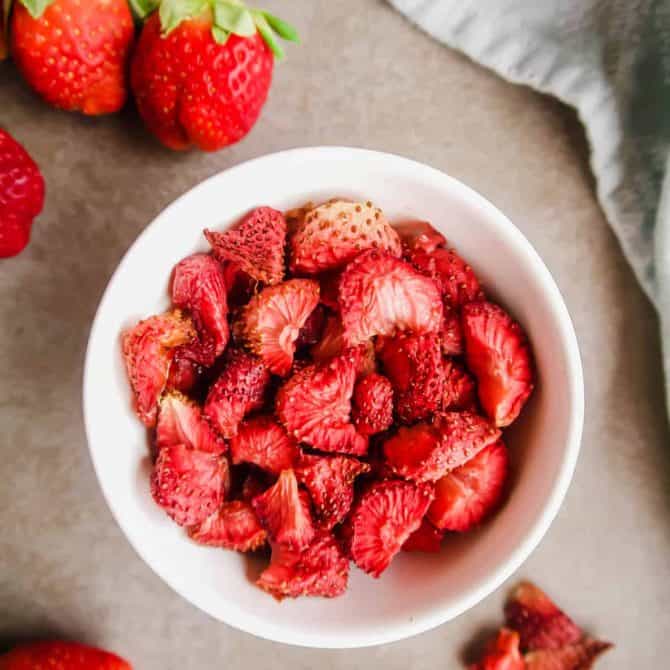 Oven-Dried Strawberries (Paleo, GF, Whole30)
Oven-Dried Strawberries recipe are nature's gummy candy.
Ingredients
1 pound strawberries top part cut off, halved, quartered
3 Tbs organic apple juice
Instructions
Put strawberries and apple juice into a bowl and mix. Let the strawberries soak in the apple juice for 30 minutes and then drain.

Preheat the oven to it's lowest setting. Mine has a "Warming" setting at 185 degrees.

Spread out the strawberries onto a cookie sheet lined with parchment paper and bake for 3 1/2 hours. Make sure to rotate the cookie sheet about every 30 minutes during this time. Bake until the strawberries are dried out around the edges but still juicy in the center. If they still need to cook after the 3.5 hours, increase the temperature to 250 degrees and cook for 20 mins. ( keep an eye on them during this time) ( I ended up needing to cook them a bit longer)

Let cool on the cookie sheet. Makes ¾ cup dried fruit.
Nutrition
Calories: 41kcalCarbohydrates: 10gProtein: 1gFat: 0.4gSaturated Fat: 0.02gPolyunsaturated Fat: 0.2gMonounsaturated Fat: 0.1gSodium: 2mgPotassium: 185mgFiber: 2gSugar: 7gVitamin A: 14IUVitamin C: 67mgCalcium: 19mgIron: 0.5mg
Disclosure: This post contains Amazon affiliate links. This means that if you click on a link and make a purchase, I will receive a small commission at no cost to you.