Lemon Alfredo Spaghetti Squash (paleo, GF)
I can remember the first time that I had lemon alfredo sauce like it was yesterday. I was in a restaurant tucked away from the busy Via del Corso in Rome. I had already ordered several other spaghetti dishes from this place and loved them so much that I didn't want to try anything else. And yet, the foodie in me did.
I was intrigued with the idea of lemon alfredo…cream and lemon? I imagined that the sauce may not turn out quite right, but the waiter at Spaghetteria L'Archetto insisted that it was delicious.
He was right. It was more than delicious, it was phenomenal. The lemon turned a normally heavy meal into something refreshing. And I've kind of been obsessed ever since.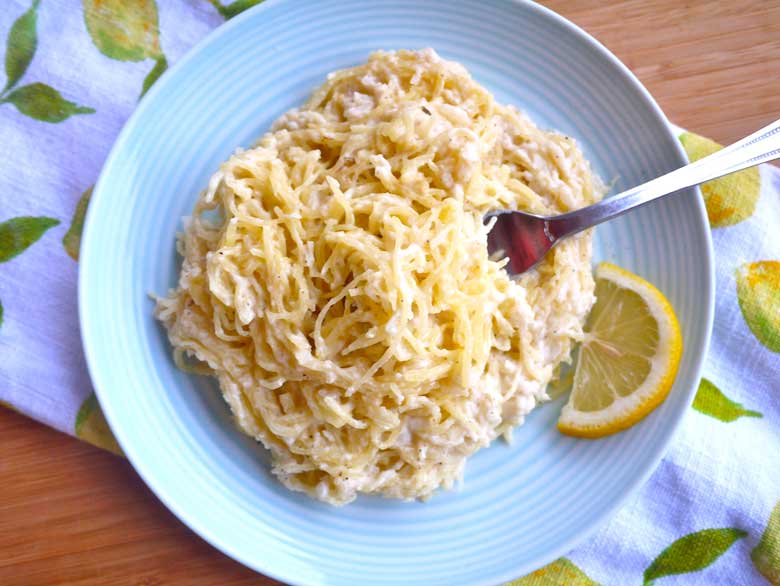 I had not thought about this sauce for a while. In fact, I only thought about it because of wedding planning.
To explain, my fiance and I were discussing potential food options for our wedding.
We started discussing our ideal "if money wasn't an issue" wedding meal and I blurted out "Archettos would cater!"
Then I went through my favorite pasta sauces that they make (pumpkin alfredo, the meat and cream "rosa", the lobster and brandy "chanel") and how we would have a buffet with ALL of them.
One can dream. 🙂
Anyways, thinking about all of these sauces made me miss lemon alfredo and so I decided to come up with a healthier Paleo version of lemon alfredo sauce.
I made spaghetti squash to pair with it.
And it turned out really great.
This Paleo Lemon Alfredo is satisfyingly creamy and yet refreshing at the same time.
You can either top the spaghetti squash, or whatever you choose, with the sauce.
And maybe add some chicken on top?
Or you can mix the lemon alfredo into the spaghetti squash, which is my preference, and add some grilled rosemary chicken and call it a meal. 🙂
One thing worth noting is that if you want this sauce to turn out. Make sure to a coconut cream without preservatives (no guargum or anything else in the ingredient list).
From personal experience and from many emails and comments, it has proven to make ALL the difference.
Lemon Alfredo Sauce (paleo, GF, dairy-free)
Lemon alfredo sauce mixed with spaghetti squash.
Ingredients
one 3 pound spaghetti squash
1 head of cauliflower , cut into small florets
4 Tbs + 3 Tbs all natural chicken stock , divided (make sure there is no sugar in the ingredient list)
1/2 cup minced white onion (1/4-1/2 of a yellow onion)
1 1/2 Tbs minced garlic (this was 6 small cloves for me)
2 tsp olive oil
1 cup canned coconut cream ( I like Savoy because it's made of only coconut and water)
1 tsp salt
1/2 tsp pepper
1/4 tsp nutmeg
3 Tbs lemon juice
Instructions
Preheat the oven to 400 degrees.

Boil some water in a large pot and put the cauliflower florets into it. Let the cauliflower cook for 11 minutes, strain, and set aside.

While the cauliflower is cooking, cover a cookie sheet in aluminum foil.

Cut the spaghetti squash in half and remove the mushy core with a spoon. Then cover the surface with some olive oil and evenly "paint it on" with a

silicone basting brush

.

Lay the squash face down on the aluminum paper.

Cook the spaghetti squash for 35 minutes and then remove it from the oven and let cool.

While the spaghetti squash is cooking, put the cooked cauliflower into a food processor with 4 Tbs of chicken stock. Puree the cauliflower in the food processor and then set the mashed cauliflower aside.

Put 2 tsp of olive oil in a large pan over medium-high heat.

Put the minced onion and garlic into the pan and mix into the olive oil. Cook for 3 minutes, while mixing often.

Reduce the heat to medium, and add the coconut cream, pureed cauliflower, 3 Tbs of lemon juice, and 3 Tbs of chicken stock to the pan and mix. Add the salt, pepper, and nutmeg, mix and then let the mixture cook for 10-15 minutes, until you have the desired consistency.

By this point, the spaghetti squash should be cool. Using two forks, "rake" against the inside of the squash until the insides looked like "spaghetti". You should be able to rake them until you almost reach the skin of the squash.

Then, put all of the spaghetti squash into a large bowl.

Now either put the alfredo on top of the spaghetti squash on individual plates or mix all the sauce into the spaghetti squash. Serve and Enjoy.
Notes
I can only ensure the result of this recipe if you use a coconut cream without preservatives (no guargum or anything else in the ingredient list). From personal experience and from many emails and comments, it has proven to make all the difference in flavor. 🙂
Nutrition
Calories: 273kcalCarbohydrates: 16gProtein: 6gFat: 24gSaturated Fat: 19gPolyunsaturated Fat: 1gMonounsaturated Fat: 2gCholesterol: 0.5mgSodium: 650mgPotassium: 697mgFiber: 5gSugar: 4gVitamin A: 3IUVitamin C: 78mgCalcium: 51mgIron: 2mg
Disclosure: This post contains Amazon affiliate links. This means that if you click on a link and make a purchase, I will receive a small commission at no cost to you.