Ginger Cookie Apple Cobbler (Paleo, GF)
Ginger Cookie Apple Cobbler recipe. A delicious grain-free apple cobbler recipe made by baking orange zest covered apples topped in a fluffy ginger cookie topping.
I'm finally posting a coconut-flour ONLY recipe! Yay! I usually mix almond flour and coconut flour together when making Paleo baked goods, but after several comments asking how to make some of my current recipes without almond flour, I decided to start making some coconut flour recipes.
I wasn't sure what coconut-flour recipe to make first. And then my fiancé mentioned that he was craving ginger cookies.
So I was beyond happy to jump at the opportunity to try and make a ginger cookie Paleo dessert.
But I didn't want to make juuuust ginger cookies (not that there's anything wrong with that). I wanted to make something fruity, warm, and fragrant.
And the result is this Ginger Cookie Apple Cobbler!
The baked apples are mixed with orange zest and orange juice, which compliment the soft cinnamon ginger cookie crust so well. Yummmm!
Plus the coconut flour makes the topping so fluffy. I'm thankful for your comments which inspired me to try a coconut-flour only recipe. I also feel bad that it took me so long.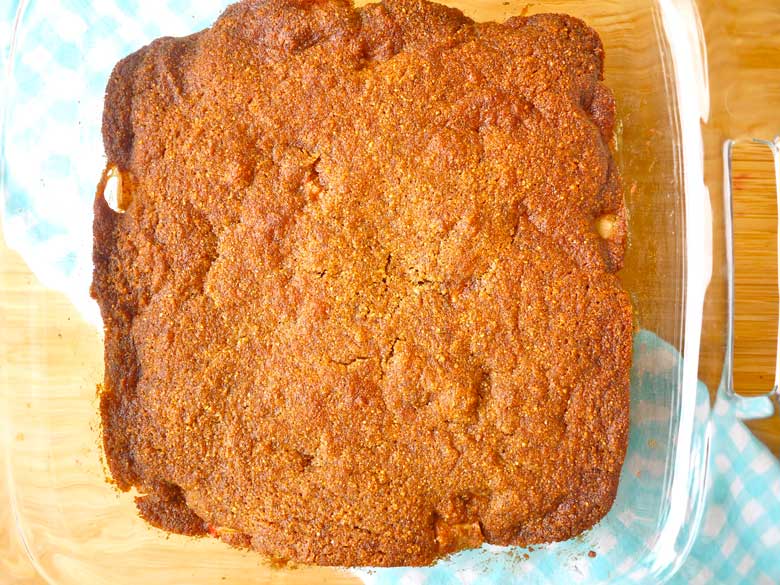 You see, I understand the struggle of having nut allergies.
I may or may not have mentioned this on the blog before, but I'm allergic to ALL nuts except for almonds. Some nuts I'm more allergic to than others, but I'm deadly allergic to peanuts and walnuts.
This runs in my family; my father, sister, and brother all have the same allergy. Which made things easier growing up.
When I discovered that I could eat almonds (around college), it was by complete accident. I ate part of an almond by mistake and freaked out.
When there was no reaction, I felt relieved yet curious.
My sister experienced the same thing and we wondered what that could mean. Eventually we both realized that we were not allergic to almonds and we both have been eating them (a lot) ever since.
But just because I can eat almonds doesn't mean I always have to cook with them! I know it must be frustrating to try to bake Paleo goods with an almond allergy.
So, I'm going to make an effort to add different types of flour recipes here.
I'm also going to try to re-make some of the recipes that have had the most non-almond flour requests to create nut-free versions, so stay tuned!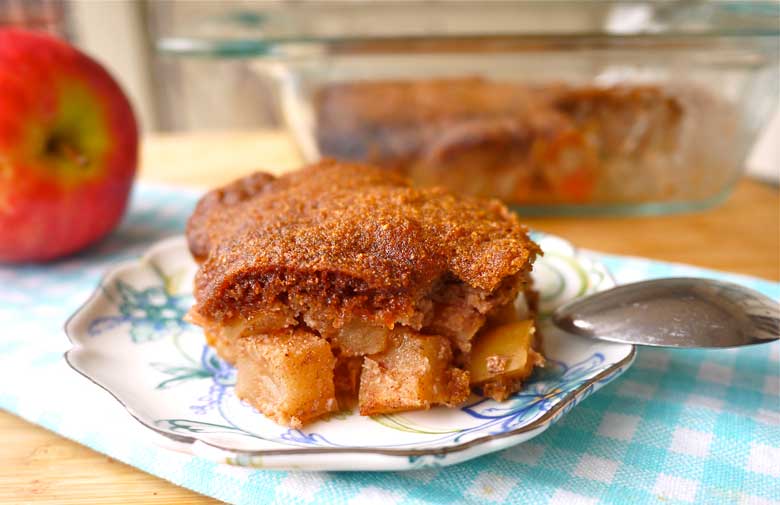 I hope you like this! I always find it to be a fun challenge to change things up. 🙂
Ginger Cookie Apple Cobbler (Paleo, GF) (coconut flour only!)
Ingredients
For the apples:
2 medium apples, , diced
1 Tbs maple syrup
1 Tbs fresh orange juice
1/2 tsp orange zest
1/2 tsp cinnamon
For the ginger cookie crust:
Instructions
Preheat the oven to 325 degrees.

Put the diced apples into an 8x8 inch glass pan.

Put 1 Tbs maple syrup and 1 Tbs orange juice onto the apples. Top the apples with 1/2 tsp of cinnamon and 1/2 tsp of orange zest. Mix everything together with a spoon.

Put the pan into the oven for 20 minutes.

While the apples cook, make the ginger cookie crust.

Start by putting the melted coconut oil, honey, eggs, and 1/4 cup of maple syrup into a medium bowl and whisk well.

In another bowl, put the coconut flour, baking soda, cinnamon, ground ginger, ground cloves, and salt inside and mix with a fork until everything is blended.

Put the dry ingredients into the wet ingredients and mix with a fork until blended.

When the apples are ready, top them with the ginger cookie batter. I find it easier to divide the batter into 4, and put 1/4 of the batter near each corner of the pan.

Using a rubber spatula, evenly pat down the batter until all the apples are covered.

Cook for 20 minutes. (Don't overcooke--- the ginger cookie here burns quickly at the end)

Let cool for a bit and enjoy.
Disclosure: This post contains Amazon affiliate links. This means that if you click on a link and make a purchase, I will receive a small commission at no cost to you.