Chocolatey Cocoa Paleo Pancakes (GF)
I always look forward to the weekends because it's a time that I get to treat myself a bit. I can sleep in, watch some of my favorite tv shows (real housewives is my guilty pleasure!), go for nice long walks, chat with friends, experiment with recipes, meditate… the list goes on.
I still like to eat right and exercise on the weekends, but incorporating "special" treats is something that I like to do. Like make pancakes.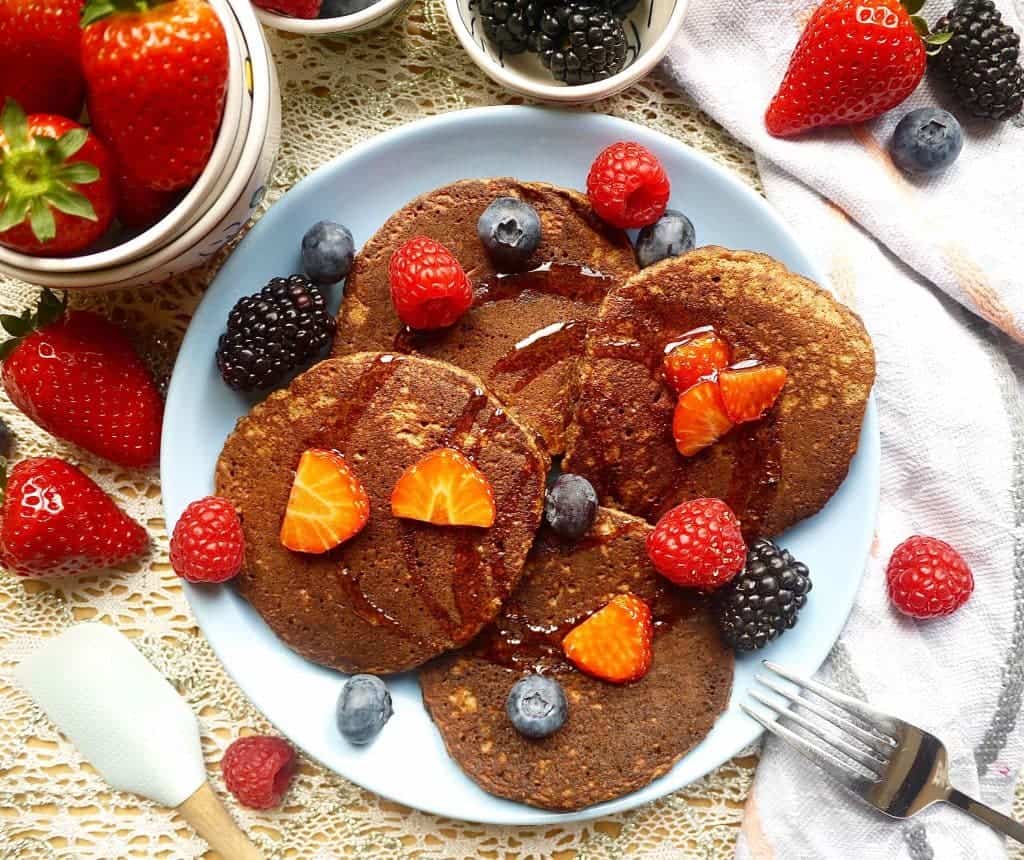 Especially lately, because I find that paleo pancakes are a great way to treat yourself, while still eating a healthy, well-balanced, low calorie meal. It's genius really! Hence all of my recent pancake posts 🙂
But I promise these Chocolatey Cocoa Paleo Pancakes are different than my previous pancake recipes!
These pancakes are made with almond butter, coconut flour, mashed banana, eggs, and cocoa powder… a combination that I had never tried before.
But which results in deliciousness worthy of the weekend!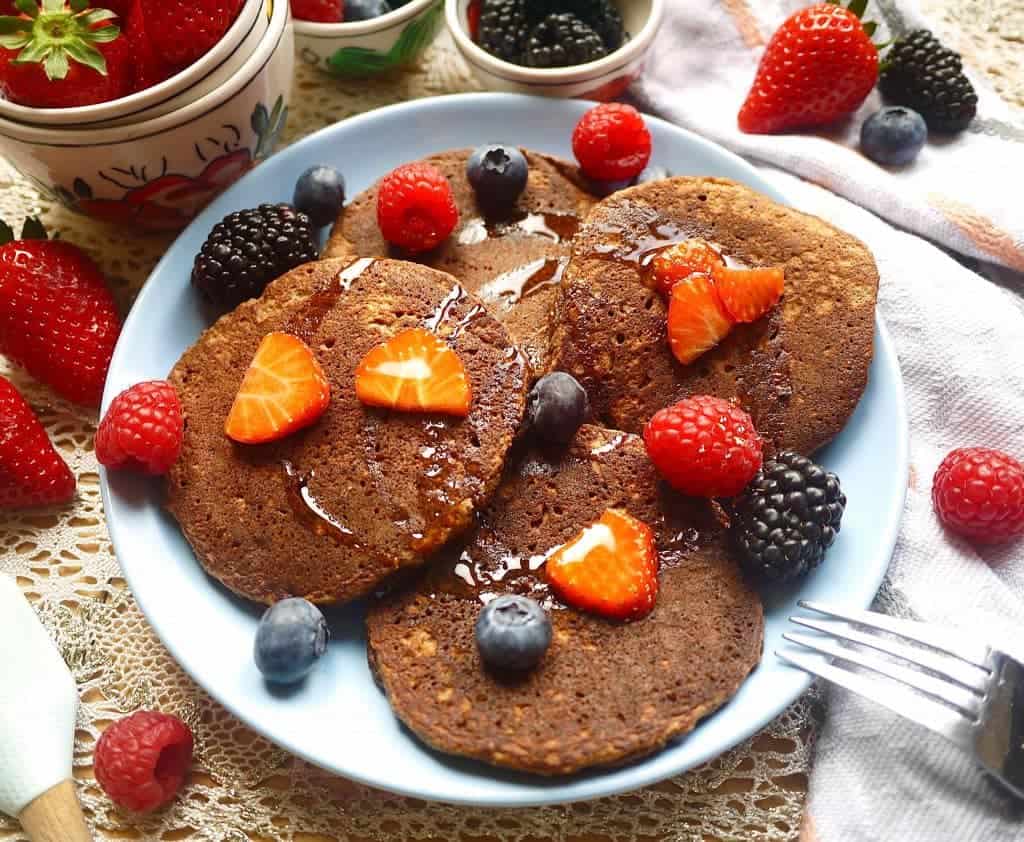 It's true! These Chocolatey Cocoa Paleo Pancakes are light and fluffy, have a satisfying chocolate flavor, go deliciously well with berries, and are way healthier than your average pancake.
If that isn't a weekend treat, I don't know what is?! 🙂
They are so good that I made them two weekends in a row…
And I will probably make them again this weekend! haha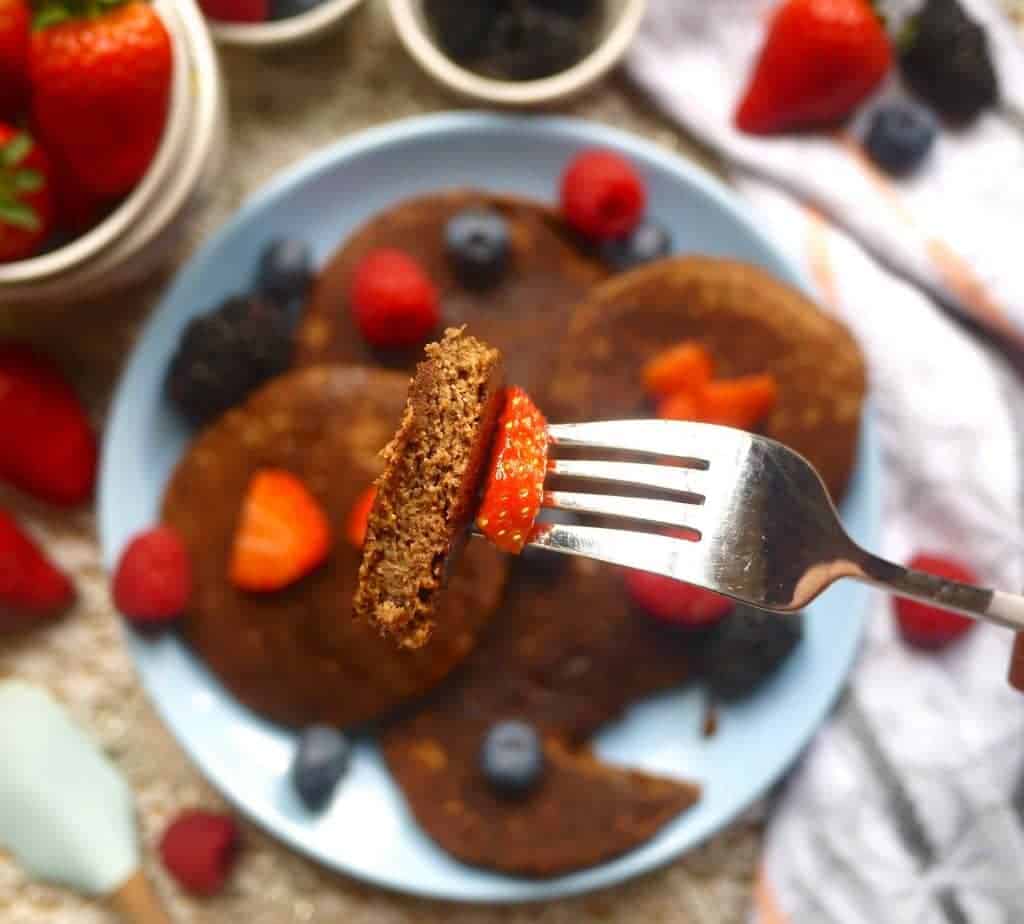 These bad boys are sweetened by mashed bananas, full of protein from the eggs and almond butter, and get their rich chocolate flavor from cocoa powder.
Which is the magic ingredient here.
Cocoa powder is a great chocolate source, especially when you are watching what you are eating. I love using it to make almond milk hot chocolate… with a tad of honey, it is just divine!
It's great because you get all the great chocolate flavor, but without the extra chocolate calories.
For example, there are 80 calories in 1 Tbs of Enjoy Life Chocolate Chips, while there are only about 12 calories in 1 Tbs of unsweetened cocoa powder…
But wedding diet and calories aside, I'd honestly eat these at any time because CHOCOLATE + PALEO + PANCAKES.
When is this combination not a good idea? Especially when the flavors and texture works so well.
Try it and see!
Hint: these pancakes are fantastic with pure maple syrup, berries, and a sprinkle of cocoa powder on top. Have a good weekend! 🙂
Note: I calculated that the whole batch was 450 calories. I personally can only eat about 1/2- 3/4 of the batch, but I know that my fiance could easily eat the whole thing…which is why I said it serves 1-2 people. 🙂
Chocolatey Cocoa Paleo Pancakes (GF)
Chocolatey Cocoa Paleo Pancakes recipe. Grain free pancakes made with almond butter, coconut flour, mashed banana, eggs, and cocoa powder.
Instructions
Put the mashed banana, eggs, coconut milk, maple syrup, and almond butter into a bowl and mix with an electric hand-held mixer. Add the baking soda, coconut flour, and cocoa powder to the bowl and mix with the mixer until well mixed. Let the batter sit for a few minutes. (This lets the coconut flour thicken the batter)

Heat some oil in a large pan over medium heat and put 1.5 Tbs sized spoonfuls of the batter onto the pan. Cook for about 1.5-2 minutes, flip, and cook for another minute. (cooking time may vary depending on your stovetop)

This recipe makes about 9- 11 mini pancakes.
Disclosure: This post contains Amazon affiliate links. This means that if you click on a link and make a purchase, I will receive a small commission at no cost to you.