4th of July Menu: Cherry-Vanilla Muffins w/ Whipped Cream & Berries (Paleo, GF)
In 4th of Julys past, my dessert of choice has been a red, white and blue display made of vanilla cake topped with whipped cream and berries. YUM! But this 4th of July is different. This 4th of July is my first one while following the Paleo Diet. And rather than take the day "off" from Paleo, I decided to make a dessert that fit my Paleo needs by making a Paleo version of this cake.
It isn't an exact version, though, it's a spiced up cherry version!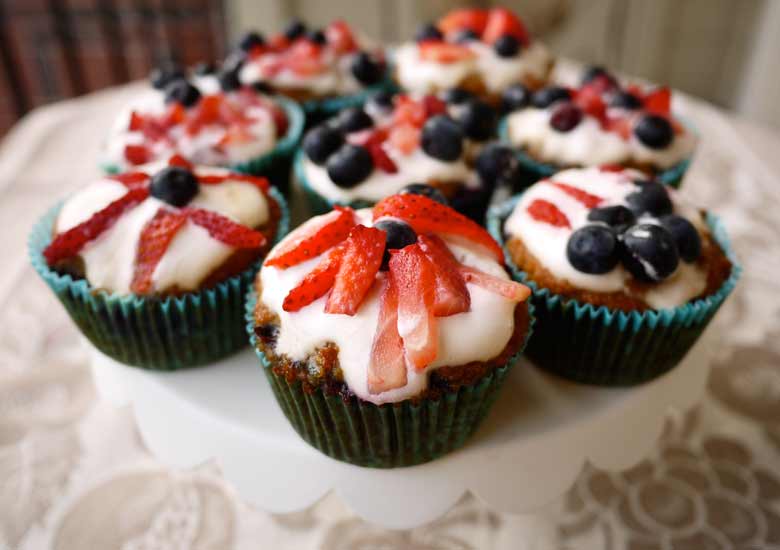 To start, I added LOTS of vanilla to this almond flour, coconut flour, banana, and apple sauce batter. I then put 2 tbs of the batter into each muffin tin.
And this is where these muffins get "spiced up". 
I used a food processor to puree some fresh cherries and then put a layer of them in between layers of the batter.
The result was a delicious cherry-vanilla muffin!
To be honest, I will be making these again and eating them plain like this because they were so delicious.
Cherries are my all-time favorite fruit. And cherry season always seems to pass by way to quickly.
But in keeping with the 4th of July spirit, I took it a step further and made some coconut whipped cream.
I topped these cherry muffin bombs with some whipped cream, blueberries and strawberries. 
Since the Texas heat melted these muffins in my attempt to photograph them, I decided to put them in the fridge and photograph them the next day. 
Sometimes paleo muffins get hard in the fridge, but these stayed moist!
I don't know if it's the apple sauce or the cherries, but it was a wonderful move because these truly taste great cold.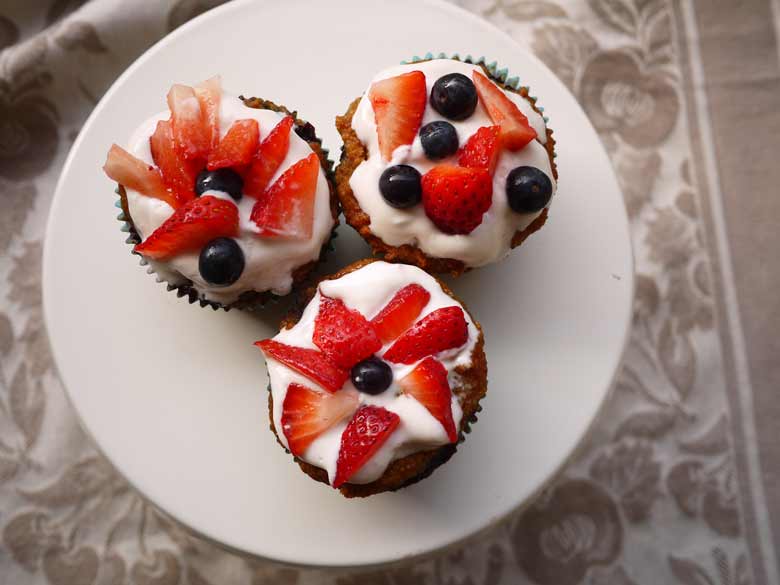 I apologize for my lack of decorating skills, these guys just melted so quickly!
I also found it quite difficult to cut strawberries into flattering shapes. Like my attempt at fireworks and the American flag?
Skill or no skill, these red, white and blue muffins will be patriotic enough for any 4th of July event.
Decorating these could also be a fun craft for kids or anyone really. Who wouldn't want to decorate muffins when the reward is eating them?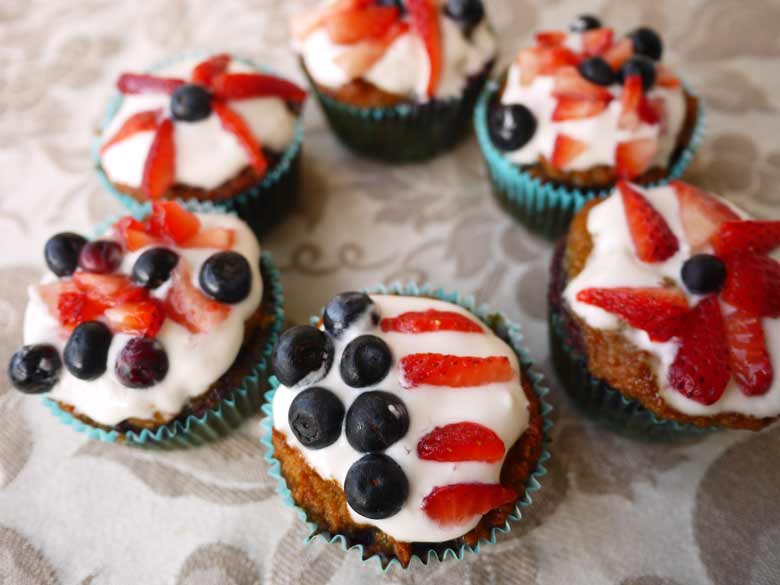 I sure enjoyed these muffins for breakfast on the porch before work today…
There's nothing like eating muffins or cake for breakfast, especially when it is non-processed and Paleo! Enjoy!
July 4th Menu: Cherry-Vanilla Muffins with Whipped Cream and Berries (paleo, GF)
Ingredients
For the Cherry Vanilla Muffins:
To make the whipped coconut cream:
1 can coconut cream, (I like the Savoy brand because the only ingredients are coconut and water)
1 Tbs honey
1 Tbs maple syrup
1 Tbs vanilla
Strawberries and Blueberries for decorating
Instructions
Put a can of coconut cream in the fridge (should be there for 2 hours at least).

Preheat the oven to 350 degrees.

Line a 12 cupcake pan with muffin tins.

In bowl 1, mix the almond flour, coconut flour, baking soda, baking powder, and salt. Set the bowl aside.

In bowl 2, mix the eggs, honey, vanilla, and coconut milk with an electric mixer until well mixed. Add the melted coconut oil to the bowl and mix with the electric mixer until well blended. Add the mashed banana and apple sauce to the bowl and mix with the electric mixer until well blended.

Put bowl 1 into bowl 2 and mix with an electric mixer.

Put 2 tbs of the batter into each muffin tin and flatten the batter with a spoon.

Put a 1 1/2 tsp of pureed cherries on top of the batter in each muffin tin.

Then put 1 tbs of the remaining batter on top of the cherry layer in each muffin tin.

Bake for 30 minutes.

Let the muffins cool completely before decorating.

While the muffins cool, make the whipped cream.

Take the canned cream out of the fridge and then put the cream, 1 tbs honey, 1 tbs maple syrup, and 1 tbs vanilla in a bowl and whip with an electric mixer until the mixture thickens and turns into whipped cream. Place the whipped cream in the fridge until ready to be used. If the cream isn't whipping into a thick enough texture, I find that putting the bowl into the freezer for 10 minutes and whipping it again works.

Put some of the whipped coconut cream on each muffin and top with strawberries and blueberries.

Enjoy!
Disclosure: This post contains Amazon affiliate links. This means that if you click on a link and make a purchase, I will receive a small commission at no cost to you.