Wild Blueberry Smoothie with Spirulina and Barley Grass
This wild blueberry smoothie is an antioxidant and detoxing powerhouse! It is made with a handful of healthy ingredients like wild blueberries, mango, orange, spirulina, barley grass powder, and almond milk.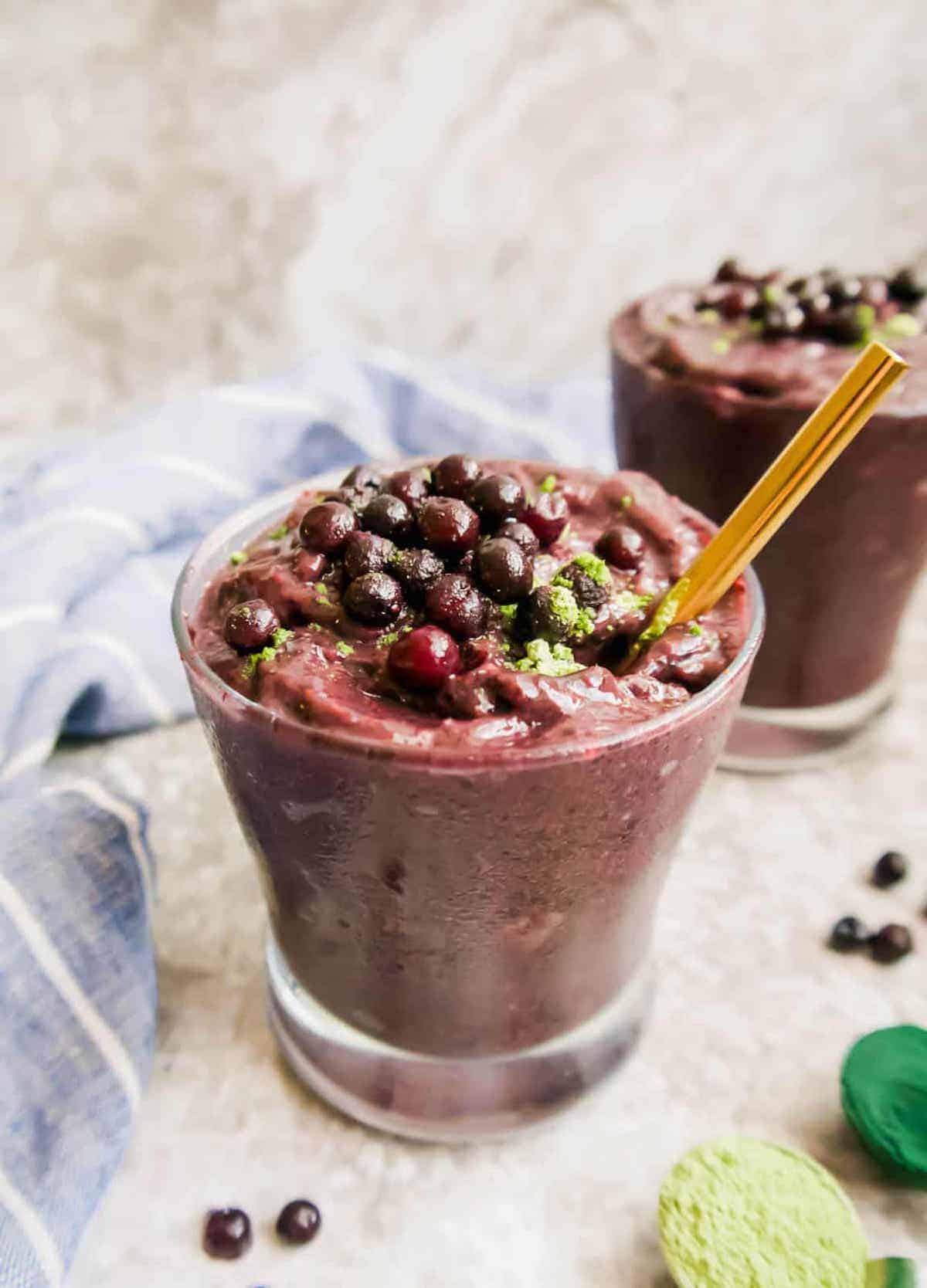 My most recent smoothie obsession is this wild blueberry detox smoothie recipe. I feel SO good every time that I eat this smoothie. My body can not get enough of the nutrients, and wild blueberries taste delicious!
Both spirulina and barley grass powder are major antioxidant and nutrient powerhouses. Good thing this smoothie is both husband and toddler approved!
Table of Contents
Why this recipe works
It is made with a handful of real food ingredients. You only need 6 ingredients.
It is a heavy metal detox smoothie. Wild blueberries, barley grass juice powder, and spirulina are known as foods that aid in heavy metal detox. This recipe is based off of the medical medium heavy metal detox smoothie.
It is versatile and easy to tweak to your tastes. It is Vegan, dairy-free, gluten-free, and Paleo.
It is filled with vitamins, minerals and antioxidants.
It is easy to make and delicious! My husband and toddlers love it.
Recipe Ingredients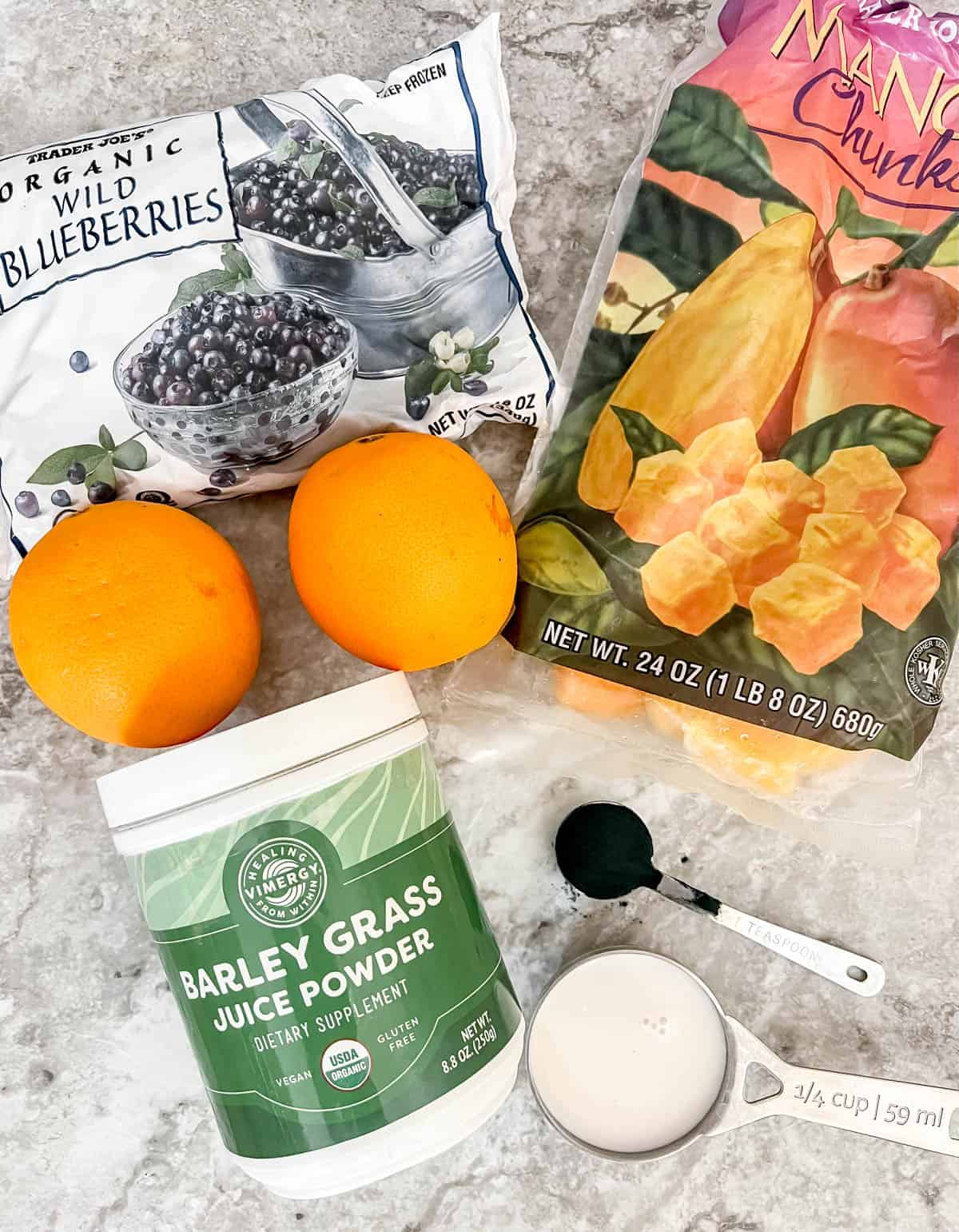 frozen wild blueberries– try to find organic wild blueberries, to minimize pesticides and other toxins.
frozen mango– Frozen mango cut into chunks is easier to blend.
oranges-naval oranges work great here.
barley grass juice powder– Make sure to buy barley grass juice powder and not barley grass powder. Barley grass juice powder is basically in a form that is able to be digested by humans.
spirulina powder– a good quality spirulina power is preferred for detox purposes.
unsweetened almond milk– ideally one without added sugars, gums, or preservatives.
See recipe card below for a full list of ingredients and measurements.
Additions/Substitutions
Instead of frozen mango, you can use frozen cherries. Cherries have the sweetness than mangos have, which works here. I like to use half mango and half cherries when I make this.
Instead of almond milk, you can use any milk of choice.
You can add collagen powder to your smoothie. I like to add 1-2 scoops of Further Foods collagen.
You can add hemp hearts, chia seeds, and pumpkin seeds to the top of your smoothie for an extra nutritional boost.
Step by step blueberry smoothie instructions
There is only one step! You put everything into a high powered blender and mix until smooth!
Then, you can serve this smoothie in a cup or turn it into a smoothie bowl. I love making this into a smoothie bowl and topping it in almond butter, chia seeds, and pumpkin seeds.
Recipe FAQs

What are the benefits of wild blueberries?
They are high in antioxidants. They have 2x the amount of antioxidants to regular blueberries. They are a great source of manganese ( 8x the amount as regular blueberries). Information found from this wild blueberries post.

What are wild blueberries?
Wild blueberries are smaller than regular blueberries, have a lower water content than blueberries and have more nutrients than them. As the name suggests, they are "wild". They are not planted.
What are the health benefits of Barley grass powder and spirulina?
Barley grass powder is a natural detoxifier. The chlorophyll and beta carotene inside of barley grass helps your body process and eliminate waste materials.

Spirulina is a blue-green algae that is high in protein and is a good source of antioxidants, iron and vitamins B1 and B2. It helps to remove heavy metals from you body while reducing inflammation.
More smoothie recipes you'll love:
Did you try this recipe? Please leave me a ⭐ review below!
Wild Blueberry Smoothie with Spirulina and Barley Grass
Made with wild blueberries, mango, orange, spirulina, barley grass powder, and almond milk.
Instructions
Put all of the ingredients into a blender and mix until smooth.

This recipe yields about 3.5 cups of smoothie and Serves 1 or 2.
Nutrition
Calories: 213kcalProtein: 3.8gFat: 1.1gPotassium: 519.8mgFiber: 11.7gSugar: 35.9gVitamin A: 3970IUVitamin C: 117.4mg
Disclosure: This post contains Amazon affiliate links. This means that if you click on a link and make a purchase, I will receive a small commission at no cost to you.