Pumpkin Cauliflower au Gratin (paleo, GF)
My ears always perk up when they hear the words "au gratin". Images of melted cheese and cream sauce pop into my head and my stomach always asks if it can please have some, now.
"Au gratin" anything tends to be delicious, but I'd say that potato au gratin and cauliflower au gratin are my absolute favorites.
I was inspired to make a Paleo version of Cauliflower Au Gratin after making a delicious Paleo Pumpkin Alfredo Sauce that was so creamy, that it was hard to believe that there was no dairy in it at all. I instantly thought of all of the ways that I could use this sauce and decided that a Cauliflower Au Gratin was a must.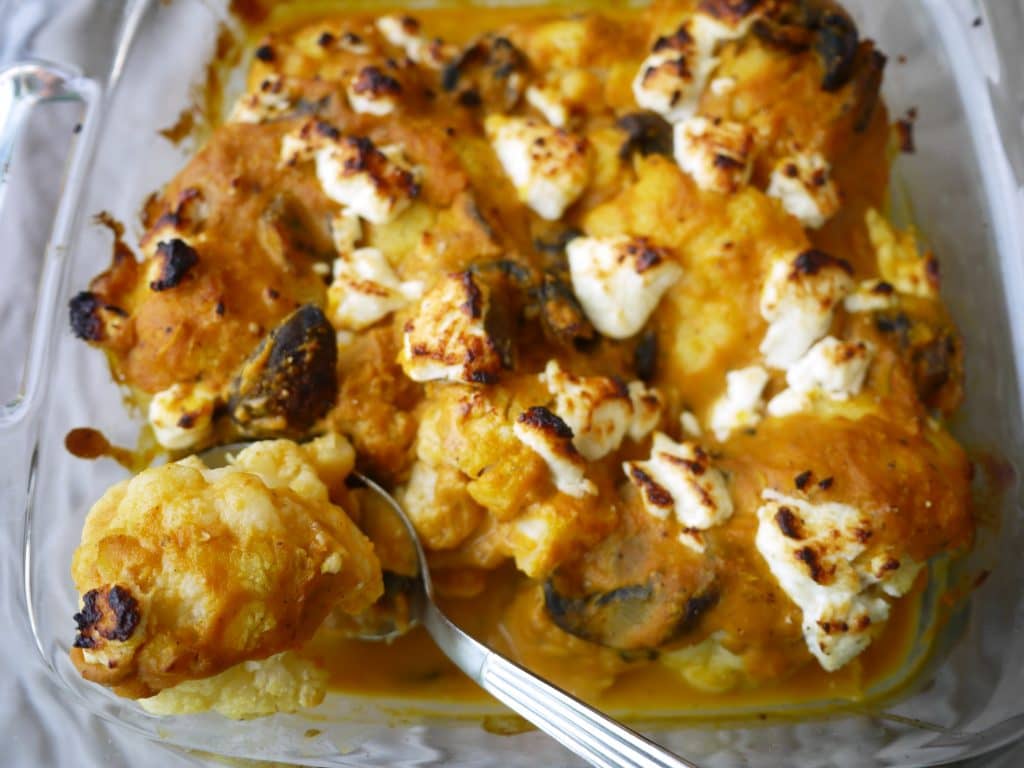 So I made the alfredo recipe, covered a head of cauliflower in it, sprinkled some goat cheese on top and threw the whole thing in the oven. Then I broiled it until it became wonderfully crispy. And let me tell you, it was delicious!!
For this Pumpkin Cauliflower Au Gratin recipe, you only need to use 1/2 of the Paleo Pumpkin Alfredo recipe. You can either make the full amount and save the rest for another dish later on in the week OR you can only make the 1/2 portion that will be provided below. Either way, you can't go wrong…especially when an all natural, dairy-free, non-processsed version of Pumpkin Cauliflower Au Gratin is at your fingertips.
Enjoy!
Pumpkin Cauliflower au Gratin (paleo, GF)
A dairy-free cauliflower au gratin made with a pumpkin sauce.
Ingredients
1/2 Tbs olive oil
2.5 cloves garlic or 1 tbs of minced garlic
1/2 small yellow onion
3 sliced mushrooms
1 tsp salt
1/2 of a can pumpkin puree (15 ounce can) (make sure the only ingredient is pumpkin)
1/2 cup canned coconut milk (this will have a heavy cream consistency)
1/2 cup of all natural chicken stock
1/4 tsp nutmeg (optional)
pepper to taste
1 head cauliflower
1/2 cup goat cheese crumbled
Instructions
Preheat the oven to 450 degrees.

Cut up a head of cauliflower so that all of the florets are ready to be boiled in water.

Boil the cauliflower in a big pot of water for 7 minutes only.

Drain the cauliflower and place in a 8x8 inch pan and set the pan aside.

Then start making the pumpkin sauce.

Put 1/2 tbs olive oil in a pan. Set the stove top to medium heat.

Mince the cloves of garlic and yellow onion in a food processor.

Put the garlic and onion in the pan and mix well into the olive oil, letting the mixture cook for 2 minutes.

Add the sliced mushrooms and mix well and let the mixture cook for 3 minutes, or until the onions are "clear".

Add 1 tsp of salt and pepper to taste.

Add 1/2 of a 15 ounce can of pure pumpkin puree and mix into the garlic, onion and mushrooms.

Immediately add 1/2 cup of pure coconut milk and 1/2 cup of natural chicken stock.

Add 1/4 tsp of nutmeg if you would like and mix the sauce thoroughly.

Increase the heat to medium/high until the sauce boils.

Then lower the sauce to a simmer and let it cook for 15- 20 minutes, until it is really thick.

This recipe makes about half of the original Pumpkin Alfredo recipe and yields about 2 cups of sauce.

Pour the pumpkin alfredo sauce on top of the cauliflower in the pan, making sure it is evenly dispersed and covering all of the cauliflower.

Cover the cauliflower in 1/2 cup of crumbled goat cheese.

Place the pan in the oven, and cook at 450 degrees for 15 minutes.

Then set the oven to broil mode, and cook for another 5 minutes. Make sure to check the pan frequently to make sure it doesn't burn. Some ovens are stronger than others!
Nutrition
Calories: 218kcalCarbohydrates: 12gProtein: 10gFat: 16gSaturated Fat: 11gPolyunsaturated Fat: 1gMonounsaturated Fat: 3gCholesterol: 14mgSodium: 778mgPotassium: 624mgFiber: 4gSugar: 5gVitamin A: 314IUVitamin C: 72mgCalcium: 85mgIron: 2mg
Disclosure: This post contains Amazon affiliate links. This means that if you click on a link and make a purchase, I will receive a small commission at no cost to you.