28 Delicious Paleo Thanksgiving Recipes
28 Delicious Paleo Thanksgiving recipes from Perchance to Cook. A list of my best dairy-free, gluten-free, grain-free, and healthy Paleo diet recipes that would be perfect for Thanksgiving! Includes appetizer, side-dish, main course and dessert ideas!
As I was planning out what recipes I would be making for Thanksgiving dinner, I realized that it would be helpful to have the recipes and dishes that I was searching for all in one spot.
So, I decided to make a roundup of all of my favorite Paleo Thanksgiving recipes, many of which I will be making this year.
I hope this helps you plan out your Thanksgiving, Friendsgiving, or holiday menu.
All of the following recipes are Paleo, dairy-free, gluten-free, grain-free, real food recipes. Many are Whole30 compliant as well.
I personally have to be dairy-free this year, so these recipes have been really helpful for me and I hope they are for you!
Paleo Thanksgiving Appetizer Recipes
1) Bacon Wrapped Raspberry Stuffed Dates
These are a family FAVORITE in my house. When these stuffed dates bake, the raspberries melt and turn into a sweet jam that tastes amazing with the salty bacon.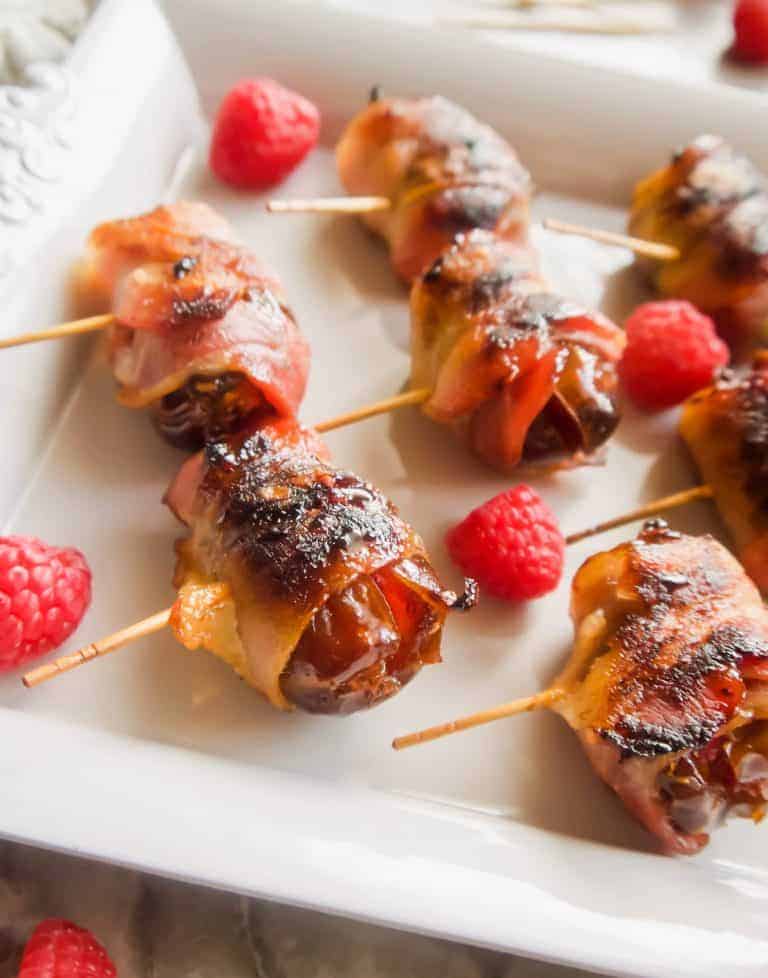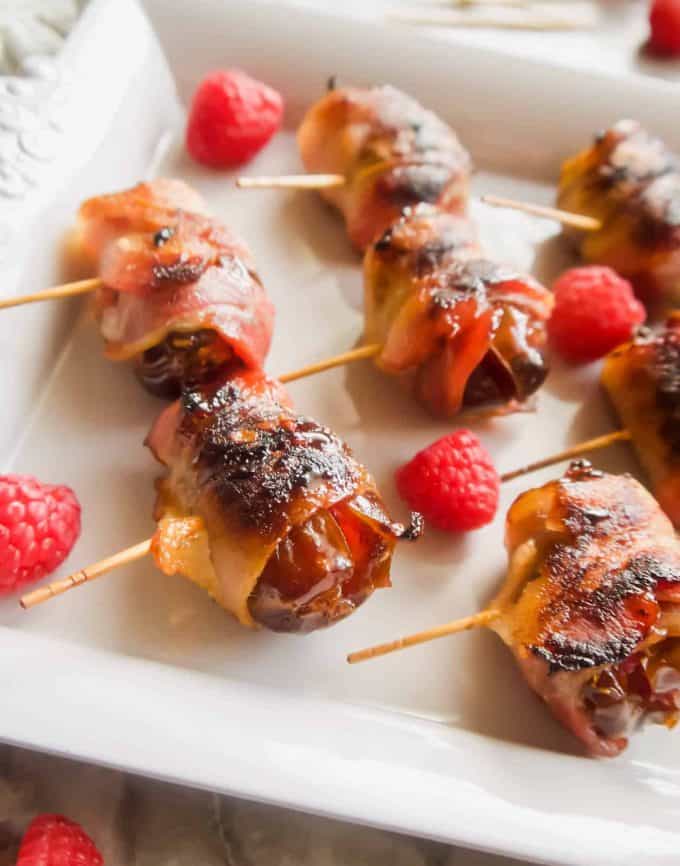 2) Maple Bacon Wrapped Carrots
These are a fun way to serve carrots for Thanksgiving. Covered in bacon and with a maple glaze. NOM.
3) Cinnamon & Maple Roasted Almonds
I love having a bowl of these on the counter to snack on while cooking. They taste amazing and make the house smell so good!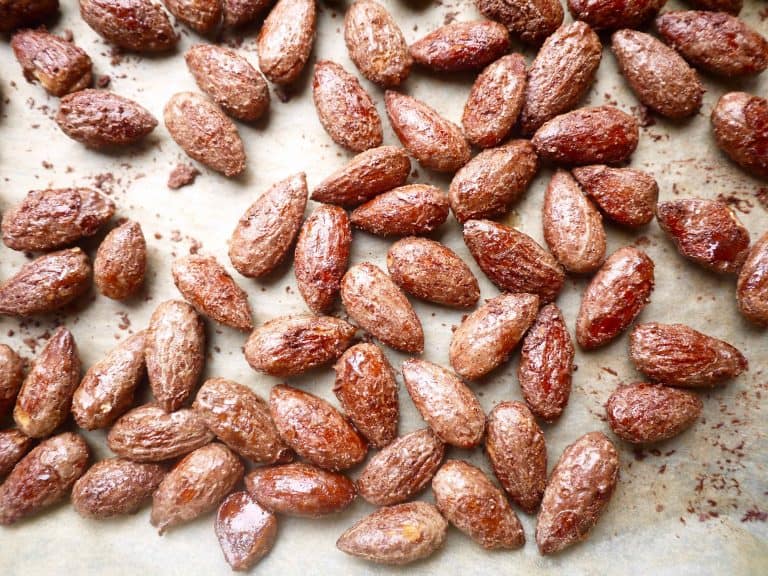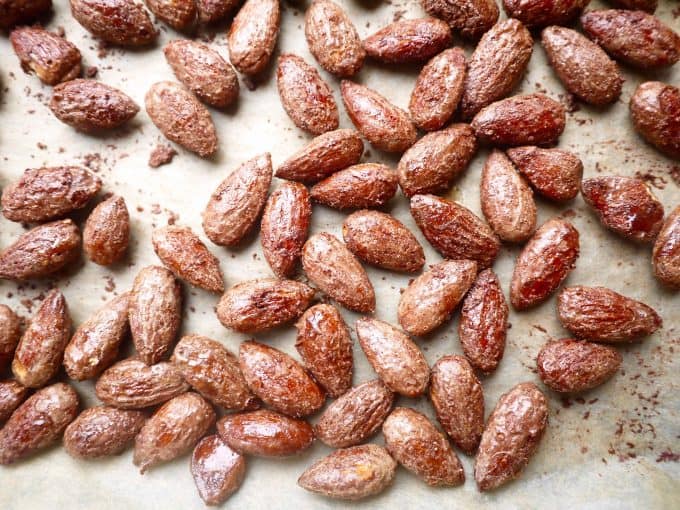 Paleo Thanksgiving Side Dish Recipes
This gratin is the bomb.com. It's an amazing creamy cauliflower dish. SO good.
5) Roasted Garlic Mashed Cauliflower and Potatoes
This recipe is for all roasted garlic lovers! It's mashed potatoes with a twist.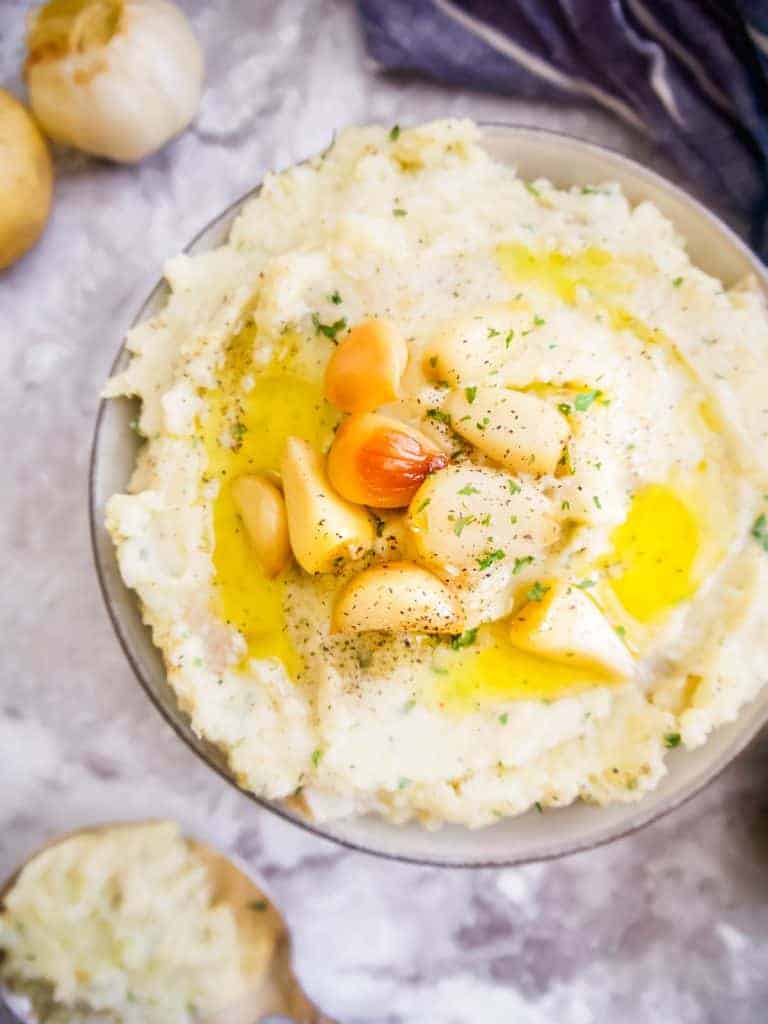 These dairy-free mashed potatoes are always a hit over the holidays. YUM.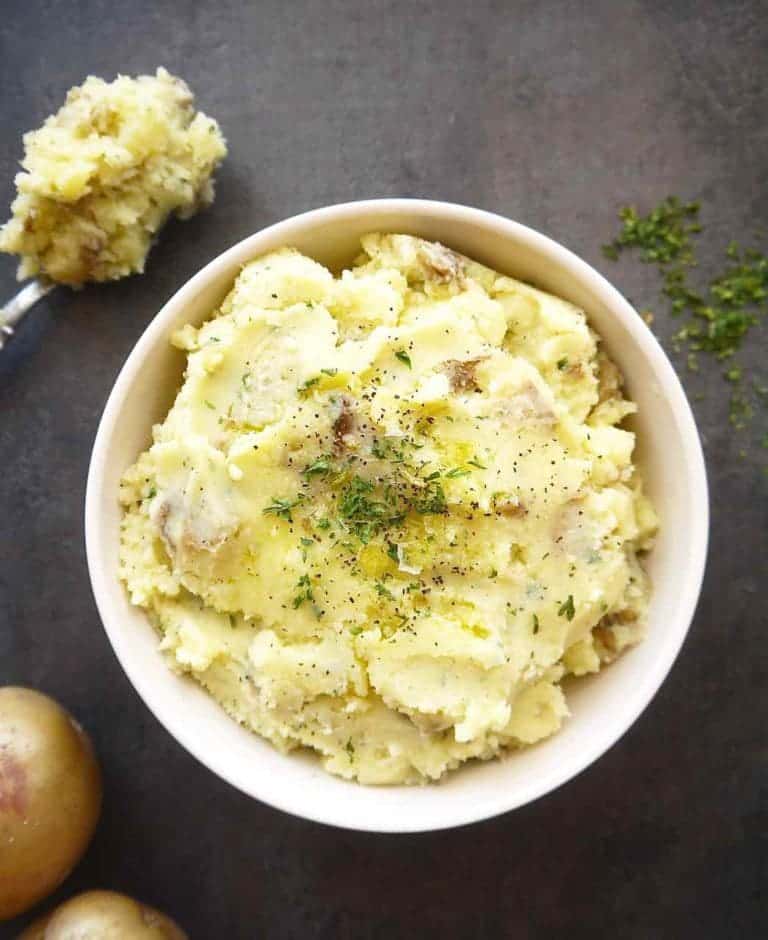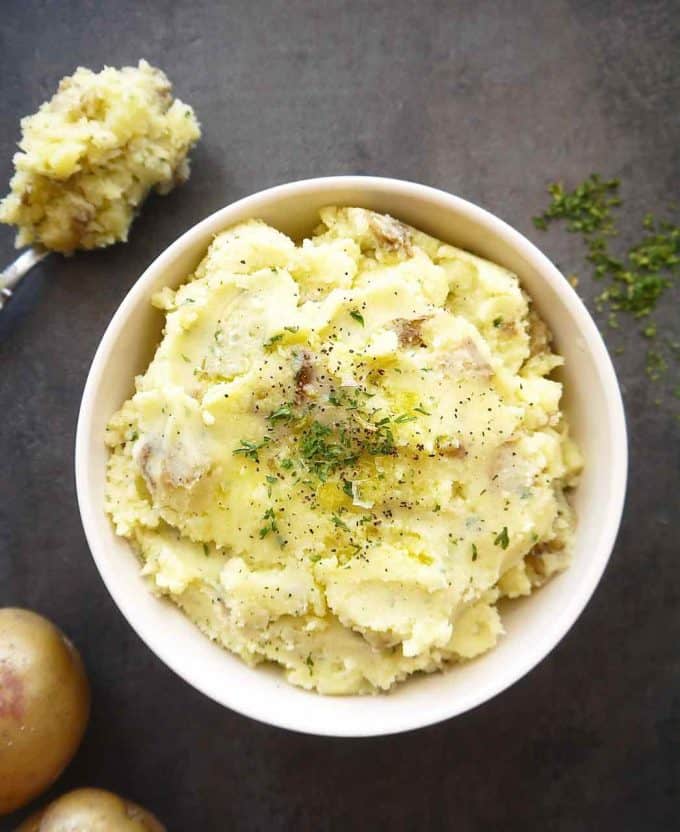 7) Whole30 Dairy-free Potato Gratin
I am always in awe that these are dairy-free whenever I make them. They are a wonderful gratin recipe.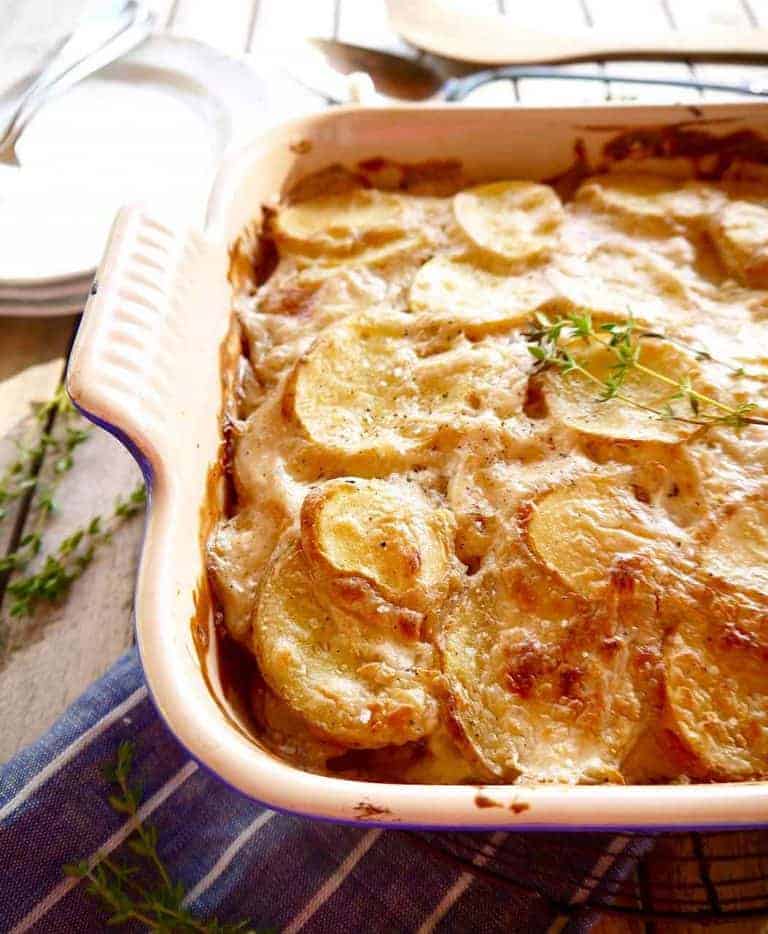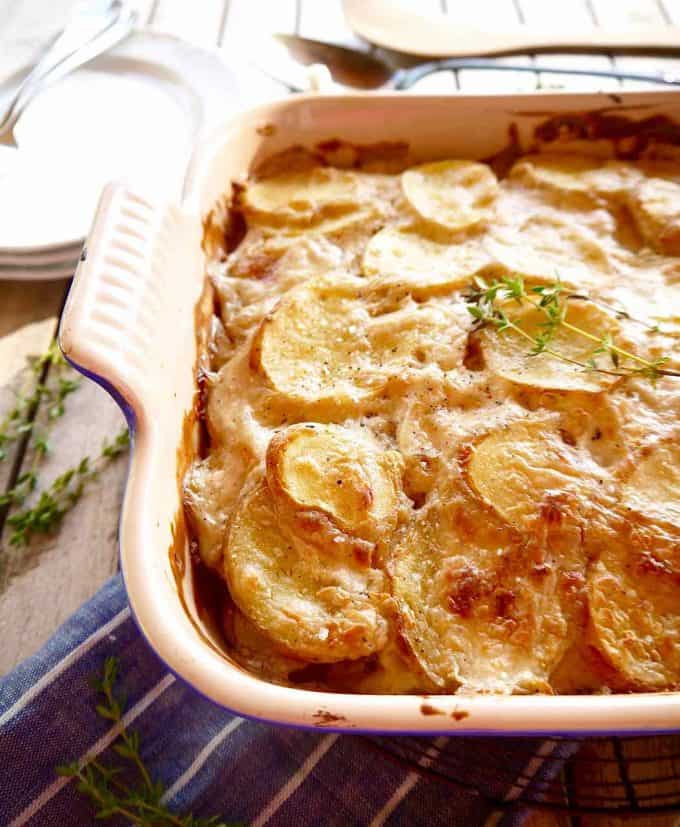 8) Spiced Poached Pears in Red Wine and Orange Juice
Poached pears in wine and OJ are so festive and delicious. Try it with your turkey. The combo is delish!
9) Crispy Maple Bacon Brussels Sprouts
Is there anything better than crispy bacon, caramelized maple syrup and roasted Brussels sprouts?!
10) Creamy Brussels Sprouts Casserole
The sauce in this creamy casserole is one of the best that I have ever made. The nutritional yeast makes it cheesy and amazing.
11) Cran-Apple Sauce
I love adding apple to my cranberry sauce for added sweetness.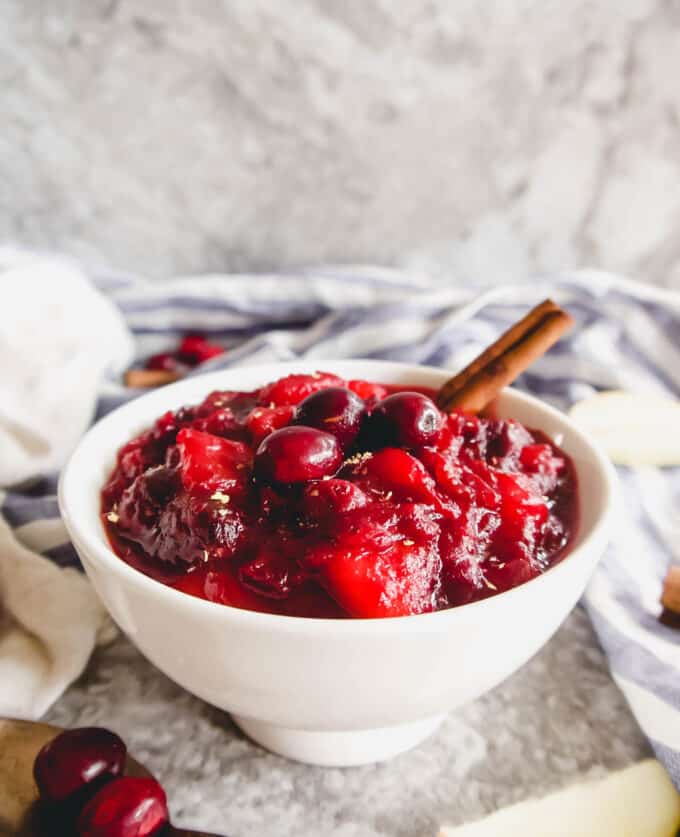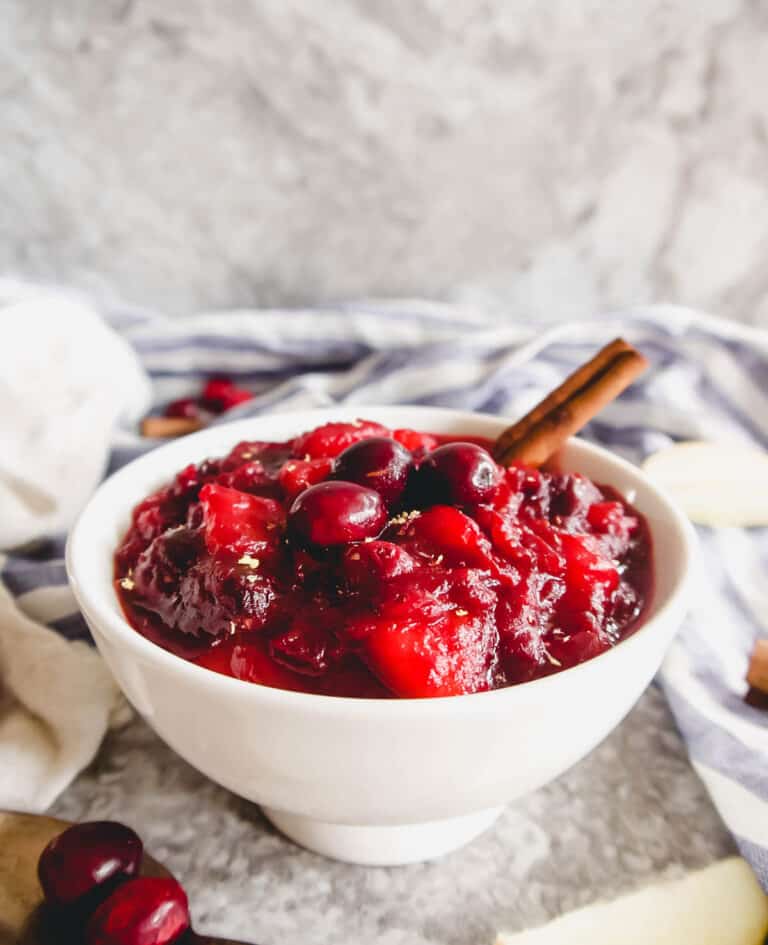 12) Paleo Sausage, Apple, Chestnut Stuffing
Hands down- this is the best flavor combo for stuffing. Chestnuts, apples, sausage, fennel. NOM.
13) Bone Broth Gravy
This is a quick gravy recipe made with bone broth.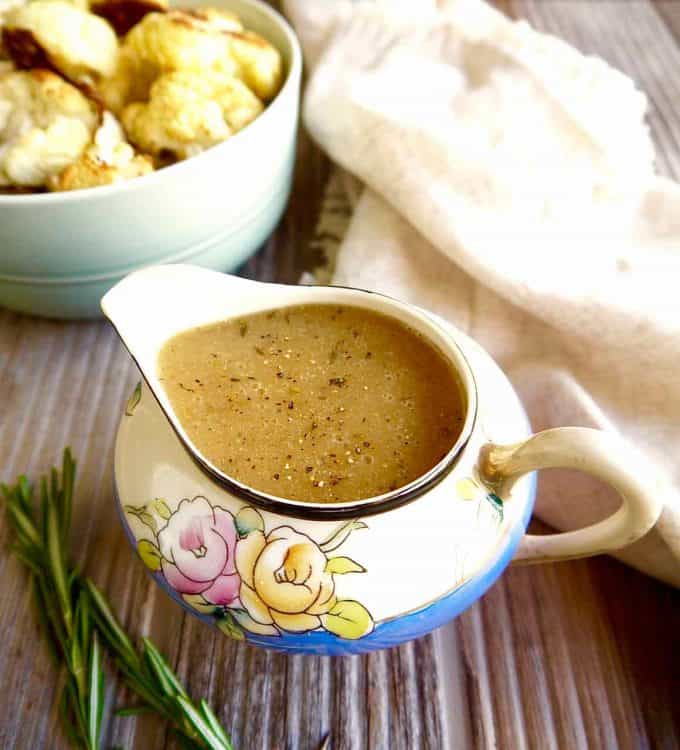 14) Easy Fall Harvest Salad with Maple Vinaigrette
This salad has ALL of the best Fall harvest ingredients… like Brussels sprouts, butternut squash, apple, pumpkin seeds and pomegranate seeds. It's perfect for Thanksgiving.
Note: omit the cheese to make it Paleo.
This is the easiest way to make crispy, flavorful asparagus. It's a wonderful veggie side dish!
Paleo Thanksgiving Chicken Recipes
Note: my family and I roast chickens for Thanksgiving every year instead of turkeys. We prefer the taste. That is why I don't have any roast turkey recipes.
16) Roast Chicken with Apples and Potatoes
The apples in this recipe cook until mushy. The result tastes just wonderful with roast chicken.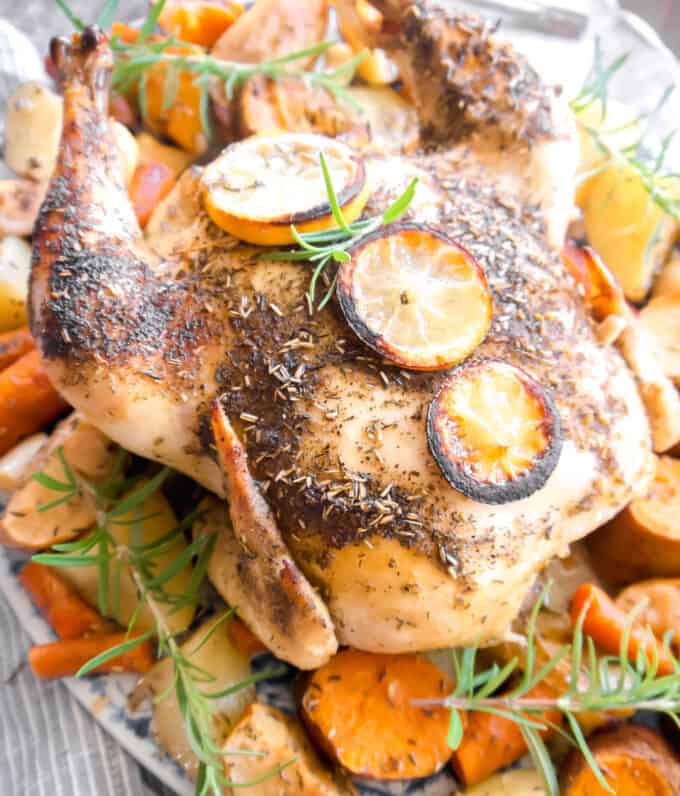 17) Thyme Infused Roasted Chicken +Root Veggies
This recipe is seasoned with lemon and thyme and is a classic.
Paleo Thanksgiving Dessert Recipes
18) Easy Paleo Pumpkin Muffins
These muffins are my favorite pumpkin muffin recipe ever. You would never know that they are Paleo, Gluten-free, dairy-free, and grain-free.
19) Gluten-free Chocolate Pumpkin Brownies
These are amazing! Swirls of chocolate brownie and pumpkin blondie mix together for a wonderful pumpkin brownie.
20) Pumpkin Cinnamon Swirl Banana Bread
Another reader favorite right here. It's what banana bread dreams are made of! Full of swirls of coconut sugar goodness, and pumpkin banana bread.
21) Paleo Pumpkin Pie Chocolate Chip Cookies
These taste like a mixture of pumpkin pie and chocolate chip cookies. SO good.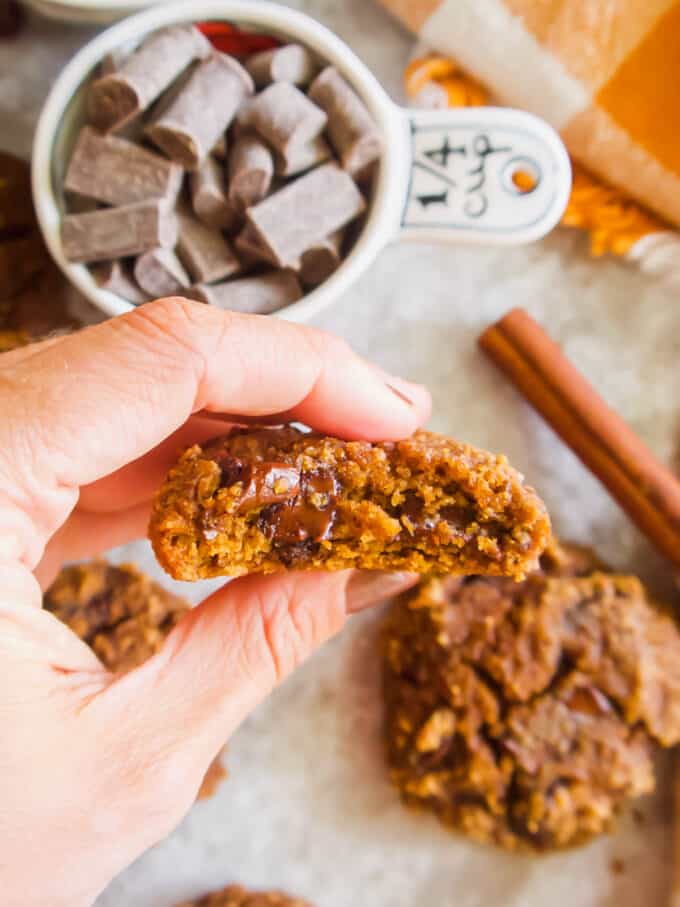 22) Paleo Cranberry Sauce Bars
Cranberry sauce on top of a shortbread, but in dairy-free, gluten-free form.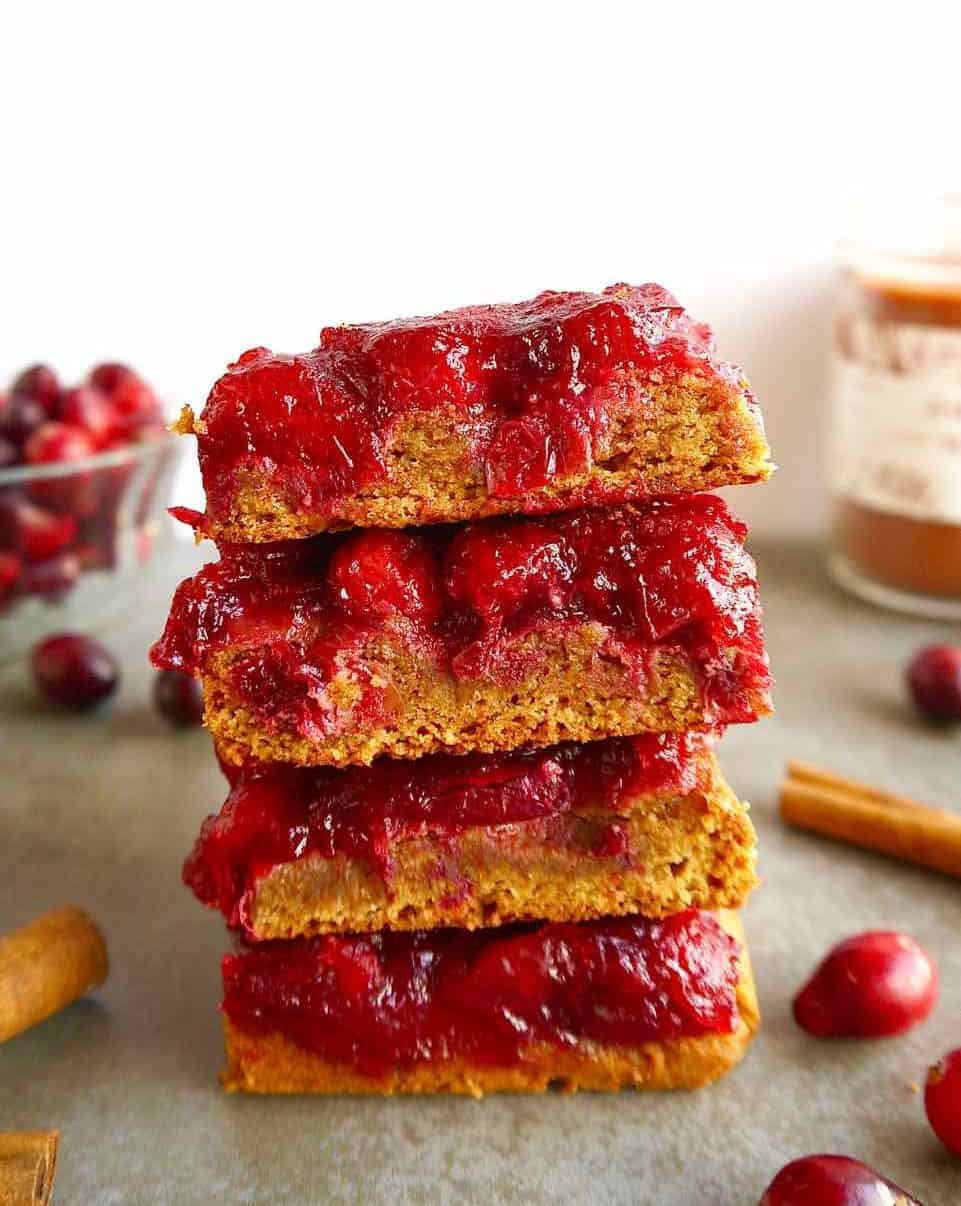 23) Paleo Apple Tart
This is a classic apple tart based on my mother's French tart recipe, but made Paleo.
24) Paleo Gluten-Free Apple Crumb Muffins
These muffins taste like apple donuts. Enough said.
This cake is light and delicate and wonderful. If you love pumpkin cake, you'll love this.
Note: use a dairy-free cream-cheese like Kite-hill, to keep the recipe dairy-free and Paleo.
26) Pumpkin Chocolate Chip Cookie in a Mug (Paleo, Gluten-free, Dairy-free)
If you aren't having a big crowd, this mug cake is perfect. Add ice-cream on top and it is the perfect few bites of pumpkin cookie goodess.
27) Fall Chocolate Bark with Dried Apples and Roasted Pepitas
This chocolate dessert makes a wonderful gift, dessert, or snack option. It's filled with cinnamon maple roasted pepitas, cranberries, and soft dried apples. It's got so much Fall flavor in every bite!

28) Chocolate Covered Pumpkin Stuffed Dates
These taste like a pumpkin snickers but a healthy homemade version made with only a few ingredients. So good!
No matter what your Thanksgiving plans are, I hope you have a safe and enjoyable Thanksgiving full of yummy food.
If you make any of my recipes, let me know how you like them!
Disclosure: This post contains Amazon affiliate links. This means that if you click on a link and make a purchase, I will receive a small commission at no cost to you.