Apple-Pear Cinnamon Crumble (Paleo, GF)
When I was in Sweden, I had some of the best fruit, cinnamon, and oatmeal "crumbles". Prior to going, I did some research and read about how there is something like a tea-time or coffee break there. I thus went out searching for places where I could take part in this coffee break and found myself staring in awe at beautiful cakes and desserts. I ordered many a crumble there because I love them so much.
I had not tried to eat a crumble since I started eating Paleo three months ago because I thought that the dish required oatmeal. I was itching for that cinnamony, crumbly, fruity dish, so I decided to attempt an oatmeal-free version. It turned out great; no oatmeal necessary! This Apple-Pear Cinnamon Crumble was so delicious, that I could not stop eating it!!
I'm serious! It satisfied my crumble craving and reminded me of some of the crumble-like desserts that I had in Stockholm.
In the end, the main difference for me between this and non-paleo crumbles was not the oatmeal, it was the butter.
This recipe has the richness and comfort-food feeling of a crumble without the butter.
Butter tends to make me feel sick, so it was a real treat being able to eat a satisfying cinnamony nutmegy crumble without butter.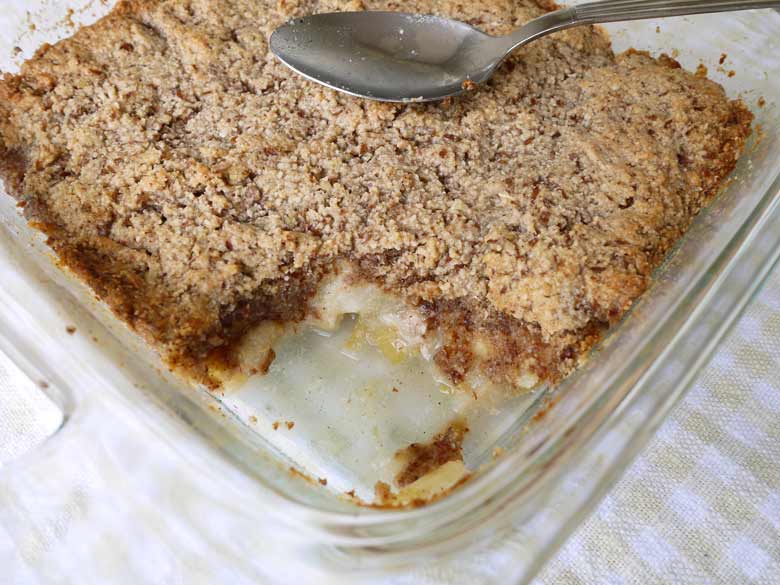 This Apple-Pear Cinnamon Crumble is super easy to make, which is great considering how fast it can be eaten!
I had some extra Paleo whipped cream laying around and could not resist putting a spoonful, or two, on top. 🙂
I think I ate my share in 30 seconds…
My favorite part of this recipe is how the crust is firm on top and yet soft in the middle, like a soft cinnamon cookie. So delicious! It was even delicious the next day re-heated it in the microwave.
So many fruit combinations are possible here. You can make this with only apples or only pears…. or even with blueberries or mixed berries.
I can't wait to try this with so many other fruits! I'll let you know which ones turn out the best as I make them. 🙂
Apple-Pear Cinnamon Crumble (Paleo, GF)
A tasty paleo apple and pear crumble that's a healthier option than the classic.
Instructions
Preheat the oven to 375 degrees.

Grease an 8x8 inch square pan.

Place the diced pears and apples on the bottom of the pan and mix them around with a spoon so that the fruit is evenly mixed.

In a separate bowl, mix the almond flour, flax seeds, cinnamon, and nutmeg together with a fork and set aside.

In another separate bowl, mix the melted coconut oil and maple syrup together with a fork until well mixed.

Pour the coconut oil/maple syrup mixture on top of the almond flour mixture and mix with a fork until clumps form and there are no real "dry" areas of the mixture left.

Put the mixture on top of the fruit in the pan and evenly pat it down with a spatula so that the crust is even all the way around.

Bake for 30 minutes or until the crust is crisp and the edges are lightly golden.

Eat warm or cold.

Enjoy 🙂
Nutrition
Calories: 363kcalCarbohydrates: 36gProtein: 9gFat: 23gSaturated Fat: 4gPolyunsaturated Fat: 1gMonounsaturated Fat: 1gSodium: 5mgPotassium: 168mgFiber: 7gSugar: 24gVitamin A: 25IUVitamin C: 3mgCalcium: 128mgIron: 2mg
Disclosure: This post contains Amazon affiliate links. This means that if you click on a link and make a purchase, I will receive a small commission at no cost to you.